"Hands-down, the best short-play festival in the country."  Mike Folie, Playwright.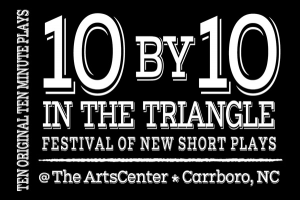 CARRBORO: ArtsCenter Stage presents the 13th Annual 10 By 10 in the Triangle at The ArtsCenter on July 11 through 13, July 17 through 20 and July 24, 25 and 27, 2014 (two shows: 3pm and 8pm). Shows on Thursdays, Fridays, Saturdays and July 27 are at 8:00 pm and Sundays at 3:00 pm. Friday and Saturday tickets are $18, $16 for Students/Seniors, and $14 for Friends of The ArtsCenter. Thursday and Sunday tickets are $16, $14 for Students/Seniors, and $12 for Friends of The ArtsCenter. Tickets to the July 19 Playwrights Gala are $20, $18 for Students/Seniors and $16 for Friends of The ArtsCenter. To purchase tickets or for more information go to www.artscenterlive.org, visit The ArtsCenter Box Office at 300-G East Main Street in Carrboro, or call The ArtsCenter's Box Office at 919-929-2787.
10 By 10 in the Triangle is The ArtsCenter's international festival of new, ten-minute plays. A Triangle favorite, this 13th installment of theatrical shorts brings to the Triangle the very best of the increasingly popular ten-minute format. Over 750 scripts were submitted for this year's festival from all over the United States and the world with the ten very best original plays selected for this production. All ten plays in 10 By 10 offer the audience a riveting, surprising, and unforgettable experience! Get your seats courtside for these feats of theatricality! 10 Actors, 10 Directors, 10 Minutes, 10 By 10!
From dating in the twitter age to jumping off the rim of the Grand Canyon, from school yard crushes to oversharing parents, from a send up of Tennessee Williams to writing a ten-minute play, this year's festival examines past relationships, life-changing encounters, the power of positive thinking, budding romance, privacy in the internet age, and celebrated community-theater actors.  Once again, 10 By 10 does it all!
For the past 12 years, 10 By 10 has hosted original plays and world premieres by critically acclaimed playwrights as well as new talent. 10 By 10 in the Triangle features regional and world premieres of playwrights from California, Florida, Louisiana, Massachusetts, Missouri, and New York!  10 By 10 is, after all, international theatre at its most local!
"I believe this year's 10 By 10 offerings are the among the best ten-minute plays that I've read since reading submissions for the festival," says Jeri Lynn Schulke, Artistic Director of ArtsCenter Stage. "We had a read-through of all the scripts with the acting company, some of whom are returning actors to 10 By 10 and everyone agreed that across the board these ten plays rock!"
"Most of this year's playwrights are brand new to the festival. One playwright, Christopher Lockheardt has had four scripts in 10 By 10 in years past, most notably Hellva Poker Face which was revived for our Best of 10 By 10 production in 2010."
10 By 10 employs ten playwrights and keeping with the theme of 10, ten actors and directors as well.  "There are so many great directors in the Triangle area and, sometimes, not enough directing opportunities," says Schulke. "10 By 10 is the perfect venue for new and aspiring directors to get their feet wet and for experienced directors to work with new actors they may have never met. We like to think of 10 By 10 as summer camp for theater. It really is a blast to do!"
The 10 By 10 features local actors, directors, and designers from across the Triangle. Yes! ArtsCenter Stage is international theatre at its most local; traditional theatre at its freshest; offbeat theatre at its most inspired!
Directors: Hope Alexander, Josh Benjamin, Chris Chiron, Tamara Kissane, Tony Lea, Lori Mahl, Gregor McElvogue, Jerry Sipp, Jason Tyne-Zimmerman, Laurel Ullman
The Acting Ensemble: David Berberian, Fred Corlett, Jorge Donoso, Terra Hodge, Jillian Lea, James Moscater, Page Purgar, Maggie Poole (understudy), Mary Rowland, B. Lazarus Simmons, Caroline Strange
Production Team:  Brittany Bugge (Props Coordinator/Designer), Mae Davis (Production Stage Manager), Liz Droessler (Lighting Designer), Deb Cox (Costume Coordinator/Designer), John Paul Middlesworth (Technical Director), Bryon Settle (Sound Designer/Musician), Jeri Lynn Schulke (Producer)
JULY 19, Playwright Gala: Pre-show reception with visiting playwrights and festival directors and designers.  Reception sponsored Vimala's Curryblossom Café.
WHEN:
July 11-13, 17-20 and 24, 25 & 27 (two shows)
Thursday, Friday and Saturday at 8pm, Sunday at 3pm also 7/27 @ 8pm
No performance on July 26
Playwright Gala: Saturday, July 19
WHERE: 
THE ARTSCENTER, 300-G East Main Street, Carrboro, NC 27510
TICKETS:
Friday/Saturday:
General $18
Student/Senior (62+) $16
ArtsCenter Friends $14
Thursday/Sunday:
General $16
Student/Senior (62+) $14
ArtsCenter Friends $12
Playwrights Gala, July 19
General $20
Student/Senior (62+) $18
ArtsCenter Friends $16
10 By 10 in the Triangle 2014 Productions
A Streaker Named Desire by Carl A. Rossi
Directed by Josh Benjamin with David Berberian, Fred Corlett, Jorge Donoso, Terra Hodge, James Moscater, Mary Rowland, Lazarus Simmons
Canyon by Jordan Rawlins
Directed by Lori Mahl with Jillian Lea, Lazarus Simmons, Caroline Strange
Going Viral by Brandon M. Crose
Directed by Tony Lea with David Berberian, Jorge Donoso, Page Purgar
Lost in Thought by Christopher Lockheardt
Directed by Hope Alexander with Jorge Donoso, Lazarus Simmons, Caroline Strange
Recess at Our Lady of the Bleeding Heart, Mind, and Spirit – Once Reformed by Terence Patrick Hughes
Directed by Gregor McElvogue with David Berberian, Page Purgar
Ten Minute Life by Elaine Smith
Directed by Chris Chiron with Fred Corlett, Mary Rowland
The Interpreter by Bridget Erin
Directed by Laurel Ullman with Terra Hodge, James Moscater, Caroline Strange
The Wisdom of Pirates by Amanda Petefish-Schrag
Directed by Tamara Kissane with Terra Hodge, James Moscater
This is Not a Play by Chas Belov
Directed by Jerry Sipp with Jillian Lea, Page Purgar
What the Theatre is All About: A Master Class with Vincent Van Buren by Corey Rieger
Directed by Jason Tyne-Zimmerman with David Berberian, Fred Corlett, Jorge Donoso, Jillian Lea, Mary Rowland, Lazarus Simmons,
Playwrights Bios:
Chas Belov, San Francisco CA (This is Not a Play)
Chas Belov's full-length plays Rice Kugel, Hemlock, and My Visit to America have had staged readings at Playwrights' Center of San Francisco. His short plays have been produced in SF, Texas, Ohio, and New York City. He is a member of the Dramatists Guild and Theatre Bay Area. Visit his playwriting blog at chasbelov.com.
Brandon Crose, Cambridge, MA (Going Viral)
Brandon M. Crose's plays have appeared at theatre festivals spanning London to New York, where his social media comedy GOING VIRAL was awarded "best play" at the 2014 LIC One Act Festival. Brandon is also the author of several nonfiction books, and you can find him lurking online at www.brandoncrose.com.
Bridget Erin, Denham Springs, LA (The Interpreter*) 
Bridget Erin is a theater director, playwright, performer and puppeteer.  She has a BA in Theatre Arts from Mount Holyoke College and is currently pursuing an MFA in Interdisciplinary Art from Goddard College.  She is a member of the "6×6" playwriting group at Southern Rep Theatre in New Orleans. She lives in Denham Springs, Louisiana, with her husband and son.
Terence Patrick Hughes, Lake Hill NY (Recess at Our Lady of the Bleeding Heart, Mind, and Spirit – Once Reformed*)
Terence Patrick Hughes plays include Benched, LINES, Finding the Rooster, Goodnight
Christopher Lockheardt, Andover, MA (Lost in Thought)
"Lost in Thought" marks the fourth production of Mr. Lockheardt's work in the 10 by 10. His ultimate goal is to reach 10 ArtsCenter productions so he can become a charter member of the 10 by 10 by 10 Club. That would score a perfect 10 on his life experiences chart! But he'll probably end up 10 feet underground long before he can achieve the feat.
Amanda Petefish-Schrag, Maryville, MO (The Wisdom of Pirates*)
Amanda Petefish-Schrag's professional credits include work as a director, playwright, and puppeteer.   She currently lives in Missouri, where she teaches courses in acting, playwriting, and theatre history at Northwest Missouri State University and collaborates with her husband, Ben, on both playwriting and raising their two children.  Amanda's recent endeavors include touring with her self-written, one-woman show, "Supergirls!  Tales of Life, Love, and Captain Nebraska."
Jordan Rawlins, Los Angeles, CA (Canyon)
Jordan Rawlins lives in Los Angeles, California where he works as a writer and actor. His free time is divided between fly-fishing and volunteering with his favorite charity, 826LA. His plays have been seen in theaters throughout America. His film, Rescue Dogs will be released in 2015 and his book, "Monsters of the Apocalypse" is now available on Amazon. He is thrilled to be a part of the 13th Annual 10 By 10 in the Triangle!
Corey Rieger Los Angeles, CA (What the Theatre is All About: A Master Class with Vincent Van Buren*)
Corey Rieger is a writer and actor based in Los Angeles.  His play The Surprise was most recently produced at this year's Collaboraction Sketchbook Festival in Chicago.   His play Epiphany won the award for Outstanding Playwright in the 2003 Pittsburgh New Works Festival.  His work has also been produced by the Emerging Artists Theatre in New York City, the Pittsburgh Playwrights Theatre Company, the North Park Playwright Festival in San Diego, and the World Premiere Weekend at UC-Irvine.  He has also written and performed in a couple of one-man shows, as well as a couple of short films.  As an actor, he was most recently seen in the film Out of the Furnace starring Christian Bale, and the independent feature The Phoenix Project, which premiered at this year's Sci-Fi-London Film Festival.
Carl A. Rossi, Brookline, MA (A Streaker Named Desire*)
Carl A. Rossi is a Boston-based playwright. He is currently editing a Vietnam veteran's memoir with the working title THE VACATION OF A LIFETIME.  Mr. Rossi is a member of The Dramatists Guild of America, Inc.
Elaine Smith, Middleburg, FL (Ten Minute Life*)
Elaine Smith is an actor, director, and accidental playwright.  Other works: Angels and Ministers of Grace Defend Us, opening in October at New Jersey Rep, The Looking Glass, adapted from Edith Wharton's short story and produced last August by The Wharton Salon, and short plays Liars' Poker (Finalist–2010 Heideman Award), Picture Perfect, She Hung Up and Ten Minute Life.   In the wake of a temporary insanity known as "Ten Plays in Ten Days," works-in-progress include Strange Flowers of Reason, Handiwork, Darkness, Agit-Prop 8, Walls, Fishing, and Quis Custodiet.  Proud member of AEA, SAG-AFTRA, LPTW, and the Dramatists Guild.
*Denotes World Premiere
To Quote The Playwrights:"10 by 10 is a great showcase for new work. It's such an opportunity to have such talented directors and actors perform your work in front of such a supportive community. 10 by 10 was one of the best experiences I've had in a regional theatre. The actors and directors were wonderful, and all the work was of a very high quality." (John Yearley, visiting playwright, NYC)
"Your "triangle" stage is a unique and precious commodity for your community . . . . As the entire evening was one of superb entertainment. The professionalism shown by both director and cast was most satisfying . . . I had seen my same play go up in New York City for a Showcase Festival and your "10 By 10″ production was far superior to the NYC show in every aspect." (Jay Hanagan, visiting playwright, NY)
"10-minute play festivals are plentiful around the country, but I've seen few that take the work as seriously as the 10 By 10 does. I plan to visit Carrboro again next year to see it, whether something I've written is in it or not." (Patrick Cleary, visiting playwright, Boston)
"I'm on Cloud 10!" (Doug Reed, visiting playwright, Wisconsin)
You might also like:
Category: Press Releases