Don't miss the Be Loud! '14 benefit concert, featuring The Pressure Boys, Let's Active, Dexter Romweber, The Connells, and more on August 8-9, 2014 at the Cat's Cradle.
This weekend, Cat's Cradle in Carrboro, NC will bring together some of the areas biggest bands from the 1980's and 1990's to raise money and awareness for teen cancer. The concerts will benefit the Be Loud! Sophie Foundation, whose mission is to support adolescent and young adult cancer patients and their families at UNC Hospitals. The foundation honors the memory of Sophie Steiner, a Chapel Hill teenager who died of cancer last August, and was founded by her parents Niklaus and Lucy Steiner.
There are numerous reasons why I bought tickets to both shows this weekend as soon as they went on sale. In fact, I was determined not to miss this concert! First and foremost, as a cancer survivor myself, this concert is benefitting a cause near and dear to my heart. 100% of proceeds from this concert go directly to the Be Loud! Sophie Foundation.
The Be Loud! Sophie Foundation is unique in that it uses its funds to specifically address the needs of adolescent and young adult cancer patients. It's tough enough to be diagnosed with cancer as an adult, and teens fighting cancer have additional challenges. The Be Loud! Sophie Foundation connects adolescents and young adult cancer patients to personalized, age-appropriate resources. Additionally, it supports complementary medicine, such as massage, yoga, meditation, and acupuncture to improve their outlook and treatment. These important therapies tend to be de-emphasized in standard cancer care.
I also jumped on getting tickets to this show because of the headlining bands. There are so many musical blasts from my adolescent past! Be Loud! '14 will feature two evenings of music with The Pressure Boys, The Connells, and Dex Romweber Duo performing Friday, August 8, 2014 and The Pressure Boys, Let's Active and A Number of Things performing Saturday, August 9, 2014. A Saturday afternoon matinee on both the Cat's Cradle and Cradle Backroom stages with food trucks will complete a weekend festival feel and feature Tom Maxwell, Sacrificial Poets, Cheryl Parker's 116th Dream (featuring members of The Popes, Satellite Boyfriend and Dillon Fence), Cosmic Punk and the Popup Chorus.
I could write a lengthy article about how much I love The Pressure Boys. However, in order to keep the focus of this article in check, I will attempt to keep my gushing about them brief. This band became the soundtrack of my life since I was first introduced to them in 1983. After that, I became a sort of "Pressure Boys-Head," and caught their shows whenever I could — at another Benefit Concert at Chapel Hill High School in 1986, (I still have the t-shirt from that show!), at The School of Science and Math in Durham, NC, and often at the Cat's Cradle. My fan-girling, however, was sadly short-lived, as the band decided to call it quits my senior year in high school in 1988. However, I owned their albums on vinyl and played them over, and over, and over again. These albums were often the chosen background music for both high school and college parties. The problem was that the music made us dance so hard that all of our Jump! Jump! Jump!-ing around would often skip the needle on the records, causing several scratches in them.
Fortunately, The Pressure Boys eventually released the Complete Recordings (1981-1988) 2 Disc Set CD in 1993, which still gets heavy rotation on all my iDevices. They are my workout band, my wake up band, my road trip band, and of course, my dance party band. I believe every situation in life can be positively enhanced by playing a song by The Pressure Boys. Try it and you'll see!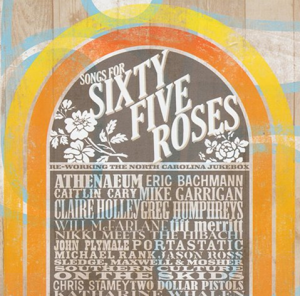 The last time The Pressure Boys reunited for a concert was in 2008 at the Cat's Cradle. The show "Songs for 65 Roses: Reworking the North Carolina Jukebox" was the brainchild of Pressure Boys lead singer, John Plymale. 100% of the proceeds from that show, and the sale of the CD by the same name, benefited the Cystic Fibrosis Foundation. I was living in New York City at the time, and my husband and I both wanted to go to the show, but we could only afford one plane ticket home to Chapel Hill. We flipped a coin for it, and I lost. He went to the show, had the best time, and brought me home a t-shirt that is now so well-worn, you can barely make out The Pressure Boys logo on the front. I am still upset that I missed that concert, and I am definitely not missing this one. In fact, I am seeing The Pressure Boys play twice this time around, Friday and Saturday nights! The Pressure Boys reunions are a special, rare treat, so I need to get my P.B. fix while I can!
John Plymale is at the heart of this benefit concert as well. "Sophie loved all kinds of music so when we decided to do a fundraiser for the foundation, we knew she would love the idea of a concert." says Niklaus Steiner. "Music was a big part of my life growing up in Chapel Hill too, and The Pressure Boys were high school classmates and one of my favorites. I approached John Plymale and Rob Ladd from the band earlier this spring about possibly reuniting the band for a benefit show, they not only offered to do two shows but also made a few phone calls. Before we knew it we had an incredible line-up of bands, and a really nice mix of genres and ages."
This will be the second show in 25 years for The Pressure Boys and the first show in over 30 years for the original line-up of Let's Active featuring Mitch Easter and Sara Romweber. Be Loud '14 is rounded out by other musicians who grew up and flourished in the local music scene in the 80's and 90's.
It is also turning out to be a Chapel Hill High School reunion of sorts, with so many of my high school classmates planning on attending both shows. I can't wait to musically regress back to the 1980's with all those familiar faces. It's truly the "must-see" local event of the year! (I'll be the one wearing the very faded Pressure Boys t-shirt.)
Everyone involved in Be Loud '14, including the bands, is donating their time, and all proceeds will benefit the Be Loud! Sophie Foundation. "The kindness of our local community is just incredibly moving; in all kinds of creative and spontaneous ways, so many people are rallying around Be Loud '14," says Lucy.
Tickets are $40 for a Weekend Pass, $20 Friday night only, $30 Saturday Full Day Pass, and $10 Saturday matinee only and are available at: www.beloud14.com, www.catscradle.com or by calling the Cat's Cradle box office at (919) 967-9053. The full schedule of bands can also be found at www.beloud14.com.
Please note: This event is likely to sell out, (and I hope it does!), so get your tickets soon! See you there!
Author's Note: This show did in fact sell out both nights! For those of you who missed it, or for those who went and want to relive the fun over and over again, here is a sampling video of The Pressure Boys from each night. Enjoy!
For more information about the Foundation, please visit: www.BeLoudSophie.org.
For more information on the bands performing:
The Pressure Boys: http://www.pressureboys.com
Let's Active: http://en.wikipedia.org/wiki/Let's_Active
The Connells: http://www.theconnells.com/
Dex Romweber Duo: https://www.facebook.com/dexromweberduo
Tom Maxwell: http://www.tommaxwell.com/buy/
Sacrificial Poets: https://www.facebook.com/SacPoe
Cosmic Punk: https://www.facebook.com/CosmicPunk
Popup Chorus: http://popupchorus.org/
You might also like:
Category: Arts & Entertainment