Book Harvest is a wonderful local non-profit that collects and distributes books to low-income children throughout the Triangle area. This organization exists because of the belief that every child deserves books. Since its founding in January 2011, Book Harvest has placed over 70,000 books into the hands and homes of our children who need them the most.
For those of us who grew up surrounded by books in our homes, it is distressing to learn that over 60% of low-income children in the United States have no books at home, according to the National Center for Educational Statistics. Furthermore, research studies consistently demonstrate that the single biggest predictor of academic success — more than race, income, gender, parents' education, or geographic location — is the presence of books in the home. Numerous literacy studies have shown that simply giving lower-income children a few books to keep narrows or eliminates the achievement gap between low-income and high-income children. This occurs not only because these children are given access to books while away from school, but also more importantly they begin identifying themselves as readers when they own books. When these children are given books to take home, they start to see themselves as part of the reading community, especially when they select the books themselves. Though public libraries are a valuable resource, the reality is that many low-income children do not have the opportunity to frequent libraries due to transportation and scheduling challenges they and their parents and guardians face.
BOOK HARVEST IS BORN
It was studies such as these that motivated Chapel Hill resident Ginger Young to establish Book Harvest as a way to get books into these book-barren homes. "I grew up loving books and loving reading myself," Young remembers. "I was always surrounded by books as a kid and couldn't imagine, and still cannot imagine, my childhood without books. I have three kids of my own and they are all now teenagers, and similarly, they also grew up in a culture of reading with plenty of books at their disposal and lots of chances to talk about their books, love their books, and all the stuff that goes along with being a book owner and a reader.
"It occurred to me as they were getting older, that this was a luxury for a lot of people. So I began to do a little bit of digging, and what I found was really upsetting and really shocking, which is that an awful lot of kids don't have books at all. And there are many kids for whom the only book in the house is the phone book. I could not begin to imagine my childhood or my three kids' childhoods without books everywhere. I started to think about what it must be like for those kids. And I only had to look as far as my living room shelves to realize that if we had one thing that was in way too much excess in my house it was books. There were plenty of books my kids had outgrown, that were still in great shape and had a lot of life left in them, and we didn't need them anymore. It really began to bug me that there was not an easy mechanism to take the books that we no longer needed and give them to kids who did need them.
"I decided about a year and a half ago to try a little experiment, where I asked my friends if they had books they also were done with, and if we could pool our books and try to figure out a way to send those books to the kids who needed them. From the day we started, we could not believe the reception we were getting. Everybody was phenomenally generous. The big question I had was, 'Were there books out there we could tap into?' and from day one, the answer was a resounding, 'Yes!' We've never had anything but complete success at book drives and getting people to give us books. The astounding thing is that when someone has books to give, they don't give you a single book. They give you a bag of books. When people get this, they really get it. They so much want other kids to have what their kids have, and what they themselves had growing up, which is a home with plenty of books."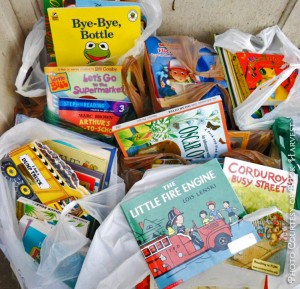 The first Book Harvest book drive was a huge success. In January 2011, Carolina Friends School offered to let Book Harvest run a book drive during the two weeks preceding their annual MLK Day celebration. More than 6,000 books were donated! Duke School ran a book drive the next month, which harvested more than 3,000 books. Within the first year, schools, neighborhoods, businesses, workplaces, places of worship, scout troops, and civic organizations had held 68 Book Harvest book drives throughout the Triangle area. Young was amazed at how simple it was to get started, and thankful that the community was so generous and willing to help. "There is a lot of need out there — I know it now better than I ever have. I have spent a lot of time with kids who don't have the resources and means to have access to books. And there is a lot of good will and interest on the part of our caring community to solve this problem." As a testament to our community's desire to help, a community-wide book drive held at Flyleaf Books on MLK Day 2012 harvested over 10,000 books!
BOOKS FOR FREE
Book Harvest's inaugural flagship program is appropriately called Books for Free. With the initial 6,000 books in hand to work with, Young immediately began partnering with local organizations that serve low-income families and children, with the goal of getting books into homes that need them. Bookshelves were bought and installed in places where low-income children go — community centers, social service agencies,  health clinics — and filled with free, age-appropriate books for children to select from and take home to keep. Through the help of about 40 dedicated volunteers, these Book Harvest bookshelves, now at 25 different locations throughout the Triangle, are continually re-stocked with new books every week; between 1,000 and 2,000 books are placed on Books For Free shelves weekly. Since its inception, the Books for Free program has placed over 60,000 books on bookshelves in facilities serving underprivileged children, including Interfaith Council for Social Service, Welcome Baby, and Carrboro Community Health Center.  The complete list can be found at: http://www.bookharvestnc.org/partners/book_distribution_partners.
BOOKS ON BREAK
One of the biggest academic challenges facing low-income children, and what primarily fuels the achievement gap, is what is known as the "summer slide." During the two months that school is out for the summer, these at-risk children lose two months of learning, and the loss compounds every year each summer. Studies have found that children who are given the opportunity to choose books to take home during the summer months perform significantly better in literacy skills like reading and spelling when returning in the fall. In a three-year study, researchers at the University of Tennessee, Knoxville, found that giving low-income children access to books before the school term ended— and allowing them to choose just twelve books that most interested them — had a significant effect on the summer literacy achievement gap. Children who received books had substantially higher test scores, equivalent to three years of summer school, than those children who were not given books.
Book Harvest decided to tackle the summer slide in our community through Books on Break. In May 2011, Book Harvest partnered with the Chapel Hill/Carrboro City School System to pilot Books on Break, in which 275 low-income students in each of the ten elementary schools were invited to select ten books to take home for the summer. "Books on Break is a targeted program which focuses on a specific time in the lives of kids," Young explains. "Kids are most vulnerable throughout the summer, so if we can get an infusion of books to these kids for the summer, we can do a lot to change their trajectory."
This year, Books on Break was expanded to include 15 of the 30 elementary schools in the Durham Public Schools, along with all ten elementary schools of the Chapel Hill/Carrboro City School System. The goal was to provide 1,500 low-income students with ten books each, which is certainly no small under-taking. Not only did they meet their goal, the exceeded it! In the Chapel Hill/Carrboro City Public Schools, 20-50 students in each school received ten books to select and bring home. One school in particular, an under-achieving Title I school in Durham, N.C., had an even greater need. "In our biggest Books on Breaks school, which is Glenn Elementary School, 95% of the students are on free or reduced lunch, so we made the decision that every child at this school would benefit from books. So we took on the very ambitious task of making sure every child at Glenn takes home ten books." Over 8,000 books were brought to that school alone, so that there was enough variety for each child to select ten books, and every child received a string backpack, donated by Cisco Systems, in which to carry their books home.
As of June 10, 2012, the numbers of low-income children served by the Books on Break program are as follows:
Books on Break Durham: 1,232 children served.
Books on Break Chapel Hill-Carrboro: 550 children served through the Chapel Hill Carrboro City Schools.
Books on Break through PORCH Food for Families: 90 children served, and will grow significantly through the summer.
Total Books on Break children served this summer: 1,872 and growing.

The success of the Books on Break program depends heavily on book donations, hundreds of volunteers, and especially the partnering with the school systems themselves. "We could not run Books on Break if it weren't for our partners: Chapel Hill-Carrboro City Schools and Durham Public Schools," Young says. "There is no way we could run this without the huge involvement that they have made, and the commitment they have made to it. They are heroes, and we are so grateful to them."
The long-term goal of the Books on Break program is to supply every low-income student in the Chapel Hill-Carrboro City Schools and Durham Public Schools with a supply of books during the summer break. Seeing how much the Books on Break program has achieved in such a short time, it may not be long before that goal becomes a reality.
THE PORCH PARTNERSHIP
A new partnership for Books on Break was formed this spring with PORCH, a local non-profit that provides food for the hungry in the Chapel Hill/Carrboro community. One of PORCH's programs, Food for Families, provides perishable food items and fresh produce every month to families in need. Susan Romaine, one of the founders of PORCH, suggested to Young that the Book Harvest should team up with PORCH as another way to reach out and support the low-income population, supplementing their free meals with free books. On May 21st and 23rd, 2012, Book Harvest arrived at the PORCH food distribution sites and gave away books to participating children. It went so well that Book Harvest will be partnering with PORCH again through June, July and August, extending Books on Break into the summer months for this specific population of children. "It was a perfect fit for everybody," Young says. "It was a tremendously fun chance to connect with these kids who really are excited to have books at home."
BOOK BABIES
In addition to Books For Free and Books on Break, Book Harvest hopes to launch Books Babies once funding is secured. Exposure to books in the home during infancy is crucial to developing essential literacy skills in preparation for kindergarten, and kindergarten-readiness helps determines future academic success. The goal of Book Babies is for low-income families to receive ten books every six months from the time their children are born until they start kindergarten. This infusion of over 100 books will create a home library for participating children and enable them to start school ready to learn.
"In this program," Young explains, "we go straight to the time when children are most vulnerable, the period from birth to age five. If kids have books at home before they enter kindergarten, they tend to show up at kindergarten ready to learn. Those who don't have books at home, tend to show up to kindergarten not ready to learn." Tragically, in the United States, 37% of five-year-old children are considered not kindergarten-ready.
HOW YOU CAN HELP
Book Harvest has been making these impressive literacy contributions to our low-income youth with no office space, no storage space, minimal funding, and no paid staff. The initial challenge in getting Book Harvest off the ground was managing the tremendous flow of books to maximize efficiency. They now have a system in place where all donated books are collected from donation sites by liaisons and dropped off in Young's garage at home. (Often, she even finds boxes of books anonymously left on her front stairs.) Then all useable donated books get a Book Harvest gold seal, are sorted by reading level, are boxed and bagged, and are delivered to Books For Free bookshelves. The biggest challenge now is to obtain more funding. "If we had a base of support and some kind of infrastructure, we could really scale up and make ourselves even more successful in reaching more kids with more books. Our challenge is how to go from a grass-roots, community-based organization to a real force in our community that can solve this problem locally and can replicate itself in other communities."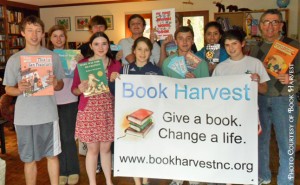 Ginger Young knows first-hand that there is a strong desire in the community to help, but she also understands that often time and money are limited. "People are innately good and eager to help, if they know how to do it and know that their efforts will make a difference."
Therefore, Book Harvest has worked hard to make contributing to their cause as easy as possible. There are numerous ways to help:
AN IMPORTANT MISSION
Book Harvest is improving the lives of children in the Triangle area one book at a time. It serves as the vital connection between the books that are out there and the kids who need them. Through the Book Harvest, Ginger Young is on a mission to eliminate the achievement gap and support literacy among the most vulnerable children in our community. Her enthusiasm and dedication to this important work are inspiring. Since founding the Book Harvest organization, Young devotes over 60 hours a week to this cause and has put her work running the Ginger Young Gallery, an art gallery highlighting southern self-taught artists, on hold. "I still can't fathom that any child has no books. If even one child is living in that reality, we have work to do. We want to place books in the homes of every child. It feels like a moral imperative for all of us, especially given that the problem is so fixable. The more people we can get to invest in this cause, the more easily we can solve this problem — and it is totally solvable. Every single book is a gift, and every book can change a life."
For more information about Book Harvest, visit the web site: http://www.bookharvestnc.org. Join Book Harvest's Facebook page to stay updated on Book Harvest events and volunteer opportunities throughout the summer. There are many fun and easy ways to get involved!
You might also like:
Category: Causes