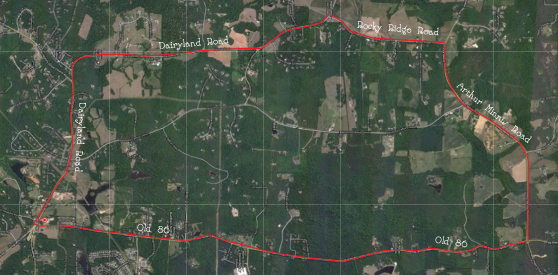 One of the most scenic drives in the Chapel Hill area I call the Calvander Loop, because it begins and ends at Calvander Food Mart, located at 108 Dairyland Road, Chapel Hill, NC, on the corner of Highway Old NC 86.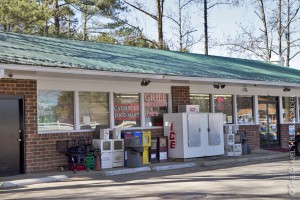 A delicious way to start your journey is to stop in at Calvander Food Mart. Don't let the BP gas pumps fool you — this is no ordinary convenience store, and has been an local institution for as long as I can remember. Minesh and Manisha Patel bought the Food Mart from Silas Talbert in 2008, and they keep it immaculate, which explains their 100.5 sanitation rating. They offer typical mini-mart snacks and treats, but Calvander is famous for their grill, offering up a wide variety of Southern comfort food, including buttermilk biscuits, fried chicken, hush puppies, corn dogs, breaded okra and of course, bar-b-q sandwiches with slaw. Additionally, once a week, Minesh's mother Anila makes homemade potato and pea samosas, and they are outstanding!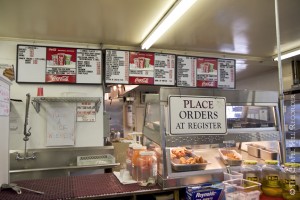 If you want the true Calvander experience, order a "Chuck" burger, named after a previous owner — a burger with "the works" and spicy chili ladled on top. Just be sure you like onions before ordering this one! Calvander's Food Mart is packed daily with faithful regulars and local characters. Every morning, there is always a line of neighborhood farmers waiting to order their breakfast — bacon, egg and cheese biscuits being a favorite. At lunchtime, they get crowds of Chapel Hill High School and UNC students getting a quick bite to eat before heading back to class. If you are ready to hit the road and would rather not wait in line, call in your order ahead of time at (919) 942-8225, and it will be hot and ready for you when you return from driving "The Loop."
DAIRYLAND ROAD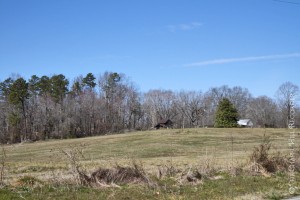 From Calvander's, take a left down Dairyland Road. This road winds around past gorgeous country vistas, cow pastures and horse farms. If the weather is agreeable, and it usually is, even in the winter here, open your car windows and let in all of that fresh air and the sounds of song birds, chattering cicadas, and chirping crickets and tree frogs. If you look closely through the trees, you will spot original log cabins, tobacco barns and sheds that date back to the 1800's. Proceed with caution around the corners, as this road is also a favorite training route for competitive bicyclist teams as well as recreational bikers, though there are no designated bike lanes and the roads are narrow. The occasional farm tractor puttering down the road might also slow you down, but this will allow you to get a better look at all the beauty passing by. Also, keep in mind this that area is known for deer, fox and other wildlife that might suddenly cross your path, especially at dusk.
MAPLE VIEW FARM COUNTRY STORE
In 3.4 miles, as you approach the corner of Dairyland Road and Rocky Ridge Road, you are now in the town of Hillsborough, and will see a sign for the Maple View Farm Country Store. Established in 1963, Maple View Farm is a dairy, cattle and agricultural farm, sitting on 400 acres of land that is part of the Rural Buffer and about half of its acreage has been placed under a conservation easement by the local Triangle Land Conservancy. This easement designates that the Maple View Farm land will be used for agricultural purposes or as open land forever.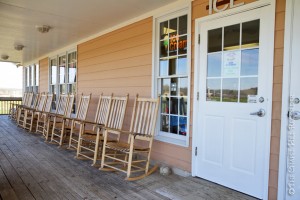 If you like homemade ice cream, you should visit their Country Store, as it doesn't get any better than this. They are open from noon-8:00 pm and offer twelve permanent flavors of ice cream, plus additional seasonal flavors, made from hormone-free, antibiotic-free milk and cream from their own dairy farm that is within view across the street. You can also always find several dairy-free sorbet options there. My personal favorite is their strawberry sorbet, which is fantastic! Grab your choice of scoop, cup, cone, homemade waffle cone, sundae, milkshake or even an ice cream cake, and sit outside in one of the many rocking chairs lined up on their wooden porch and take in the picturesque farmland. Before you leave, drop off some loose change in one of the Maple View Milk Bottles, as they are collecting donations for Change For A Cure that will be donated to the American Cancer Society.
ROCKY RIDGE ROAD
Once you've had your fill of sweet treats, take a right on Rocky Ridge Road. This one-mile road has been appropriately designated a Scenic Route, and it is gorgeous. Enjoy vistas of rolling pastures, barns with tall silos, cows relaxing in the grass, hay bales from newly cut fields, all lined by forests fading away into the distance.

ARTHUR MINNIS ROAD TO OLD 86
At the end of Rocky Ridge Road, take a right onto Arthur Minnis Road and drive for two miles until it ends at Highway Old NC 86. To complete the loop, take another right onto Old 86 Highway and drive for four miles until you are back at Calvander's Food Mart. Alternatively, for more country driving fun, you can turn left instead of right on Old 86, which in five miles, takes you straight into the quaint historic town of Hillsborough, NC. The total distance of the Calvander Loop is about 11 miles around, and takes approximately 20 minutes, depending on how often stop to take photographs.
For another scenic country drive that is easily accessible from town, click here to read the Chapel Hill Recorder article: "Old Greensboro Road." For more about the Rural Buffer, click here to read the Chapel Hill Recorder article: "Rural Buffer."
You might also like:
Category: Places