Halloween is here, which probably means your home is currently stocked full of bags of candy, and your Little Ones will be bringing home even more sweet loot once they have finished their Trick-or-Treating. You can donate all your extra candy to send to our dedicated troops overseas this year, and children under twelve can even earn some money from their own candy contribution!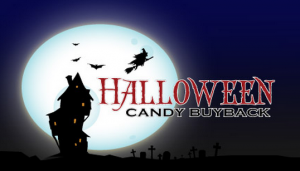 The Halloween Candy Buy Back Program is a part of Operation Gratitude, an amazing non-profit organization that sends care packages to troops overseas, their families back home, and veterans. Operation Gratitude will be sending 60,000 care packages this holiday season, and they need tons of candy, literally, to fill them. Last year, through the Halloween Candy Buy Back Program, they received and shipped 125 tons to our dedicated servicemen and women!
HOW THE PROGRAM WORKS
Dentists from all over the United States sign up to participate. They collect candy donations for a few days right after Halloween. Children 12 years old and younger are paid $1.00 for every pound of candy they donate, up to 5 pounds. Often, children re-donate their earnings right back to Operation Gratitude to help pay for shipping the boxes overseas.
FINDING A PARTICIPATING DENTIST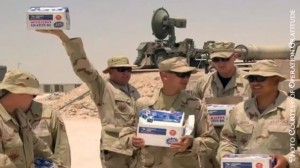 This year, unfortunately, there are no dentists participating in Chapel Hill. However, dentists throughout the Triangle area and the nation are participating, so be sure to visit www.halloweencandybuyback.com to find your local participating dentist.
Even if you do not have a chance to visit a participating dentist in the next few days, donations of candy, sealed dental hygiene products, and thank-you letters to our troops, can be sent (as long as they are delivered no later than December 1, 2015) to:
OPERATION GRATITUDE/ CA ARMY NATIONAL GUARD
17330 VICTORY BLVD.
VAN NUYS, CA 91406
ATTN: RICH HERNANDEZ / 262-674-7281
This is such a great idea! Families are not stuck with the extra bags of candy they feel obligated to eat because they bought it. Kids can earn money by donating their Trick-or-Treat goodies and then use the money to get a special treat or toy. (Also, this way, they will not be eating candy every day until New Year's Day.) Most importantly, our overseas troops will have a smile on their face when they open their care package and see it filled with all their favorite treats from home.
Of course, I completely understand if you feel the need to sneak a few Twizzlers out of the bag before bringing it in. And you might have to up the ante to convince your children to give away their huge Halloween haul that they worked so very hard for, and looked forward to amassing all year. Nevertheless, I can't think of a better cause than boosting the spirits of our nation's bravest.
You might also like:
Category: Causes