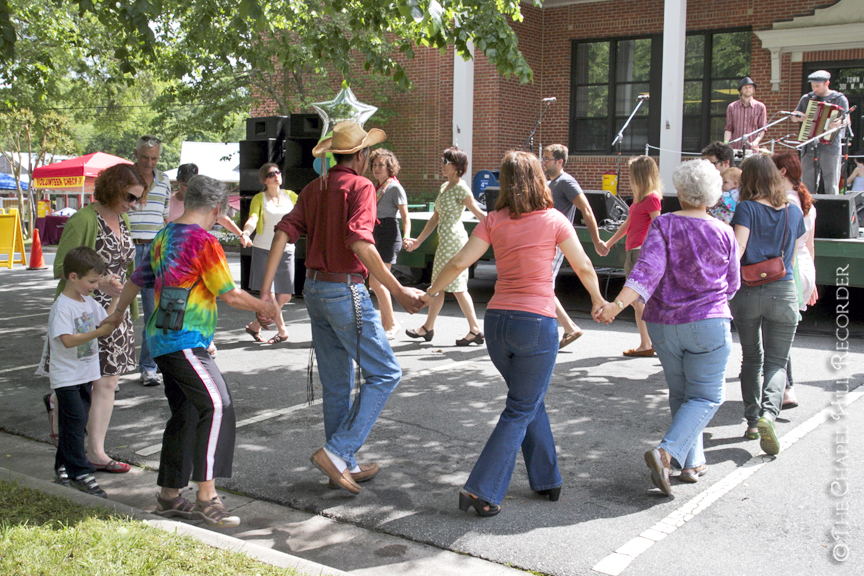 Carrboro Day is Sunday, May 4, 2014 from 1-6 pm at the Town Commons! (Or Century Center, if it rains.) Now in its 19th year, Carrboro Day is one of the most festive celebrations in a town that knows how to throw a great party. Don't miss it!
Carrboro Day is held every first Sunday in May from 1:00 pm – 6:00 pm in the Carrboro Town Commons (or the Century Center, if it rains), and it celebrates all things Carrboro. The Carrboro Day Philosophy, as adopted by the Carrboro Board of Alderman on December 6, 1994 states, "As Carrboro grows in population and its boundaries expand, its citizens need opportunities to enlarge their circle of acquaintances… Carrboro Day will offer an opportunity for the people to meet and celebrate living together in Carrboro. This day will be modeled after the small town homecomings once common in the United States, and the festivals in Europe, which were started for religious purposes but now have evolved into community celebrations…"
In other words, Carrboro Day it is one big Carrboro Love Fest, full of family fun, live music, old Carrboro stories and historical photos, poetry readings, dancing, interactive field games, crafts, and of course, hula hooping!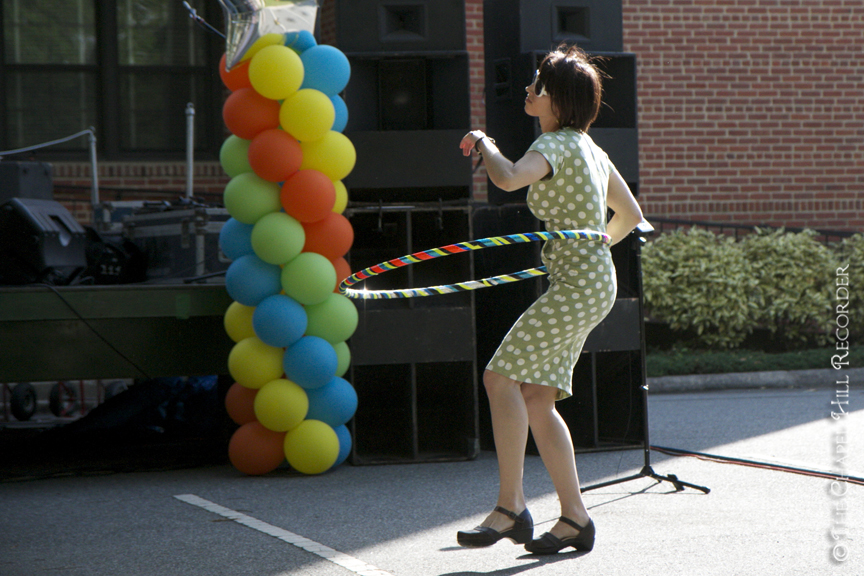 The Carrboro Day schedule this year is extra fun and exciting! This year, there will be live craft demonstrations and Family Arts & Crafts Making! Other highlights of Carrboro Day include food trucks, Friends of the Library Book Sale, family games, a Carrboro Garden Club Plant Giveaway,  historical presentations, free children's yoga, and poetry readings. The musical lineup this year is extraordinary, including: Durham Ukulele Orchestra, A Mad Affair, Different Drum, and Paco Band. A complete schedule of this year's events can be found here: www.carrboroday.com/schedule2014.html. Please note: No Parking will be allowed within the Town Hall, Town Commons/Farmers' Market and Laurel Ave. However, on-street Parking is available at Fidelity Street.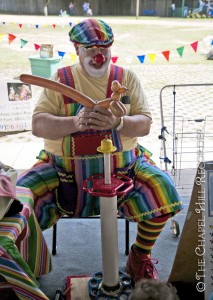 My daughter "Zoomer" and I have attended Carrboro Day for the last two years, and plan to go again this year. Zoomer really enjoys the sandboxes, the clown making balloon animals, the bean bag toss, the variety of musical performances, and especially the craft table they always have set up and fully stocked for all to enjoy.
What I remember most about Carrboro Day is the feeling of love for our town that saturates the warm, spring air. Everyone who comes out to celebrate that day are all smiles and hugs, literally beaming with joy as we all honor this special town, as one unified and proud community. One family I spoke with at the festival were just visiting from South Carolina for the weekend, and told me that because of Carrboro Day, they had just decided to relocate to Carrboro! Clearly, this kind of fun can be a life-changing experience!
So bring your kids, your smile, (hula hoops will be provided), and come play with other revelers who share our love for the Paris of the Piedmont. We are extremely fortunate to live here, and Carrboro Day perfectly exemplifies the many reasons Carrboro, North Carolina has become such a special place in the hearts of its inhabitants, its next-door neighbors in Chapel Hill, and visitors passing through. See you there!
For more information about Carrboro Day, visit: www.carrboroday.com or contact Rah Trost at the Carrboro Recreation and Parks Department by emailing RecParks@townofcarrboro.org or calling (919) 918-7364. 
You might also like:
Category: Arts & Entertainment