Don't miss the Carrboro Elementary School Fair this Saturday, May 3, 2014, from 10:00 am – 2:00 pm at Carrboro Elementary School, rain or shine! For over 30 years, this has been one of the best community events in Carrboro, NC, and it just gets better every year!
Last year, the Carrboro Elementary School Fair was held on May 11, 2013, and my daughter, alias "Zoomer" and I couldn't wait to go because we had so much fun there the year before! When we arrived, my jaw literally dropped when I saw children sledding down the hill on powdery snow in May! It was easily 90 degrees F and 99% humidity outside, so the only ice I expected to see there would have just been in the form of snow cones. Zoomer was so excited to see the snow because we had such a mild winter here that winter before, she did not get a chance to go sledding, nor play in the snow even once. She ran up the hill and was about to hop right onto a sledding disk when all of a sudden she spotted the huge Castle Bouncy House —  her all-time favorite fair activity. So we bought a bunch of tickets that were only $.25 each and started off our fun with some bouncing.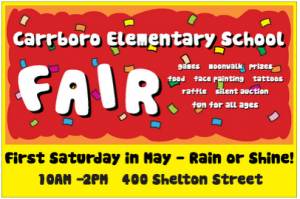 There are over 25 booths and games set up, including: Silly String Fights, a Dunk Tank where children got a chance to dunk their teachers, Miniature Golf, Soccer, Basketball, Dancing, Face Painting, Hair Dyeing, Free Children's Books, Temporary Tattoos and impressive demonstrations from United Tae Kwon Do and the Bouncing Bulldogs Jump Rope Team, who are 7-time National Champions.
Refreshments include typical fair treats like cotton candy, hot dogs, pizza, popcorn and yes, snow cones. Delicious home-cooked Mexican food will also available, along with fresh fruit kabobs! There is a raffle, and a silent auction for over fifty different gift certificates and prizes donated by local merchants. Raffle prizes include:
An iPad Air: $500 value! (Donated by Custom Carpentry!)
A PlayStation 4: $400 value (Donated by a CES family)
Overnight at Umstead Hotel and Spa: Who doesn't need a vacation? Worth $300
$200 in gas – with gas prices on the rise, every bit counts! (Donated by Public Impact)
An American Girl Doll – Isabelle, Doll of the Year 2013
Last year, the Fair was packed with families and participants young and old. Every game was designed to be "A Winner Every Time" so my 4-year-old daughter was actually able to play them all and win prizes. Even with the huge crowd in attendance, the Carrboro Elementary PTA had obviously planned everything out to the very last detail, and with the help of numerous volunteers, the lines were never too long and the festive spirit of the day was contagious. The Chapel Hill/Carrboro Community all came out to have a great time together, and we ran into many friends, several of whom attended Chapel Hill High School with me back in the day, including Erin Baldwin, author of The Big Fun Guide to Tar Heel Country and her two beautiful carrot-topped kids.
All the proceeds earned go directly towards supporting Carrboro Elementary School and its students. Not only is this Fair an exceptionally fun event, but it contributes to our wonderful Chapel Hill/Carrboro Public School System and the education of our local children. So just like all the games at the Carrboro Elementary School Fair, everyone wins!
The school fair is located on the school grounds of Carrboro Elementary School at 400 Shelton Street, Carrboro. Free parking is available on site, and it is also very convenient from the F bus stop on North Greensboro Street, and then just a quick walk down to the end of Shelton Street.
For more information about the Carrboro Elementary School Fair this year, visit: https://sites.google.com/a/chccs.k12.nc.us/carrboropta/home
You might also like:
Category: Arts & Entertainment