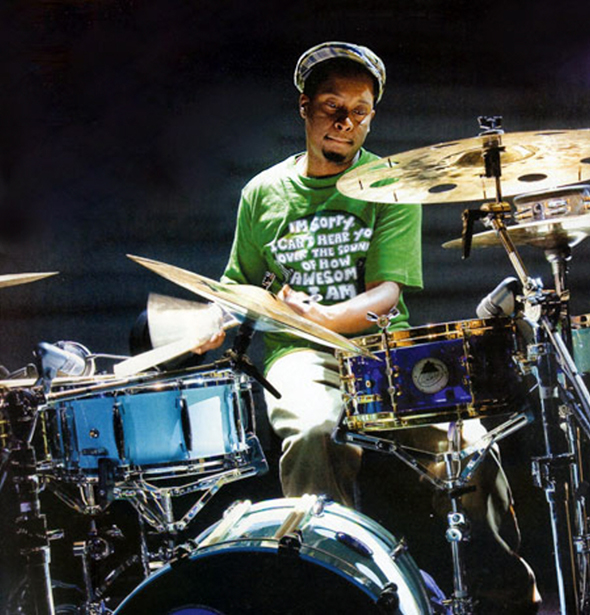 Mark your calendars! This November, The ArtsCenter is partnering up with The Art of Cool to bring world-renowned jazz drummer Chris Dave and The Drumhedz to the ArtsCenter stage! Chris Dave has been around the world and back playing for and recording with some of music's most established and iconic artists including: Adele, Maxwell, D'Angelo, Beyoncé, & more! With the proven track record that spans over a variety of genres, the 90s to the present mark a time where Chris Dave has redefined the role of the modern drummer. He has taken his unique approach to production, tweaked it and applied it to the drum kit, creating an original sound that no other drummer can claim.
On Thursday, November 13th at 8:00pm, Chris Dave and The Drumhedz will perform live at The ArtsCenter. Tickets for this show are $30 General advance, $20 Friends/Student advance, and $35 Day of Show. For more information or to purchase tickets, visit http://www.artscenterlive.org/events/artscenter-art-cool-present-chris-dave-drumhedz/ or call the Box Office at (919) 929-2787. The ArtsCenter is located at 300-G E. Main Street in Carrboro. 
Cicely Mitchell, President & Co-Founder of The Art of Cool, said "We are very pleased to partner with The ArtsCenter to present Chris Dave and The Drumhedz. Be prepared to have your world rocked. We look forward to working with them on more innovative jazz/soul music presentations in the future." The Art of Cool Project is a jazz presenting 501 (c) (3) non-profit organization located in Durham, NC. They are dedicated to presenting and promoting live jazz (and related music) in unique venues throughout the Triangle. Their two major programs are Art of Cool Festival and StArt of Cool, a jazz education program. They are the rhythm of the Bull City that connects music and art to people.
Learn more at http://theartofcoolproject.com.
You might also like:
Category: Press Releases