Local artist Cinc Hayes will be showing his colorful and whimsical paintings during the month of May at the Steel String Craft Brewery in Carrboro, NC. The show's opening night will be May 9, 2014, during the 2nd Friday ArtWalk.
Cinc Hayes has been painting since he was five years old, and has traveled the world painting, drawing, and studying art intensively. He recently spent seven years exploring the globe, finding inspiration for his art, and honing his artistic voice. During that time, he spent a year traveling the nation for Crayola Crayon's 100th Birthday tour, visiting children's hospitals and low-income schools, teaching art to children.

Cinc has now finally returned to his hometown of Chapel Hill, North Carolina, where he grew up, attending my own alma maters of Glenwood Elementary, Culbreth Middle School and Chapel Hill High School. "I missed Chapel Hill. After twenty years of living in other places and traveling I decided it was time to come back to wonderful Chapel Hill. I would say I'm a true Chapel Hillian." We are fortunate to have him back.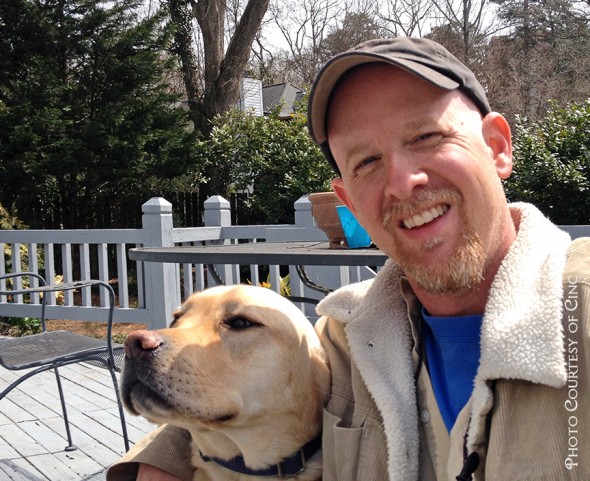 Cinc describes his paintings as whimsical, but I feel that this term does not do them justice. To me, the term whimsical means playful and fanciful, which they definitely are. But his pieces are also intentionally complex, built up with deliberate layering of mixed-media materials. "I use acrylic, oil, glues,water colors, pastels, fabric, cut outs, India ink, and glitter on most of my paintings," explains Cinc.
This intricate detailing literally pulls viewers in and keeps them there, dizzying them with his bright palette of colors as they search to discover the many visual treasures that are hidden throughout his work. It is truly excitement for the eyes, and must be seen up close and in person to be fully appreciated.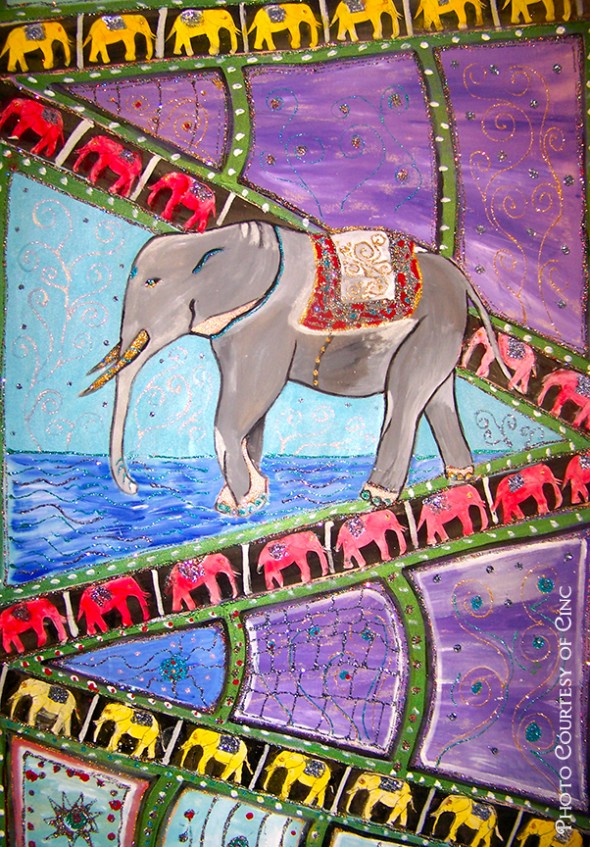 "I love to create whimsical and abstract paintings using a variety of bright colors. Usually I start out with one idea or object and then I just begin to work on creating the piece and filling in the pieces. It is like working on a giant puzzle. I never know what a painting will end up like. I just keep adding ideas along the way until I feel the piece is finished. Most of my current paintings were painted in a haunted carriage house in downtown Charleston, South Carolina. And a few have been painted since I returned to Chapel Hill," says Cinc.
Most of his inspiration for paintings comes from his surroundings and memories from the many places he has lived. "I aim to capture the essence of a locale by incorporating what makes the location unique: captivating buildings, wildlife and other local icons. These visions are typically realized on large scale canvases. I am continuously inspired by evocative churches, colorful houses, and vibrant wildlife. Inspiration often arrives on walks around a town or city, and the desire to convey a spirited place leads me to the canvas."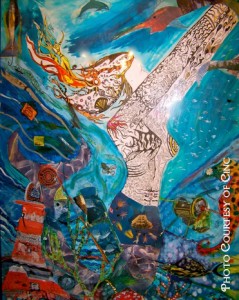 Due to his involved artistic process, Cinc's paintings take months and months to complete. "One piece of canvas might have layers of ideas until I feel that the piece is complete. I have a huge piece of scratch board on display for the 2nd Friday ArtWalk this month that I worked on each night for a year while traveling for Crayola Crayons. So that piece took over a year to complete. It has thousands of hidden designs," says Cinc. That alone would be worth a visit to Steel String Brewery this month!
Cinc Hayes' work has been displayed all over Northern California, including San Francisco, and the Southeast. He had his paintings entered in the famous Piccolo Spoleto contest in Charleston for four years straight. Now that he is back in town, Cinc works out of a small studio in Chapel Hill, North Carolina. He will also have his artwork on display in the Saxapahaw General Store this summer, located at 1735 Saxapahaw-Bethlehem Church Road, Saxapahaw, NC.
For more information about his art work, or for inquiries about purchasing his paintings, visit http://glhayesv.wix.com/cinc, email glhayesv@hotmail.com or call him at (843) 475-3132. 
You might also like:
Category: People