On March 8, 2013, the Compass Center for Women and Families will be hosting their annual art exhibition and fundraiser from 7:00 pm – 10:00 pm at Top of the Hill's Great Room in Chapel Hill. Don't miss it!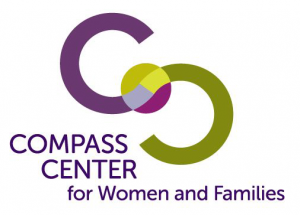 Compass Center for Women and Families, was created from the merger of the Family Violence Prevention Center of Orange County (founded in 2000) and The Women's Center (founded in 1979). This wonderful non-profit organization helps individuals and families prevent and end domestic violence and become self-sufficient. They provide domestic violence crisis services, career and financial education, assistance with legal resources, and adolescent empowerment programs. The organization serves nearly 4,000 individuals from Orange, Durham, Chatham and Wake counties each year.
Each year, Compass Center hosts Through Women's Eyes, By Women's Hands, a local art exhibition and sale to raise funding and awareness for their organization. Funds from Through Women's Eyes, By Women's Hands play a huge role in Compass Center's ability to help people in transition. They may be trying to jumpstart a career interrupted by time staying home to raise a family or by job loss; they may need to work through a difficult legal or financial problem, or they may need legal, crisis, shelter or counseling help due to domestic violence. 100% of the proceeds raised at this event go toward supporting the many valuable services and programs provided by the Compass Center that greatly benefit our community.
But this is not your typical benefit — it is one of the most enjoyable parties of the year! I had the pleasure to attend this amazing event last March 2012, and I guarantee you won't want to miss it. More than 300 people came out to the event last year, and raised more than $50,000 for this worthy cause. Unlike some local fundraisers, which are too expensive for the average resident of the Chapel Hill area to afford, admission to this event is only $50.00. Therefore, the attendees at this party are wonderfully diverse, ranging from community leaders and Chapel Hill business owners, to local artists, single mothers and domestic violence survivors. They are all brought together for one evening of fun, sharing in the same important goal — to end domestic violence in our community and support victims of domestic violence. I met the most fascinating people there, and because this is recognized as "the event of the year," it really is a "Who's Who of Chapel Hill and Carrboro," and the networking opportunities are plentiful. This year, all of the desserts during the Cocktail Reception will be created by local women chefs and they are sure to be one of the highlights of this event.
The best part of this fundraiser is the 200 diverse and captivating works of local women artists that will be featured and available for purchase for just $50.00 each. Women artists across North Carolina were given 5 x 7-inch canvases on which to create their unique contributions, and asked to sign their work only on the back of each piece so the artist remains anonymous. This year, in order to help the community recognize that Compass Center for Women and Families is the new name for the merged organization combining Family Violence Prevention Center and The Women's Center, they invited artists to incorporate a compass theme into their canvasses this year. "Many did, often in subtle and creative ways. We're thrilled with all the submissions from area artists," said Marya McNeish, Development Director at The Compass Center, "and are especially touched by a collection of four canvasses from an artist who is also a domestic violence survivor. Her work speaks to the tremendous potential of healing through art." 
The festivities will begin with a private sponsors' reception from 6:00 pm – 7:00 pm. Sponsors will enjoy the lilting jazz tunes of the Ken Broun Jazz Quartet and have first chance to purchase the mini-masterpieces, available for $50.00 each. At 7:00 pm, doors open for the main event: a Cocktail Reception, dancing with Sarah Honer (DJ Fifi Hi Fi!), sumptuous desserts from area women chefs, raffle items — including an iPad, and a live auction, featuring works by renowned local artists Jane Filer, Mary Rountree Moore, and Berkeley Grimball. All proceeds from the canvass sales, live auction, and mini-masterpieces go to Compass Center. "This is a great opportunity for art collectors to purchase the smaller work of an artist they love or for a new art buyer to start a collection," said Holly Gunning, event co-chairperson. "The mini-masterpieces can also make terrific gifts," added Gunning.
The Cocktail Reception will be held from 7:00 pm – 10:00 p.m., with valet parking available in front of Spanky's on Franklin Street. Individual event tickets are available for $50.00. To attend the private sponsors' reception from 6:00 pm – 7:00 pm for the first chance to purchase art, call Compass Center at (919) 968-4610, and inquire about additional sponsorships.
Through Women's Eyes, By Women's Hands is one of Chapel Hill's most festive and fun events, and benefits a wonderful local cause that supports our women, children and families. Bring your sweet tooth and dancing shoes, and prepare for a great evening!
UPDATE: This event is now sold out!
For more information, call Compass Center at (919) 968-4610, or visit www.compassctr.org. Visit www.facebook.com/CompassCenterforWomenandFamilies for sneak previews of pieces to appear at the show. Proceeds from the event will benefit the Compass Center in their mission to help individuals and families achieve self-sufficiency and prevent and end domestic violence.
You might also like:
Category: Causes