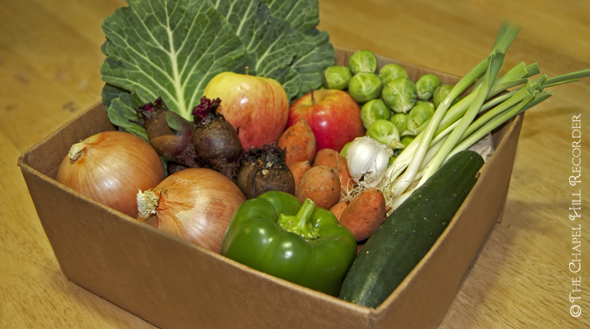 Spring in Chapel Hill means warmer days, blooming daffodils and brilliant red bud trees. It also means it is time to join your local CSA.
Community Supported Agriculture (CSA) is a partnership between a local farm and the consumer. Members of CSAs invest in the farm by buying a share of the harvest in advance. Then the farm supplies the member with boxes of locally produced food for the growing season specified by the farm,  usually April – September, though some farms offer additional winter or year-round CSA options. There are many advantages to becoming a member of a CSA:
The produce is high quality and extremely fresh, usually picked the day it is delivered.
Local produce is safer because it is minimally handled, and shareholders know exactly where and how it was grown.
Most CSAs employ sustainable, organic farming practices that eliminate harmful pesticides and fertilizers that contaminate our food and water supply.
It is a greener way to shop because less energy is spent on transportation and packaging.
CSAs save you money, as purchasing produce through a CSA usually costs less than buying it in the grocery store.
The variety of produce received lends more variety to one's diet.
By eating seasonally, you are living in harmony to your surrounding environment.
Members get to know their farmers and farms personally, which builds a strong and supportive community.
The cost varies among CSAs, mostly due to the length of their season, the size of the farm, and the variety of produce available. Full shares usually provide enough food for a family of four, and half-shares are enough for a 1-2 person household. Some CSAs also offer fruit, flowers, eggs, meat, honey, dairy, cheese and other options. Quantity and variety depend on seasonal changes, and of course weather conditions. Most CSAs pre-package your boxes for you, so you do not select the items to be included, although a few offer customizable boxes. Each farm makes a deliberate effort to offer the greatest variety possible and selections are harvested at the peak of ripeness and flavor.
Thanks to our Rural Buffer, there are many CSAs to choose from in Orange County. A great way to select a CSA is to visit the Chapel Hill Farmer's Market and Carrboro Farmer's Market and ask around to find out which farms offer a CSA option. It gives you the opportunity to meet the farmer and see the quality of their produce first hand. To make the decision even easier for you, I have compiled a chart below that briefly compares eleven local CSAs, with links to their websites. Every CSA on the list makes weekly deliveries to a convenient pickup point in the Chapel Hill/Carrboro area and they all practice sustainable and/or organic farming techniques. All the farms with farm animals raise them free-range and steroid, hormone and antibiotic-free. This is not a complete list, but these are some of the more established CSA farms in the area. For more detailed information about each farm, harvest schedules, product offerings, and information on how to apply for a CSA membership there, please visit their website. The histories of these farms alone make for really fascinating reading.
Space is very limited and they fill up quickly, so you have to apply soon if you want to join a local CSA. I highly recommend that you do. I have had a wonderful experience using a local CSA and I know you will, too.
If you would like The Chapel Hill Recorder to add your CSA farm or the CSA farm you use to this list, please let me know by commenting below, and I will definitely include it.
A QUICK SUMMARY OF SEVERAL LOCAL CSAs:
FARM NAMES & WEBSITE LINKS
COST
SEASON
OFFERINGS
FEATURES
BRINKLEY FARMS
Full: $415
1/2: $335
Indiv: $255
Mid-April – Late-July
50 Vegetables & Herbs, Meat & Eggs
• Winter Share Option
• Fully-Customizable Box
CANE CREEK FARMS
Full: $800
1/2: $450
Year-Round
45 Vegetables & Herbs, 5 Fruits (Meat, Honey, Eggs, Plants, and Canned Goods are Extra)
• Fully- Customizable Boxes
• Fee is By Weight, Not Time so Quantity is Flexible
• Educational Events
• Farm Activities
• Home Delivery
CASTLEMAINE FARM
Full: $500
1/2: $320
Late April – Late August
30 Vegetables & Herbs
• Weekly Newsletter with Recipes
ECO FARM
Full: $500
1/2: $300
Late April 23 – September 19
50 Vegetables & Herbs, 3 Fruits
• Family Recipes
COON ROCK FARM
Full: $500
Mid-April – Early September
45 Vegetables & Herbs (Egg & Meat Shares are Extra)
• Winter Share Option
• Custom Order List Option
ELYSIAN FARM
Full: $535
1/2: $335
Mid-April – Mid-August
35 Vegetables & Herbs, 3 Fruits
• Weekly Newsletter with Recipes
HARLAND'S CREEK FARM & MID-CHATHAM FARMER'S ALLIANCE
Full: $650
1/2: $468
Small: $380
Late April – Mid-November
45 Vegetables & Herbs, Melons (Meat & Chicken, Chicken & Fish, Eggs & Cheese, and/or Fruit Shares are Extra)
• CSA Booklet of Storage Hints, Recipes, Ingredient Lists & Tips for Cooking for Kids
• Farm Visits
• Meal Plans
MAPLE SPRING GARDENS
Full: $630
Small: $435
May – September
45 Vegetables & Herbs, 3 Berries, Melons (Cut Flower Share or Herb Share is Extra)
• Weekly Newsletter with Recipes
• Farm Tours
• Payment Plans
THE PRODUCE BOX
Full: $23-$26/week
Mid-April – Mid-November
75 Vegetables, Herbs & Fruits (Fruit Only Box Option)
• Weekly Newsletter with Recipes
• Pay Each Month
• Home Delivery
• Customizable Boxes + Add-Ons Available
• Partners with 25 Local Farms
TIMBERWOOD ORGANICS
Large: $900
Full: $700
Small: $376
Mid-April – Mid-October
35 Vegetables & Herbs, Melons
• Home Delivery
• Payment Plans
• Farm Tour
You might also like:
Category: Places