Local artist Elaine O'Neil celebrates the spirit of the Chapel Hill area through cheerful, textured, colorful tributes to our landmarks, restaurants, and scenes around town.
The first time I saw Elaine O'Neil's work, I was waiting to check out at A Southern Season. The line was long, and although I did not want to lose my place, I was helplessly drawn towards this depiction of Chapel Hill, North Carolina hanging on the wall with the force of a strong magnetic pull. Whenever the subject of a work of art is Chapel Hill, I am naturally attracted to it. But that was not why I was so instantly intrigued. From a distance, I could not figure out what made this painting look so unique. As I approached the picture to get a closer look, the detail in the textures was impressive, the color palette beautifully bright and bold, and those tiny, meticulous stitches… wait, stitches? I could not believe my eyes. The entire piece was sewn cloth, also known as textile collage. I was amazed and impressed. Soon afterward, I was seeing "Elaine O'Neils" all over town — at Kidzu Children's Museum where I take my daughter "Zoomer" to play, at UNC Hospitals' Orthopaedic Clinic at the Ambulatory Care Center when my mother broke her wrist last April, while dining one evening with friends at 411 West, and even when I went to get a mammogram at UNC Hospitals' Cancer Center, there were Elaine O'Neil's large-eyed, smiling characters in the waiting room, making me smile.
CAPTURING THE ESSENCE OF CHAPEL HILL
O'Neil's work always makes me smile, which is this artist's intention. "I try to make a piece look the way you feel when you are at a place you have a connection to," says O'Neil. "I want the viewer to smile when they see my work — to feel happy, remembering fond times, tastes or experiences." As a devoted Chapel Hillian, O'Neil's work resonates with me on so many levels. There are many local artists who use Chapel Hill, North Carolina as their muse and subject of their work. However, very few express the spirited nature that reflects the heart and soul of our town as beautifully as Elaine O'Neil. Her ability to portray the energy contained in a seemingly static scene is phenomenal. O'Neil tunes in to the hidden qualities of each place she portrays, deliberately listening for its pulse and sensing its underlying movement. Then she manages to successfully translate that feeling in her work with acute sensitivity and utmost respect.
Her fondness of the Chapel Hill area certainly helps her process, too. "My husband and I first visited Chapel Hill in 1994," O'Neil remembers. "We had three young sons and were thinking about making a change. We instantly fell in love with the village of Chapel Hill and the amazing beauty of the UNC campus. We could envision our boys growing up here and being a part of this community. We made an offer on a home the summer of 1996 and moved here before school started." The town of Chapel Hill itself is where O'Neil finds her inspiration for her artwork. "I love this place!" exclaims O'Neil. "The spirit and energy of people learning, educating, helping and nurturing is all around us and makes us feel good that we live in such a positive place. I try to convey that feeling in my work. I choose places to depict that are local favorites, have an interesting story, are unique architecturally, have a long history, serve great food or provide a service to the community, and places that capture the feel of Chapel Hill."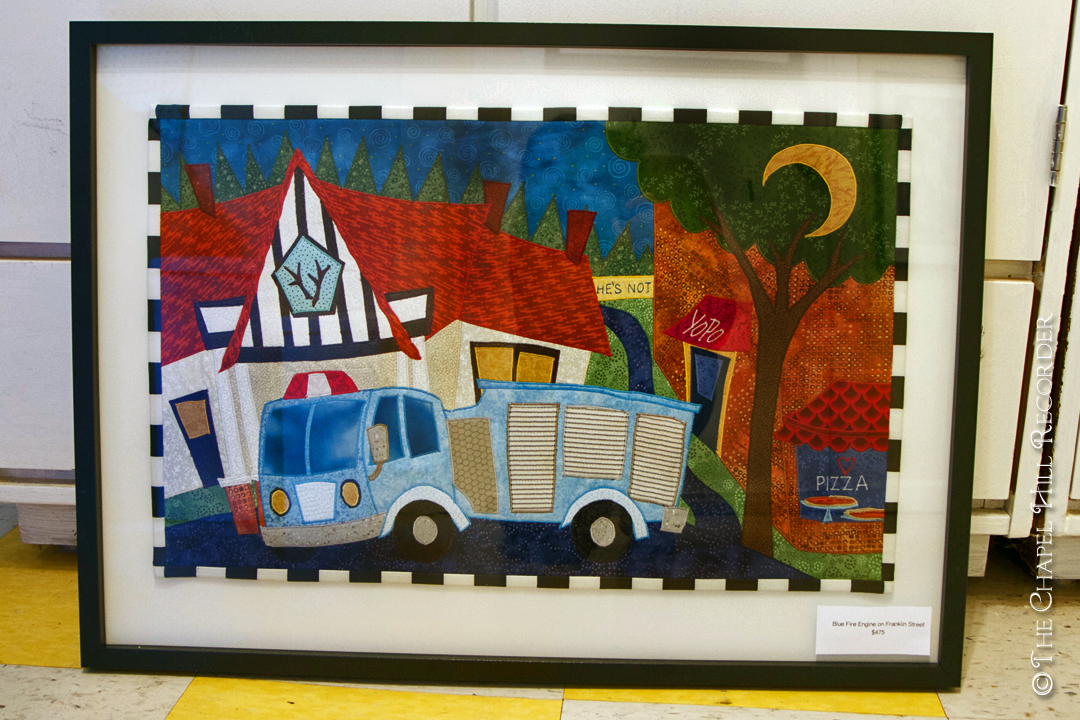 FROM SEWING TO TEXTILE COLLAGE
Elaine O'Neil grew up in Maine under the tutelage of two master seamstresses who greatly influenced her love of sewing: her grandmother and mother. "My mother was a Home Ec teacher. She taught me how to sew and helped me when sewing was frustrating. She and my grandmother were both amazing seamstresses and we always had a closet full of fabric. I spent many hours pouring over the fabric colors and textures, choosing the right fabrics for my projects. I entered lots of sewing competitions as a girl, and after a brief year studying agriculture in college, changed my major to textile design." After high school, O'Neil attended Philadelphia College of Textiles and Science and it played a key role in developing her passion for textile collage. "'Textile' was a great school," O'Neil reflects. "We learned all aspects of textile production, from spinning and dying yarns to weaving, knitting, printing and non-woven fabric production. We learned textile marketing, management of mills, color science, and finishing of fabric."
Combining sewing with textiles was an obvious next step on O'Neil's path to becoming the artist she is today. The art of textile collage involves selecting swatches of colored fabric, cutting them out into shapes, and sewing them together to create a composition. It is a tedious, time-consuming process that requires meticulous seamstress skills, as well as artistic sensibilities such as composition, color, texture, rhythm, perspective and movement. The playfulness of O'Neil's compositions masks the complexity and intricacies of the technique. "My artistic process begins with the simple, pure memories of childhood," explains O'Neil. "I strive to conjure up the essence of those good times and capture them through whimsy and color, stitching them together with a sense of humor and delight. My process begins by approaching each textile collage with a simple sketch. Then through snips and cuts, my scissors, like a painter's brush, slowly reveal the image. Layer upon layer of fabric, stitched into place using a variety of colors and textures, brings the piece to life. In each piece I create, my hope is to evoke a kind of pleasure and delight, when life is simple, sweet, and full of endless possibilities." Each piece O'Neil creates has anywhere from two to seven layers of fabric throughout it.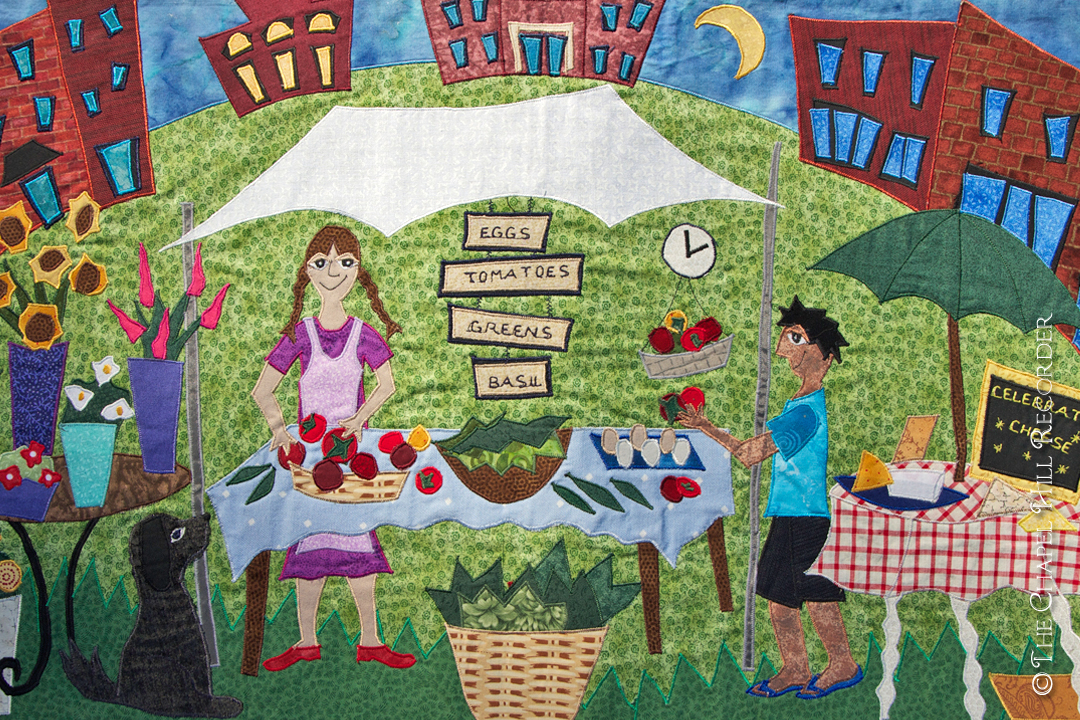 FINDING HER ARTISTIC VOICE
Many artists struggle to find "their voice" at first. Professional artists, dealers and gallery owners would agree that it is important to have a recognizable style within your body of work that is true and unique to you. Additionally, it should be one that appeals to a population of potential buyers, if your intention is to make a living from it. An Elaine O'Neil collage is unmistakable, even at a distance. Certain abstractions founded in realism are consistent throughout her work, including bent and twisted edifices, angular trees, crescent moons, happy dogs or other animals, and the huge eyes and big smiles on her characters' faces. "My style is quirky, with lots of color and texture and movement," O'Neil states. "I think my style did evolve over time, although the roots of it were always there: the spiky pine trees, the ever-present moon and the tilting and leaning buildings. It just happened, though, I didn't try to make it happen. The great thing about being an artist is that you can create your own rules and do things that please yourself first. I find it much more fun to have the bell tower tilt than to have it perfectly straight up and down. Some other people might do it another way, feel another. I have tried an abstract style — very much inspired by Matisse's cut-outs. Matisse is my very favorite artist! Those pieces are very freeing to create and it's enjoyable to do something very different from my usual style."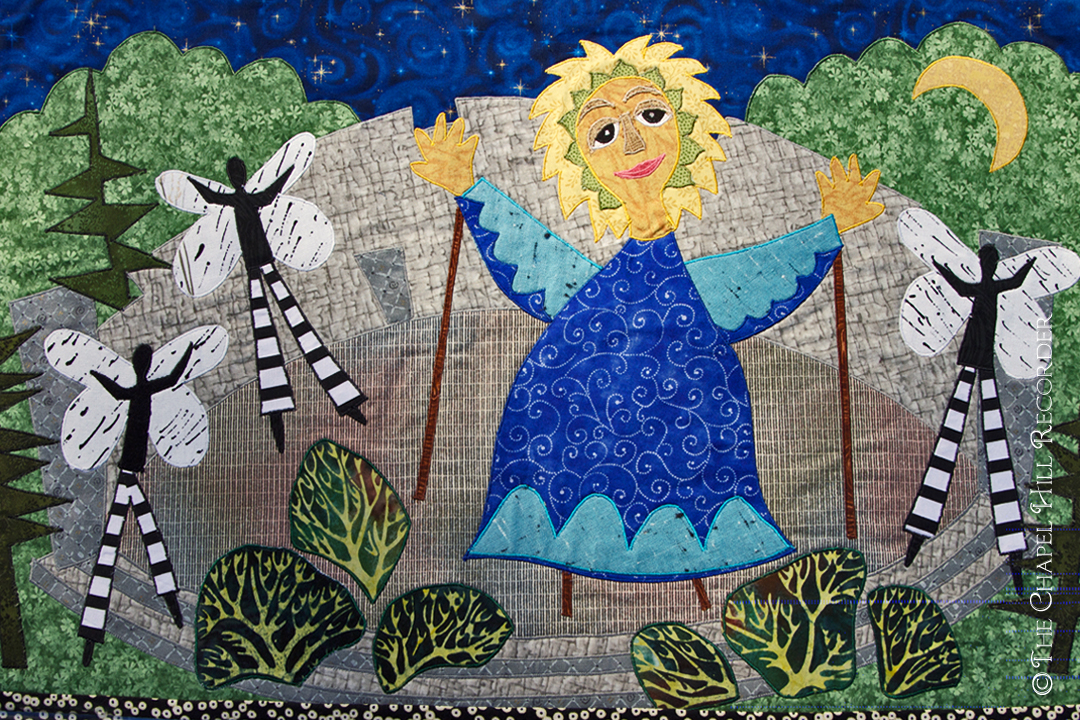 TOOLS OF THE TRADE

Having the right materials on hand and a functional work-space or studio are essential for any artist. O'Neil's first sewing machine growing up was a Singer. She has been through several sewing machines since then. "My parents gave me a Bernina sewing machine as a graduation present from college. I put many thousands of 'miles' on that!  My next machine was a Viking and I loved that, too. It wore out and now I have an Elna." The thread she uses is shiny satin, and her fabrics are purchased locally at Thimble Pleasures located on 225 South Elliott Road in Chapel Hill and also at Jo-Ann Fabric and Craft Store in Durham. "People often give me fabrics from left over projects, upholstery, curtains, or other items. I have also bought garments and used that fabric if the color/texture is just right and I can't find it otherwise," says O'Neil. "Choosing the fabric color palette is really great fun. I think it is kind of instinctive, but it also depends on what colors I have in my bins. So sometimes, I must make a pleasing palette considering what my options are. I love color and am not afraid of bold, intense color. If I'm struggling to put a group of fabric colors and textures together, I head straight for Thimble Pleasures to get some new choices." The backing/stabilizing fabric for each piece she creates is usually something fairly stiff like a cotton duck or twill.
Her in-home studio is extremely organized and full of natural light. O'Neil shares her tips to creating a productive work environment: "Think about how you work, and come up with areas or places where different 'steps in the process' happen. I have a few designated places where I do certain things: my counter where I design, sketch, lay out fabrics and cut, an ironing area and my sewing area, and my computer/business area. It works well to have specific places where things get done and it also makes me move around, not stand or sit in one place all day."
BECOMING A FULL-TIME ARTIST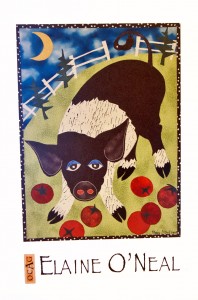 Making the transition from the workforce to full-time artist, with motherhood thrown in, can be challenging to say the least. Elaine O'Neil was patient in getting where she is now, and divided her time between the studio, earning income, and her family. "When our kids were home, it was a great job to have. When they were in school, I was in the studio. When they were home, I did Mom stuff. I have always been able to forget the sink full of dishes or the fact that I need to vacuum, and head into the studio. I know the housework will get done, but studio time doesn't happen if you don't make it. Now that they are all in college or otherwise, I have the whole day to do my work, so it's much different now." For those artists who would love to be in O'Neil's "full-time artist shoes," she has this to say: "I guess my advice would be to do what you love and to be brave! It's hard to put yourself out there and show your work — it's such an act of bravery! You must also conquer the fear of marketing yourself. Meet and talk with other artists — become a part of the community. It does take time to become a full-time artist — for years, I supplemented my art sales by sewing slipcovers and draperies. The day I said, 'No more slipcovers!' was a fantastic day!"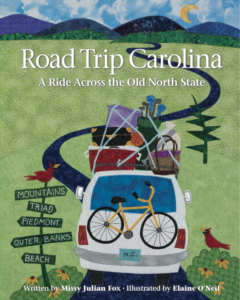 O'Neil has exhibited her work in galleries up and down the East Coast, as well as in the mountains of North Carolina. She regularly creates custom commissions, and has created pieces for clients in Russia, England, Greece, Italy and France, as well as many states in the United States. Her work is publicly held by many colleges, hospitals, and businesses, and has been featured as the cover art of several books and publications. She has also illustrated three children's books. She spent over a year sewing the illustrations for Goodnight Carolina, a children's book by Missy Julian Fox and Marie Myers Lloyd celebrating the town of Chapel Hill. More recently, O'Neil just published Roadtrip Carolina with Missy Julian Fox, which can be purchased here: www.roadtripcarolina.com.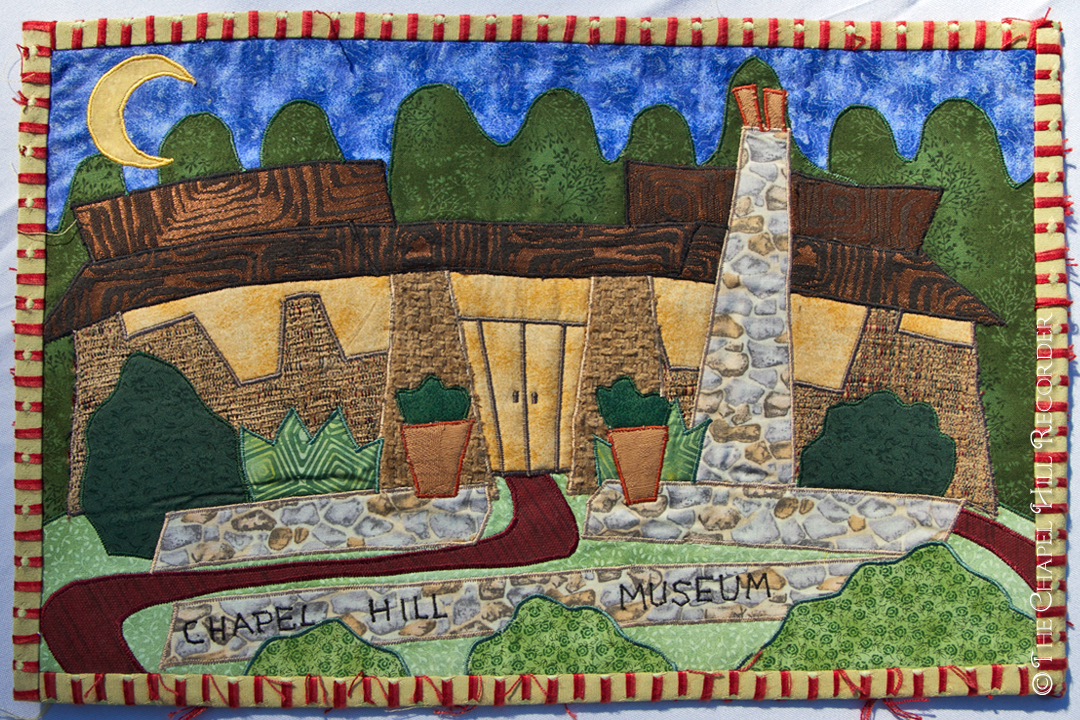 A TYPICAL DAY OF WORK
Like most artists, O'Neil prefers to work in concentrated blocks of time, rather than breaking it up over hours here and there throughout the day. "I need a solid block of time. I go into my studio around 8:30 or 9:00 am and try to come out at dinner-time. I'm driven and will spend hours in my studio, and sometimes I don't come out until my husband comes in to make me stop at 10:00 or 11:00 pm.  I like doing what I do very much, but when my hands throb and ache I know I need to take a break — otherwise I probably wouldn't leave the studio!" O'Neil rarely takes a break between projects. A quick jaunt in the fresh air is all she needs to recharge and then she gets right back to it. "I am a runner and like to do that, or take our dogs for a walk — something that involves moving outside. When I finish a piece one day, I start another the next day. It's a completely different thing to start a piece than to finish a piece, so it's exciting to begin again."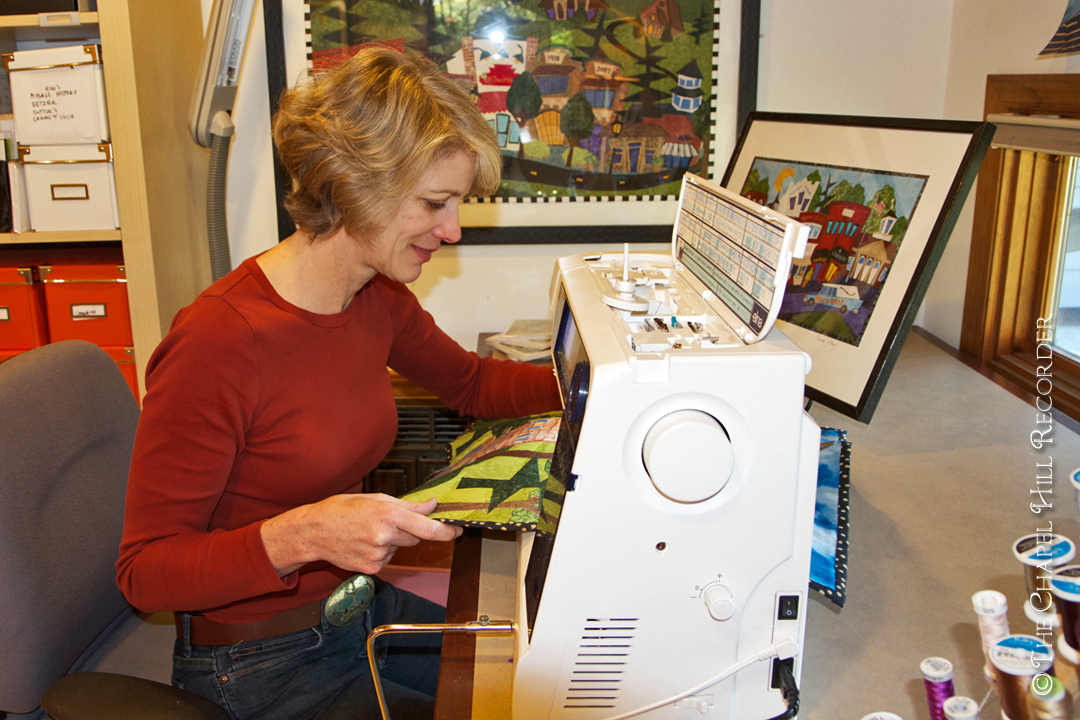 GIVING BACK
Elaine O'Neil is very involved in supporting the Chapel Hill community. She is always looking for ways to contribute her creativity to the town that inspires her. "I donate a lot of work to the community. I think it's important because I want to give to this community that I love so much. It also ends up being beneficial to me, since some people who attend those events may become future clients. This past year, I donated work to FRANK, Lineberger Comprehensive Cancer Center, The Rape Crisis Center, SECU Family House, and Triangle Youth Ballet. I also worked with Dana McMahan on a children's book called Grandma Elf's Letter Sweaters, and proceeds from the sale of that book go to the SECU Family House," says O'Neil. Additionally, O'Neil has created a 2013 calendar called Luv This Place featuring scenes from throughout the state of North Carolina, and a share of the proceeds benefits the N.C. Cancer Hospital. Calendars are available for purchase at A Southern Season (in store and on-line), Flyleaf Books, Thimble Pleasures, McIntyre's Bookstore, Quail Ridge Books, NOFO, N.C. Craft Gallery, FRANK, and Be Our Guest.
UPCOMING SHOW AT CROOK'S CORNER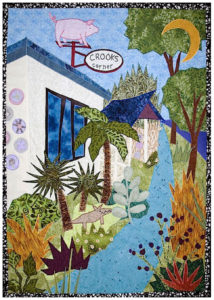 Crook's Corner, located at 610 West Franklin Street, Chapel Hill, North Carolina, is one of Elaine's favorite restaurants, is the subject of several of her collages, and is the site of her upcoming show beginning December 1, 2015 through January 11, 2016. There are two artistic focuses in this latest show: two walls are Chapel Hill/Carolina themed, with pieces such as "Winding Down Franklin Street", "Tug of War for the Victory Bell" and "All In" — a piece depicting all the ACC mascots playing poker around a big table. The third wall features some of the originals from her 2016 Luv This Place North Carolina Calendar, including "NC Cookbooks", "Mountain Vineyard", "Grandfather Mountain Swinging Bridge", and "Snowy Viaduct". Definitely stop by Crook's and check it out, and if you can, snag some of these original masterpieces for yourself!
WHERE TO PURCHASE AN "ELAINE O'NEIL"
Considering her amazing talent, the time-consuming and arduous labor involved in creating each piece, and her popularity locally and abroad, many of Elaine O'Neil's original pieces are surprisingly still priced under $1,000.00, some even under $600.00. I guarantee buying her work now would definitely be a sound art investment, because they will not stay this affordable for long. If this is still out of your price range, O'Neil sells various-sized prints, framed or unframed, and even note cards for $15.00, perfect for the financially strapped fans like myself. These are available at Southern Season, located in University Place.
PERSONALIZED COMMISSIONS
Elaine O'Neil is also available for commissions, and can even work from photos of favorite places or pets. Last spring, my dream of owning an original Elaine O'Neil finally came true, as I commissioned a piece of the Horace Williams House as a surprise for my husband on our 15th wedding anniversary. Working with her was a joy, and she enthusiastically included all the little details I remember from our special day — the tiger lilies and magnolia blossoms in full bloom, and a beautiful hawk soaring above us. She even adjusted the color of the windows that her previous Horace Williams piece had, from a Duke blue to a Carolina blue, for obvious reasons. I personally guarantee that having an Elaine O'Neil grace the walls of your home will make you smile every time you pass by it. I sure do!
For more information about Elaine O'Neil and to purchase her beautiful textile collages, visit: www.elaineoneil.com .
You might also like:
Category: People