Chapel Hill in April is a colorful wonderland of blossoming flowers and bright green leaves. One of the best ways to celebrate Spring's renewal is to visit our local farms by taking the 19th Annual Piedmont Farm Tour!
On Saturday, April 26 & Sunday, April 27, 2014 from 2:00 pm – 6:00 pm, thirty-nine farms on the outskirts of town will be opening their doors, well, just their fields to the general public. This is the perfect weekend event for family and friends, and each farm is planning on hosting fun activities for visitors! This is also the perfect opportunity to select a local CSA, as many of the participating farms below are also CSAs. Remember to bring along a cooler (or two!), as many farms will have fresh produce and farm products for sale on site.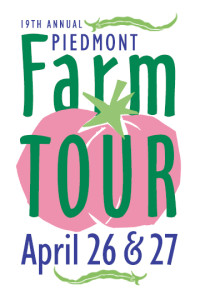 For just $25 a carload in advance, ($30 at the farm), you can choose which farms you would like to visit over the two day, self-guided tour. Alternatively, you can spend $10 per car, per farm. Biking groups of two to twenty bikers count as one car. This is a tax deductible donation that benefits the Carolina Farm Stewardship Association, a non-profit organization whose mission is dedicated to helping "people in the Carolinas grow and eat local, organic foods by advocating for fair farm and food policies, building the systems sustainable family farms need to thrive, and educating and organizing communities about organic farming."
Volunteers are welcome, and attend the Farm Tour for free, and get a free T-shirt! If you would like to volunteer, email Fred: fred@carolinafarmstewards.org.
This tour is co-sponsored by Weaver Street Market, where you can purchase Farm Tour Admission buttons in advance and pick up a free Farm Tour Guide booklet at any of their locations. Or you can download the Piedmont Farm Tour Map 2013 (PDF) by clicking here. Click here for More Information, to view an Interactive Farm Tour Google Map, and to Purchase Buttons Online.
Here is an alphabetical list of the participating farms:
Avillion Farm: 4737 Shanklins Dead End Rd, Efland
Our farm is home to fiber-producing livestock – Shetland and Jacob sheep for wool, Angora goats for mohair, and Angora rabbits for angora. Fiber from our livestock is processed  into roving for spinning and felting and yarns. There will be energetic lambs & goat kids to see and angora rabbits to touch and admire. Watch fiber being spun into yarn and crafted into a variety of items. Learn about our low input sustainable approach to raising healthy livestock. http://www.avillionfarm.com, avillionfarm@avillionfarm.com
Benjamin Vineyards & Winery: 6516 Whitney Rd, Graham
Come see the sustainable practices and unique trellising we use to grow Muscadine grapes, French grapes, and French hybrid wine grapes. Enjoy a wine tasting in the winery, see our wine-making equipment, and tour the vineyard with the winemaker/grape grower. Shop for jellies, juice, cheeses, wine and wine accessories in our gift shop! (336) 376-1080,www.benjaminvineyards.com, benjaminwines@cs.com
Boxcarr Farms: 1203 Longest Acre Rd, Snow Camp
We are a small family-owned farm of artists, artisans and chefs. It's our fourth year of farming and we are in the beginning stages of handmade cheese production. Our food truck, local in Motion, will be serving the freshest, most delicious food. Bring a picnic blanket! Come see dairy goats, chickens, and our cheesery taking shape! (919) 732-9078, www.boxcarrfarms.com, austin@boxcarrfarms.com, dani@boxcarrfarms.com
Braeburn Farm: 2207 Carr Store Rd, Cedar Grove
We are a family of chefs, artists, and artisans who started a small farm. We are now entering our third year farming. Our catering business and food truck, Local in Motion, is our way of getting the freshest food from our farm and neighboring farms straight to you. You can visit our farm to see the animals and crops, and then relax while you enjoy the delicious food at tables or bring a blanket for a picnic. (336) 693-4549, www.braeburnfarms.com
Captain J. S. Pope Farm : 6909 Efland-Cedar Grove Rd, Cedar Grove
Riding tour of the farm and guided tour of the 150 year-old home of Capt. John and Mary Jane. Lamb Burgers and Lamb Dogs served each day starting at noon. Four-course dinner ffeaturing lamb and vegetables grown on the farm served at 6:30 pm on Saturday. Cost for dinner is $60 including wine. Call for reservations. Reservations at (919) 621-1150, www.dorperscedargrovenc.com, rpope23@nc.rr.com
Cedar Grove Windy Hill Farm: 1319 Carr Store Road, Cedar Grove
Come see our scenic and historic farm! You will enjoy meeting our friendly goats and seeing the guineas as they skitter about the farm. Learn about management-intensive pasture-raised cattle, honeybees, blueberries, figs, pears, muscadine grapes, and the 6.48 kW solar array. Goat milk soap, cookies, and lemonade for sale! cedargrovewindyhillfarm@gmail.com
Celebrity Goat Dairy: 198 Celebrity Dairy Way, Silk Hope
Changes are happening toward Celebrity Dairy's goal to start an "Incubator Farm"! The irrigation pond site has been cleared and the dam may be under construction (we are writing this in early February). Next will be the location of the communal prepping area and storage of equipment to be shared. If you are needing a place to farm and have a plan, take this as an opportunity to discuss possibilities of being involved in this project with Brit, Fleming or John. And, of course, come see our friendly goats and historic B&B! Our LUNCH: Locally sourced soups, wraps, and hot drinks. Noon-3:00 pm, while supplies last. (919) 742-5176, www.celebritydairy.com, theinn@celebritydairy.com
Chapel Hill Creamery: 615 Chapel Hill Creamery Rd, Chapel Hill
Come see our herd of Jersey cows and how we produce delicious farmhouse cheeses. Ride wagons to the farm, see pigs slurping whey, meet our oxen, and enter the name-the-calf contest. We'll have many cheeses as well as sausage tasting and for purchase; plus Cheese Picnic Boxes for Sale. Please bring a cooler. www.chapelhillcreamery.com, info@chapelhillcreamery.com
Coon Rock Farm: 1021 Dimmocks Mill Rd, Hillsborough
Sustainable produce and animal farm in an idyllic setting along the Eno River. Tours guided and narrated by Richard or Jamie. Visitors will see gardens, compost production, weed control using coffee bags, solar hoop houses, permaculture and forest farming in sustainable woodlands. You will also see an extensive animal display of pastured poultry including farm-raised chicks, pastured pigs, piglets, lambs, and cows. (919) 732-4168, http://www.coonrockfarm.com, richard@coonrockfarm.com
Cooper-Lasley Farm – NEW!:5309 Mebane Oaks Rd, Mebane, NC 27302
Visitors will experience a historic farm turned into a growing sustainable all natural farm with heritage breed free-range chickens, grass-fed Angus/Hertford cattle, Boar/Nubian goats, and Berkshire/Duroc cross pigs. Check out our Certified All-Natural Produce and innovative and sustainable practices. (336)-707-2660, www.facebook.com/pages/Cooper-Lasley-Farm/140118032742343, www.cooperlasleyfarm.org
Cozi Farm: 2301 Austin Quarter Rd, Graham, NC 27253
Experience a pasture with a flock of heritage hens grazing after our affectionate Jersey cows and a rare breed of sheep. Meet our four guard dogs who protect the baby lambs. And hear about our organically milled local feed that makes a difference in our meat, poultry, and eggs! (336) 266-0670, https://www.facebook.com/CoziFarm, cozi.orders@gmail.com
Dancing Pines Farm: 3606 Buckhorn Rd, Efland
We are a two-acre produce farm. Tour goers will see two hoop houses used for year-round production, a pong irrigation system, and the newest additions- an enclosed packing shed with wash room and walk-in cooler. We sell at the Chapel Hill Farmers' Market, to restaurants, and small-scale grocery stores. (919) 563-3430, www.dancingpinesfarm.com and on Facebook.
Eco Farm: 2501 Butler Rd, Chapel Hill
Come see our shiitake mushroom operation, you-pick strawberries, blueberries, and our fresh produce growing in the field such as garlic, lettuce, bok choy, kale, collards, and butternuts. www.ecofarmnc.com, ecofarmnc@gmail.com.
Farm Boy Farms – New!: 102 L and W Ln, Pittsboro, NC 27312
Silos, elevators, train tracks, and fields! Family-friendly opportunity to learn about what we do to support the craft beer industry in North Carolina through craft farming and craft malting. Learn about our plant management practices as well as our barley, rye, and wheat fields. Participate in hop yard maintenance and the malting process. Swing by and make memories! (919) 696-7850, http://www.farmboybrewery.com, dan@farmboybrewery.com, Twitter: (@FarmBoyFarms)
Fickle Creek Farm: 4122 Buckhorn Rd, Efland
Something for everyone! Eggmobiles, sheep & lambs, steers, pastured pigs, Freedom Ranger broilers, ducks, Great Pyrenees livestock guard dogs, market garden. Self-guided tour on agroforestry, cover crops, grazing animals, and sustainable farming. Gather your own eggs! Food Truck both days. Pork, Beef, Lamb, Chicken, Eggs, and Produce to purchase and take home. Se habla espanol. On parle francais. http://ficklecreekfarm.com, ficklecreek@gmail.com
Flat River Nursery & Farm: 1548 Holeman Ashley Rd, Timberlake
A family farm since the 1700s, we strive to produce the highest quality produce, plants, etc., and improve the farm at the same time. See greenhouse tomatoes, cucumbers, bedding plants, hanging baskets, herbs, beneficial insects, and bumble bee pollination. Pick-your-own strawberries if the weather permits! (336) 364-2460  frn@esinc.net
Four Leaf Farm: 6815 Bill Poole Rd, Rougemont
Four Leaf Farm has 1/4 acre of intensively planted permanent raised beds, two greenhouses, active composting, perennial gardens, plant nursery, a small laying flock, shiitake mushroom logs and a kiwi vine. We will have annual and perennial plants for sale. (919) 644-6535,  fourleaffarm@gmail.com, www.fourleaffarm.org
Granite Springs Farm – NEW!: 266 Granite Springs Road, Pittsboro
We are in our 6th year of growing vegetables and pastured laying hens. Come meet our chickens and check out our greenhouses. Learn about our delicious oyster mushrooms, grown on straw in bags and suspended in the air! We are forming an intentional agrarian community on our 140 acres. Visitors can learn about the vision for this vibrant new community. (919) 542-2982, Farm@granitespringsfarm.com, www.granitespringsfarm.com
Harlands Creek Farm: 97 Plantation Drive, Pittsboro
Our certified organic farm will have vegetables and herbs in the field. Come see our new organic pest control "chicken tractor" system and meet the hens! See the formal parterre and plaza de fiesta. We operate CSAs with deliveries in Chapel Hill, Chatham County, Durham, Raleigh, and Sanford. Sign-up sheets will be available. We will have some vegetables and flowers for sale! (919) 542-4607 www.harlands-creek-farm.com, lesslerjud@msn.com
Herb Haven: 7729 McBane Mill Rd, Graham
Herb Haven is a 6-acre botanical sanctuary dedicated to the growing, rehabilitation, preservation and usage of over 60 medicinal plants easily grown in the Piedmont of NC. Come learn how to incorporate these medicinal plants into your landscape! (336) 376-0727, http://www.herbhaven.com
The Winery at Iron Gate Farm: 2540 Lynch Store Rd., Mebane
The Winery at Iron Gate Farm is situated on 60 acres north of Mebane. Come see how we rescued an old tobacco farm with the planting of vineyards in 2001. Check out the Belgian draft horses, fainting goats, chickens, and barn cats. Visit us to learn about our sustainable practices. See our unique fencing and bird netting used to protect the grapes from predators. Learn how spring water is collected for irrigation of the vineyards and for watering our horses. Wine tastings available for those 21 and older. (919) 304-9463, www.irongatevineyards.com
Maple Spring Gardens: 9812 Allison Rd, Cedar Grove
In business since 1984, we produce more than 100 varieties of vegetables, berries, and cut flowers on what was once a worn-out tobacco farm. See our greenhouses, high tunnels and field production. Check out our ginger and shiitake mushrooms, and the nwe solar array to offset some of the farm's electrical usage! We sell via area farmers' markets, the Hillsborough Weaver Street market, and our CSA. www.maplespringgardens.com, On Facebook at Maple Spring Gardens, LLC
Millarckee Farm: 6833 Bethel South Fork Rd, Snow Camp
Located on beautiful Cane Creek, Millarckee Farm has been growing veggies organically for 25+ years! Playing with an efficient bed/path/crop rotational system has allowed us to greatly reduce outside inputs like manure, minerals, and gas, while increasing soil structure and nutrient availability. This will work in your yard or farm without big equipment. Stop by to learn how!
Minka Farm: 120 Minka Farm Ln, Efland
Come check out our baby Great Pyrenees puppies, ducklings, chicks, goat kids, calves, and piglets. Visit our extensive orchard. Bring a cooler for 100% grass-fed beef and pastured pork. Self-guided tour and farmer-led discussions available. See website for schedule of topics and times. (919)-304-4999,  www.minkafarm.com, farmer@minkafarm.com
Perry-winkle Farm: 1061 White Cross Rd, Chapel Hill
Perry-winkle Farm and Chicken Bridge Bakery are teaming up again. Grab goodies warm from the bread-oven and stroll through fields of sustainably-grown vegetables and cut flowers. Learn how we rotate crops and animals to ensure a healthy environment for both. See our "Egg-Mobiles," "Chicken Tractors," and Hebel Block passive-solar greenhouse. Let us introduce you to our neighbors and good friends- Monica, Rob, Simon, and Milo of Chicken Bridge Bakery. perrywinklefarm@aol.com
Piedmont Biofarm & Screech Owl Greenhouse: Screech Owl Greenhouse, 192 Lorax Lane, Pittsboro
Check out this innovative farm! Our veggie and seed garden has movable caterpillar tunnels. See our veg variety trials and plant-breeding plots, developing strong, tasty, and well-adapted plants. Don't forget to check out the cutting-edge solar double cropping with solar panels mixed in with shade crop production! (919) 444-9680, www.piedmontbiofarm.blogspot.com Join Screech Owl Greenhouses for a tour of the cucumber, lettuce, tomato, and pepper houses, and sample some of our tomatoes. Don't forget to say hello to Cali, our famous farm kitty! (919) 389-8643, facebook.com/screechowlgreenhouses, screechowlgreenhouses@gmail.com
Pine Knot Farm: 8906 Hester Rd, Hurdle Mills
A third-generation minority farmer raising certified organic sweet potatoes, collards, cabbage, kale, turnip greens, and 25 acres of organic tobacco. You'll also see pastured poultry and pastured pork. Stanley sells his tobacco to the Santa Fe Natural Tobacco Company and markets his produce at the Carrboro and Durham Farmers Markets and through Eastern Carolina Organics. (919) 644-3276, leachlinda14@yahoo.com
RambleRill Farm – NEW!: 913 Arthur Minnis Rd, Hillsborough, NC 27278
"Certified organic": We avoid using synthetic pesticides or herbicides! Learn about certified organic principles and practices as you visit our fields and hoophouse where we grow vegetables, fruits, and mushrooms. Also check out our "Magic-of-Seeds" station for kids; see solar mini-applications at work; inoculate a shiitake log; meander the Wendell Berry Woodland Trail; Plus, sample farm tastes! (919)-618-6067, www.RambleRillFarm.com, Facebook: www.facebook.com/RambleRill, jane@RambleRillFarm.com
W C Breeze Family Farm Ag Ext & Research Center: 4909 Walnut Grove Church Road, Hurdle Mill
Come see how we grow vegetables and new farmers! Rooted in an 8-week workshop series offered each winter, beginning farmers learn skills and then lease land to start their own farm businesses. Check out our two new hoop houses and meet our enterprising farmers! (919) 245-2050, http://www.orangecountyfarms.org/PLANTatBreeze.asp, carl_matyac@ncsu.edu
The Student Farm at CCCC: 764 West St, Pittsboro
Visitors will tour vegetable production areas, learn about organic production practices that include crop rotation, cover-cropping and incorporating livestock into the field rotation. Organically-raised vegetable transplants will be available for sale. Various on-farm energy production features will be part of the tour. The Chatham Beekeepers will be at the farm both days of the tour educating about beekeeping and pollinators. Honey for sale! www.cccc.edu/green, rkoha065@cccc.edu
Sunset Ridge Buffalo Farm: 465 Yarborough Rd, Roxboro
Narrated 30 minute covered wagon tours beginning at 1:00 pm. See seventh generation family farm where grass-fed buffalo roam – mature breeding bulls, cows, calves, all majestic symbols of America! Bison lunch on sale at our beautiful lakeside gazebo from 12:30-3:00 pm. Bring a cooler and purchase bison burger, steaks, sausages, roasts, and move! (336) 583-6666, www.SunsetRidgeBuffalo.com, buffalojack7@gmail.com
Timberwood Organics: 4619 Timberwood Trail, Efland
Certified organic family-owned farm producing quality produce and herbs since 1989 for sale at the Carrboro Farmers Market, CSA, restaurants, and stores. Delicious homemade breads, snacks, and produce will be available for sale. (919) 260-1811, www.timberwoodorganics.com, tw_organics@metbel.net
Transplanting Traditions Community Farm: 2912 B Jones Ferry Rd, Chapel Hill
Four-acre educational farm that works specifically with the Karen Burmese refugee community. This farm grows crops known to NC but also specializes in tropical Asian crops specific to Burma. These include many kinds of herbs, gourds, turmeric, taro, rice, ginger, and galangal. Learn about chicken tractors on a community farm scale. Buy seedlings for your own garden. (919) 967-9091, KOwensby@OrangeSmartStart.org
Turtle Run Farm: 5776 Rumley Rd, Graham
Vegetable gardens, Cypress earth-berm greenhouse, Pioneer cabin, organic fertilizer demo, and a Wiggling-Worm composting operation. Been out to Saxapahaw lately? This historic village has transformed into the cultural Mecca of NC! (336) 376-3313, www.useyerfoot.com
Two Chicks Farm: 3800 Mallory Ct, Hillsborough (located at end of street down gravel driveway)
Although no chickens here, you will see a small sustainable farm with three hoop houses. We grow vegetables that we use to make pickles, pepper jellies, and sauerkrauts. Stop by to see the farm and try our Dill Kraut'n Pickles, winner of the 2014 Good Food Award! www.twochicksfarm.com
Waterdog Farm: 904 Terry Road, Hurdle Mills
Visit our herbal tea, flower, and specialty produce farm on the Flat River. Take a farmer-led tour, sample our herbal teas, buy green garlic and cut flowers, and investigate what's blooming this time of year. Learn about the relationship between this farm, our forests, and Durham's drinking water while walking down to the river with our resident biologist/farmer.waterdogfarms.com
Wild Hare Farm: 9836 Allison Rd., Cedar Grove
We raise a variety of beautiful cut flowers and vegatbles using sustainable methods. Our products are available at the Carrboro Farmers Market, Weaver Street Market, local restaurants and florists. Come see what's growing in our hoop houses! (919)452-8987, http://www.wildharefarm.us
Windy Acres Farm: 7624 Harmony Church Rd, Efland
Visitors will be able to pet and feed our goats, and see our strawberry field. Cold weather crops will be planted (lettuce, cabbage, peas, etc.) We use manure and other natural methods for fertilizer and pest control. We will have pork samples from pigs raised on the farm as well as homemade pickle samples! (919) 563-9880, windyacresfarm@mebtel.net
Woodcrest Farm: 5604 Dairyland Rd, Hillsborough, NC 27278
Woodcrest Farm is a working family farm. Come see grass-fed Dexter beef, farm-raised pork, dairy cattle and goats, free-range chickens, and organically raised produce. We also have a working blacksmith shop and offer on-farm homesteading classes on everything from cheesemaking to quilting. (919)-933-5105, www.WoodcrestFarmNc.com, info@woodcrestfarm.com
You might also like:
Category: Arts & Entertainment