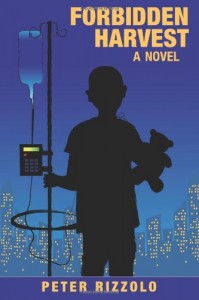 ORGAN TRANSPLANTS IS SUBJECT OF CHAPEL HILL DOCTOR'S NOVEL
After retiring from a long career as a medical doctor, including 19 years as faculty in the University of North Carolina School of Medicine, Peter Rizzolo, Chapel Hill resident, has released his new novel, based upon the theme of organ transplants.
His medical thriller, Forbidden Harvest, stars two feisty, but desperately ill, teenagers: Link, who survives a heart attack before turning 13 and now requires a transplant, and Marty, a cancer patient who made it through a below-the-knee amputation but learns her cancer has come back. Both Link and Marty liven the corridors of Children's Memorial Hospital in Seattle. Aware how slim their chances of survival are, they buoy up each other's spirits. Marty, 15 going on 30, studies drama when she's well enough to go to school; she brings that into Link's hospital days.
Both kids interact with Dr. Kenneth Bernholtz, a bachelor in his 60s, who has made his life's work saving children needing the right heart, liver, kidney or lung before it's too late. During much of his exemplary career, Dr. Ken served as chief pathologist at Children's Memorial. Finally, as a researcher, he is on the brink of discovering how to preserve human organs, so that donor hearts and kidneys, for example, can be flown to patients thousands of miles away and still remain viable.
Unexpectedly, the hospital shuts down Dr. Ken's key experiments, due to outside pressure groups, and he is devastated. Still, as head pathologist, he can perform autopsies and holds in his hands precious organs that literally mean life or death. Dr. Ken is especially close not only to Link, his godson, whose condition awaits a miracle, but to a new hospital in Washington State, underwritten by wealthy Saudis (Hakim Medical Center), where in their own land, laws limit organ transplants. In secret, Dr. Ken and Dr. Faysal, head of the Saudi hospital, agree to use suitable organs without permission. They are delighted as the Saudi children heal and return home. Dr. Ken is thrilled as well by the increased, though illicit, success of his experiments; Dr. Faysal is excited by the financial generosity of Saudi parents.
Dr. Ken, however, cannot do the same for Link. Transplant surgeons at Seattle Children's Memorial demand extensive paperwork about each donated organ before performing surgery on their patients.
Despite his family's loving attention and efforts, Link is failing. Link's father, Tom Bradshaw and his grandmother, Lydia, are growing increasingly desperate. Lydia begs Dr. Ken, with whom she had a romance in their youth, to do whatever he must to save her only grandchild.
Marty, as she awaits chemotherapy, drops in on Link daily. She enlists Link in a scheme to sneak into the morgue and watch an autopsy. The teenage conspirators call it "Operation Skyhawk." But the results turn out to have far-reaching consequences that impact the lives of Tom, Lydia, Dr. Ken, a young resident physician and nurse, even of Dr. Faysal, forever.
Author Rizzolo and his wife, Alyce, were "blessed with six children," as he says, who grew up in Flemington, New Jersey where he practiced Family Medicine for twenty years. In 1978 they moved to Chapel Hill where he joined the faculty in the department of Family Medicine at UNC. After retiring, Dr. Pete, a lover of reading fiction and scientific works, earned a Master's Degree in English at NC State and wrote a novel as his thesis.
For more information check the Visit his website to learn more: www.peterrizzolo.com
KIRKUS REVIEW (Feb. 2014)
Pub Date: May 2nd 2013
ISBN978-1482847273
Publisher: CreateSpace
You might also like:
Category: Press Releases