Where do you go if you are a young girl and want to rock out on stage in the Triangle Area? Before Girls Rock NC was founded in 2003, the options were scarce.
Girls Rock NC founder Amelia V.B. Shull is a drummer and an art teacher at Carolina Friends School in Durham, North Carolina. When she started teaching at CFS, for the first time in years she had the summer off. This was the perfect opportunity to create the first Girls Rock Summer Camp in North Carolina, which she modeled after Portland, Oregon's Rock 'n' Roll Camp for Girls. Originally, the camp was part of one of the summer camps offered at CFS, and the school handled registration. About 20 girls participated that first summer and it was an instant hit. Local musicians Beth Turner and Abby Pearce soon joined as co-founders, and a few years later, the camp was opened up to all girls aged 7-17 in the Chapel Hill and Durham community.
GIRLS ROCK NC TAKES OFF
From 2003-2009, Girls Rock NC grew steadily, and camp locations were added in Durham and Chapel Hill. In 2009, they had 45 campers for the four, 5-day summer programs. In 2010, they jumped to having close to 160 participants, and they created their first after school pilot session, which meets for two hours once a week for ten weeks. After almost quadrupling their attendance in that one year they decided to obtain non-profit status, and became part of the Girls Rock Camp Alliance, which includes 40 camps located all over the world. In the summer of 2012, they are opening a long-awaited new summer camp in Raleigh, NC.
FIVE DAYS OF ROCKIN' FUN
There are many reasons why this camp is so popular among our youngest female aspiring musicians. Summer band camp is only a week long, but what is accomplished in those five days is truly remarkable. During the week, camp participants select an instrument to play, (many of the girls have never before played their chosen instrument or read music), form a band, name their band, write original songs, hold band practices to learn their instruments and songs, and on the last night, perform at a local venue like the Cat's Cradle or the Haw River Ballroom.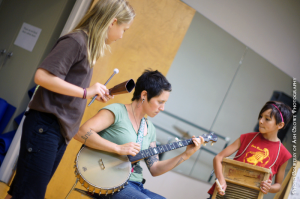 Along with all of these achievements, throughout the five days, Girls Rock NC girls attend workshops covering topics about body image confidence, identity, the history of women in music, screen-printing, songwriting, playing instruments, the technical part of using their gear, do-your-own clothing design, self-defense, stage presence, band management, hip-hop spoken word music, and DJ techniques using turntables and computers. They also create their own band merchandise to sell at their show. For even more inspiration, every day during lunch, the girls are treated to live music shows by local bands made up of female musicians.
'ZINES
Making a group 'zine is also one of the many highlights of the camp. 'Zines, which are hand-written stapled booklets, have been around since the 1920's, but they became extremely popular during the Riot Grrrl Movement of the 1990's, as a way for women to communicate with each other and share ideas and resources. Girls Rock NC Executive Director and previous volunteer Meredith Hancock explains the 'zine process from back in the day. "You, or you and some friends, would make a 'zine, take them to shows, and trade 'zines with each other. When you were traveling you'd get a 'zine from someone, and everyone had their addresses on the back. So you wrote to people and developed pen-pal relationships with people in other bands, or people who weren't in bands but wanted to talk about certain ideas and things that were going on in different communities. People would just photocopy them at their jobs or wherever they could. Nowadays, blogs are a new form of 'zines, but people still make 'zines on all kinds of things – political issues, recipe 'zines, craft 'zines, whatever people are interested in."
THREE "C's": CREATIVITY, CONFIDENCE & COMMUNITY
It is impressive that Girls Rock NC can accomplish so much in such a short time, though the real accomplishment is successfully fulfilling their mission each day: To empower girls and women, through creative expression, to become confident and engaged members of our communities. Girls Rock NC staff members and volunteers are constantly amazed to see the profound change in their participants from day one to day five. Meredith recalls one such story. "The year before last, we had a girl at camp who was very shy all week. She tended to sit in the corner and read a book. We really tried to engage with her and draw her in and make her feel included, but she just didn't want to participate like that. She was just very quiet. She played keyboard, and she was participating in the band writing a song, but that was about it. And then the night of the Cat's Cradle showcase, her band was the first one signed up to play. I was questioning whether she was even going to go on the stage. But she ran out on the stage, leading her band, and was yelling at the top of her lungs, 'Welcome to the Cat's Cradle everybody! Let's rock out!' And she got on her keyboard and was dancing and singing the song. I looked at her band manager and we were both standing there with our mouths open saying, 'Is this the same child?' And when the same girl came back to camp the next year, she was so much more outgoing, confident and involved." There are a hundred more stories just like this one.
DEVOTED FAN BASE
Meredith often gets feedback from parents regarding this boost in self-esteem in their daughters. "I've had a lot of parents tell me that they saw a huge difference just at the end of the week about how confident they were, how outspoken they were." One such email reads, "I just want to express my own, personal gratitude for your work with girls rock generally and as band manager for my daughter's band. There really are no words to convey the feeling of appreciation a father has when he hears his daughter as excited and happy as she was tonight on our ride home. She said she wished the whole world was like girls rock — what greater praise can there be? Thank you so very, very much." (Noah, GR Parent) Another parent wholeheartedly agrees, "I think that Girls Rock is great! My daughter has participated in both the summer camp and the after school program, and she's had a blast. Girls Rock is about more than just music. It's a perfect vehicle for girls to build their self- confidence, express their creativity in a nurturing environment, and experience teamwork. Seeing all the girls perform at Cat's Cradle is phenomenal! It's such an empowering experience for them to play in a club with screaming, adoring fans! I can only imagine who I could've become if Girls Rock was around when I was a girl. I used to play guitar and sing, and I would've LOVED the opportunity to be in a band, especially in such a supportive group of cool women and girls." (Sharmin, GR Parent)
The best comments for Meredith come from the participants themselves. She often receives hand-written thank-you notes at the end of camp. "My first year of volunteering I worked with a band of younger girls. My band was 7-8 year olds and none of them had played their instruments before. We let two girls who were really good friends be in the same band, even though we don't normally do that. We usually want them to meet new friends. But they begged and begged and begged and so we let them be in the band together. But then for the first three days, they argued with each other every single band practice and it would end in tears.  They were being typical rock stars, I guess. So every day for the first three days, I was like, 'Why did we let them be in this band together? This is not working.' So then we finally came up with a solution that made everyone happy, and at the end of the performance at the Cat's Cradle that night, one of them brought me a hand-made card that she had written. She had stuck a lollipop to the card and she wrote in there, 'I'm really sorry that I fought with my friend the first few days of camp. This camp was the best camp of my life. It rocked! Thank you so much for putting up with it and for sticking with us.' It was written in seven-year-old handwriting, and I still have that card. That was one of my favorite moments, and that was my first year."
POSITIVE ENCOURAGEMENT
The Girls Rock NC co-founder Beth Turner explains how they are able to create such a safe and secure environment for their participants, which helps them accomplish their confidence-building mission. "We model encouragement and positive reinforcement constantly during camp week. I usually start the week off in Chapel Hill with an exercise on the first day where we all go around asking everyone, 'What words might we hear that sound like you are putting someone down, making them not feel good about what they are doing or about themselves, the way they look, sound, etc.?' We write all of the words on a board and then we talk about how we are NOT going to use any of those words during the week. Then we do the same exercise with words that are positive, rocking and encouraging. We also let them know that this is a safe space where they can be totally themselves and they are going to have a unique experience that we believe all girls should have. All of our volunteers go through training workshops that explain how camp works and how this structure works."
They are also constantly emphasizing that every girl's ideas and opinions are valued. Meredith gives one example of how this is achieved. "We want them to feel important as individuals. Whatever your particular strengths are, they are good and important and needed in society and we want to encourage them to express those things. We're all about helping them find community and be part of that, but we're also about building them up as individuals and celebrating how unique that they all are." In one of the workshops during each camp and after school session, they show the girls a slideshow that they have compiled of many different women musicians, some famous and easy to recognize and others more obscure. What is important to note is that they all look and dress completely differently from each other. After the slideshow, they facilitate a discussion with the girls around those differences, and listen to their reactions and thoughts. They emphasize how important each woman is, and the value that each ones brings, even though they are all different from each other. Encouraging messages like these are the focus at the Girls Rock NC camp and after school programs.
COMMUNITY INVOLVEMENT
The volunteer community involvement with Girls Rock NC is as impressive as the program itself. It takes about sixty volunteers year-round to implement the Girls Rock NC summer camp and after school program. Many volunteers are previous Girls Rock NC participants who have aged out of the program or parents of participants. Additionally, numerous local venues and schools support their efforts, contributing their practice spaces, performance spaces and donating their time and percentages of their profits to the cause. Infuzion in Durham, Woods Charter School in Chapel Hill, and the Community Music School in Raleigh will be offering their spaces to the camp this summer. The Scrap Exchange teaches the girls silk-screening and how to use sewing machines for the Do-Your-Own Clothing workshop. The Sallie Bingham Center of Duke University facilitates the 'Zine workshops. Local venues like the 9th Street Bakery in Durham often have 10% days, where 10% of their daily profits will go to Girls Rock NC. Many local organizations also hold Girls Rock NC benefits in an effort to raise funding and increase awareness about this wonderful program. On April 20th, the Carolina Music Awards is putting on a benefit concert for them at Southland Ballroom in Raleigh where a combination of former GR campers and Carolina Music female artists will be performing. Likewise, every final showcase, where the girls get to perform their original songs in front of a live audience of wildly applauding parents and screaming fans from the community, is held in a donated space like the Cat's Cradle in Chapel Hill, the Haw River Ballroom in Saxapawhaw, The Casbah and Pinhook in Durham and The Pour House Music Hall and Southland Ballroom in Raleigh. In order to make sure that these girls look great while they rock out in these clubs, Syd's in Chapel Hill volunteers to do their hair and makeup before the big showcase. These are only a few of the many people and places coming together to make Girls Rock NC possible.
Almost all of the instruments used by Girls Rock NC are donated, though often staff and volunteers will fill in the gaps and bring in their own instruments or gear for the girls to use. Co-founder Beth Turner adds, "We are all musicians, so we use a lot of our own stuff and then people from the local music community and local stores pitch in and help." They have recently partnered with The Guitar Center so that their customers are able to buy instruments for Girls Rock NC at a significant discount. They also received an endorsement from the musical instrument company Daisy Rock a few years ago, and received some great little butterfly guitars for the girls to use. With all of this support, there are a variety of instruments the girls can choose. However, sometimes two girls in the same band want to play the same instrument. "What I like to do in that situation," Meredith explains, "is encourage them to switch instruments half-way through the song. We've had bands onstage where right in the middle of the song, one of them will be playing a solo while the other ones are trading instruments. We've had two drummers play in one band before, where they both sat at the kit, and one played one part of the kit and the other played the other. We try to help them be creative where everybody gets a chance."
LIFE CHANGING EXPERIENCE
Many Girls Rock NC campers enjoy it so much, they return year after year. One girl who has attended the camp for several summers as well as the after school session, sums it up nicely. "I had a great experience with Girls Rock! I loved being able to play at a club and rock some awesome music with friends." (Paris, GR Participant) Once the camp has finished, many girls decide to take lessons and keep playing their instruments, and often go on to form their own bands. One local band called La Bête Magique is a duo of Girls Rock NC alumnae, Bella and Tehila. After camp ended, they started having weekly practices and now at 11 and 13 years old, they perform at clubs all over North Carolina. Just this year, they made their first EP, which is available at Chaz's Bull City Records in Durham. Tehila loved her Girls Rock NC experience. "La Bête Magique was not actually formed out of Girls Rock, but inspired. Ironically Bella and I were never actually in a band together at Girls Rock. Our parents have been friends for a while and we always used to play music together, but after going to Girls Rock and being in bands there, we decided to make our jam sessions songs and become a band. Girls Rock NC is awesome. It's definitely a great first experience with music — working together with other girls your age to create some songs and then perform them at awesome local venues like Cat's Cradle and Pinhook. Not only is the summer camp fun but also the after school program. The women who are the counselors/band managers are experienced musicians and are super fun and supportive. At Girls Rock they not only teach you about how to be a great musician but also how to be confident and strong. They invite other women to teach us skills such as self defense and how to make your own clothing! In addition to all these ways in which Girls Rock has inspired us as individuals and as La Bête Magique, we are particularly grateful for how the women at Girls Rock have supported our band by inviting us to perform at Girls Rock showcases." Check out La Bête Magique's videos on YouTube!
The Girls Rock NC staff, volunteers, parents and fans also come away inspired, and learn a lot from becoming involved. For Meredith, her first experience as a volunteer for Girls Rock NC was life changing. "The funny thing is I grew up with music, but it was like singing in choirs and playing classical piano. When I was a teenager, I really wanted to be in a rock band. But at that time, that was just what my guy friends did. I didn't know any girls who played music like that. I had tried to teach myself guitar a little bit and borrowed one of my guy friend's electric guitars, but then just never really did anything with it or continued playing. But the first summer that I volunteered for Girls Rock camp, I realized that I had been thinking that if I couldn't be the best or super good at guitar, or at any of the other instruments, that I shouldn't do it. And then I realized that is just the total opposite of everything that we are teaching these girls, and I worked for the younger ones that week. And most of them had never played the instruments they were playing, and they wrote a song in a week. And performing at the Cradle, they were so excited and had so much fun doing it, I thought, 'Why shouldn't I?' So I decided to start a band and start writing songs. Since then, I've been playing with different people whenever I can, and I even picked up drums last year."
WOMEN"S ROCK RETREAT
Many adult women can relate to this sentiment, where "rocking out" was reserved just for boys and discouraged in girls when they were young. Mothers of participants often commented that they wish they had had a program like Girls Rock NC when they were growing up. It is for this very reason that Girls Rock NC began offering a Women's Rock Retreat for women ages 18 years old and up. They usually have between 12 and 15 participants with a wide range of ages and musical backgrounds. The final show is held at The Cave in Chapel Hill. One year, they had a Girls Rock NC parent participate in the Women's Rock Retreat. Her daughter was a pretty quiet and introverted girl, but loved to attend Girls Rock camp and comes year after year. Meredith remembers the final show well, and what she saw brought tears to her eyes. "Her Mom's band was performing, and I was standing next to this little girl, and she was enraptured watching her Mom perform. Her mom is modeling this for her, and showing her, 'Look, I'm being courageous and doing something I've never done, too, in front of a group of people I don't know.' It was so great!"
GIVING BACK
Providing this wonderfully enriching program to our young, aspiring female artists is just one of the many ways that Girls Rock NC contributes back to our community. In order to make sure that their programs are accessible to as many girls as possible, they hold fundraisers throughout the year to raise money for full scholarships, which are provided to any girl who qualifies for Medicaid. They are also constantly reassessing their program to make sure that they are reflecting the needs of the community – and clearly there is a definite need, as participation grows, and programs fill up quickly. Girls Rock NC is also developing long-term, local partnerships with different groups, so that they can support each other's causes. For instance, Girls on the Run is a local organization that has a similar mission to empower girls, but they use running as a medium to do that. They are having an event coming up in April, so they have contacted Girls Rock NC to ask if any former campers would like to perform at their event. Mutually beneficial relationships like these make a community stronger, and Girls Rock NC hopes to increase these partnerships over time.
CHAPEL HILL'S SUPPORTIVE ROLE
Girls Rock NC owes its success not only to the vision of its founders and the support of its staff, volunteers, fundraisers and participants, but also to the well-established musical community for which the Chapel Hill area is famous. Meredith agrees that the respect given to musicians here is special. "I am so grateful that there are so many venues that have let us use their spaces and everyone involved is so supportive and loyal. Chapel Hill is known around the country for its music scene, and has been for a long time, and that definitely lends to the success of it." Beth also reflects on this vibrant music scene she discovered when she attended UNC as an undergraduate. "I became friends with lots of people moving and shaking the music scene here in the early '90's and enjoyed going to shows at the 'old' Cradle when it was on Franklin St. I got to see bands such as Polvo, Archers of Loaf, Ben Folds Five, Dillon Fence and the Squirrel Nut Zippers getting their early starts. And remember, Seventeen magazine said that Chapel Hill was the new Seattle back then!" Girls Rock NC is definitely one more welcome addition to this great music scene of ours.
WHAT THE FUTURE HOLDS
Girls Rock NC hopes that one day they will have a permanent space in the Triangle Area in which to hold their camps and after school sessions. They are also thinking about offering a more intensive longer camp for previous Girls Rock NC participants who would like to delve further into more complicated music theory and technique. Creating an overnight camp is another possibility. One thing is for sure — with such a huge demand for Girls Rock NC in our community, and because it provides such a positive experience for everyone involved, Girls Rock NC will be rockin' in NC for many years to come!
To apply for Girls Rock NC summer camp or after school session, or to find out how you can become involved, contact info@girlsrocknc.org or visit their website: www.girlsrocknc.org. To donate directly to Girls Rock NC, visit The Recorder Quarter donation web page.
You might also like:
Category: Causes