Created by Chapel Hillians for Chapel Hillians, this beautiful book written by Missy Julian Fox and Marie Myers Lloyd, and illustrated by Elaine O'Neil, is an endearing tribute to our wonderful town.
Goodnight Carolina, released in June 2012 by Carrboro-based McDonald & Associates, is a long-awaited picture book celebrating the town of Chapel Hill, North Carolina and its University, affectionately referred to simply as "Carolina" by students and local residents alike. For a town with such a rich history and recognizable landmarks, it is surprising that there have been only a few other children's books written about Chapel Hill. Notable ones include: The Garden is Open by Pamela Pease that tells the story of the twin sisters Barbara Stiles and Bernice Wade's famous garden on Gimghoul Road, and Once Upon a Hill by Tejada and Kanoy, which is a coloring book about a nine year-old girl who moves to Chapel Hill from France. It was not until Marie Myers Lloyd, a local massage and bodywork therapist, UNC alumna, and long-time resident of Chapel Hill, was reading a book about New Orleans to her new grandson while visiting him there, that she realized there was not a Chapel Hill equivalent. Right then, she made it her mission to fill that void and create a book about her town to share with her grandson.
"I moved to the Triangle area when I was 13 and was immediately drawn to the vibrant young life associated with Chapel Hill," Lloyd reflects. "I remember riding my bike along 15-501 when it was just two lanes to come to Chapel Hill to sit along the wall and watch the students and families that lived in the village. I knew then that I wanted to come to school here and make it my home. The village I once knew has grown into a town and has remained dear to my heart, and this is what I wanted to share with my grandchildren who always ask me where I live."
GOODNIGHT CAROLINA IS TAR HEEL BORN
Soon after returning from her trip, Lloyd mentioned her idea to Chapel Hill native Missy Julian Fox because she knew that Fox had essentially been working on a children's book about Chapel Hill for years. Fox literally grew up on Franklin Street in her parents' clothing store Julian's, is also a UNC alumna, and is currently the director at UNC's Visitors' Center and a columnist for Southern Neighbor. Fox clearly remembers the day that the idea for Goodnight Carolina was born. "Almost two years ago now, Marie and I were talking – as we always do before a massage! Marie had just returned from visiting her new grandson, Rhys, in New Orleans. Marie was telling me about her trip, totally in love with her new grandson and so delighted to see her son and daughter-in-law as such wonderful parents. They had instituted a family tradition and bedtime ritual for Rhys already… whoever was in the house at his bedtime was asked to join them all on the big family king-size bed to read books with Rhys. Marie was a kindergarten teacher and I was a reading specialist, so you can imagine our joy at this picture of the new babe being introduced to books from the beginning of life! One of their favorite books was a book about New Orleans. Marie told me she had been thinking since her trip about how much she wanted a book about her town to share with Rhys. She said, 'Oh you know, Missy, like… like…. Goodnight…..' and I erupted with the end of the sentence… 'Carolina!' It was like a lightning bolt had hit the room! Marie said, 'And I already know who I want to illustrate the book – Elaine O'Neil! Do you know her work, Missy?' And I replied, 'Yes! Elaine is a friend of mine! You are absolutely right! Let's three set up a lunch meeting to talk…' and the rest is now, happily, a reality."
Fox adds, "I have talked about and worked on a children's book about Chapel Hill since I came to the UNC Visitors' Center. Ask my student staff — I bring it up all the time! Yet the book I was talking about was not Goodnight Carolina. The emotion was the same. The goal was the same. But Goodnight Carolina must have been waiting for Marie and me to get together! What is it that people say about becoming an overnight success? That it is impossible and never really happens! I have taken writing classes, worked on writing projects, write a column now for Southern Neighbor. There are days still when I practice saying aloud, 'I am a writer. A writer. I am a writer.' We all have had those moments. You want something. Can you see it? How clearly? How hard will you work to make it actually happen? When do you finally, finally claim your vision? With Goodnight Carolina, every single word, phrase, comma, color and stitch has been scrutinized and talked about. There were lots of  'But what about this instead?' In the end, we decided to listen to our heart. You just know when it's right."
Lloyd agrees that her partnership with Fox was a perfect fit. "As an early childhood educator, I spent 15 years reading stories and marveling at how certain books became everyday requests during circle time. The really special stories had a rhythm and cadence with pictures that brought alive the text. Teachers always say they have a book in them and my dream was to one day make that a reality. When Missy and I spoke that day in my office it was an explosion of happiness, especially when she said she knew Elaine and her work. Hearing about Missy working on her own book, I knew that I had met someone, who with our shared experiences, would help make our dreams come true."
FACING THE CHALLENGES HEART ON
Whenever anyone tackles a big project like this one, there are bound to be initial challenges and doubts. Fox recalls, "Oh, we had a lot of questions! Is this a good idea? Is it good enough? Will anyone like it? How would we sell it? Would anyone buy it? Lots of fear-based questions. We decided to share our heart. And do the very, very best that we could. It's as simple as that. We wanted to feel proud of the end result and make the work worthy of the subject." They focused on their love for Chapel Hill and used it as their muse, and all those fears faded away. "Each of us has the feeling that this place is indeed our special corner of the Earth. We know we're lucky to live here! No matter where I travel or where I explore, every single time I return, I know I am truly HOME! The energy, the beauty, the people, the diversity, the way of operating, the creativity — Chapel Hill has it all!"

THE MAKING OF GOODNIGHT CAROLINA

As soon as long-time Chapel Hill resident and local textile artist Elaine O'Neil enthusiastically came on board, these three were off and running, turning their dream into a reality. Lloyd and Fox began by selecting which aspects of Chapel Hill and UNC-Chapel Hill to highlight. Although there are numerous landmarks that define Chapel Hill, this process came easily to Fox. "In my lifetime on Franklin Street – growing up and then running our family store, Julian's – I have been sharing Carolina and Chapel Hill with the public for a long, long, long time! And now, in my work as Director of the UNC Visitors' Center, every single day, we are asked to share the 'highlights' with visitors. Certainly, we all feel so fortunate to live here. So many treasures! But the reason Goodnight Carolina works, I think, is because we do have common, recognizable icons that we would all agree upon… when I say 'we' I mean all of us who love this place! Not just the three of us." From The Old Well, to Sutton's Drugstore, to Dip's Country Kitchen, to the Beltie "Oreo" cows of Fearrington Farm, Goodnight Carolina features 32 pages of Chapel Hill-centric scenes and stories, and not one major landmark was missed.
Lloyd and Fox simultaneously crafted the text to complement each scene, in a cadence that pays homage to that of Goodnight Moon by Margaret Wise Brown. However, the nod to Goodnight Moon is fleeting because after the first page, this book speaks in its own playful yet sincerely sentimental voice. "The words came first. In this case, for me, the words almost erupted, too!" Fox says. The lyrical nature of the lines that form each rhyming stanza beautifully capture the essence that is Chapel Hill. With just a few simple words on each page, Lloyd and Fox magically evoke memories, tell stories, and take their readers on a journey near and dear to any Tar Heel's heart.
Once the copy was finalized, Elaine O'Neil created the illustrations to complement it. Both Fox and Lloyd were thrilled to work with O'Neil. "Elaine was our dream for an illustrator for so many reasons!" Fox explains. "First and foremost, her talent. We knew Elaine shared our love for Chapel Hill and had an extraordinary eye and ability to depict different scenes around town. Elaine's work has a natural energy and joy! Elaine's work makes you happy! A perfect match for the words and the spirit we wanted to evoke." O'Neil spent over a year working on the artwork for Goodnight Carolina. It was clearly a labor of love and O'Neil agrees, "I love Chapel Hill! I 'Luv this Place!' I chose to live here. I raised my boys here. Chapel Hill is my favorite subject! I love living here! Chapel Hill is such a vibrant, colorful, creative, positive-energy place to be. It's a happy place!" Her illustrations are not the typical children's book drawings or paintings. They are fantastical, highly-detailed, textile masterpieces that perfectly epitomize the lively exuberance of Chapel Hill's streets and peaceful beauty of its landscapes.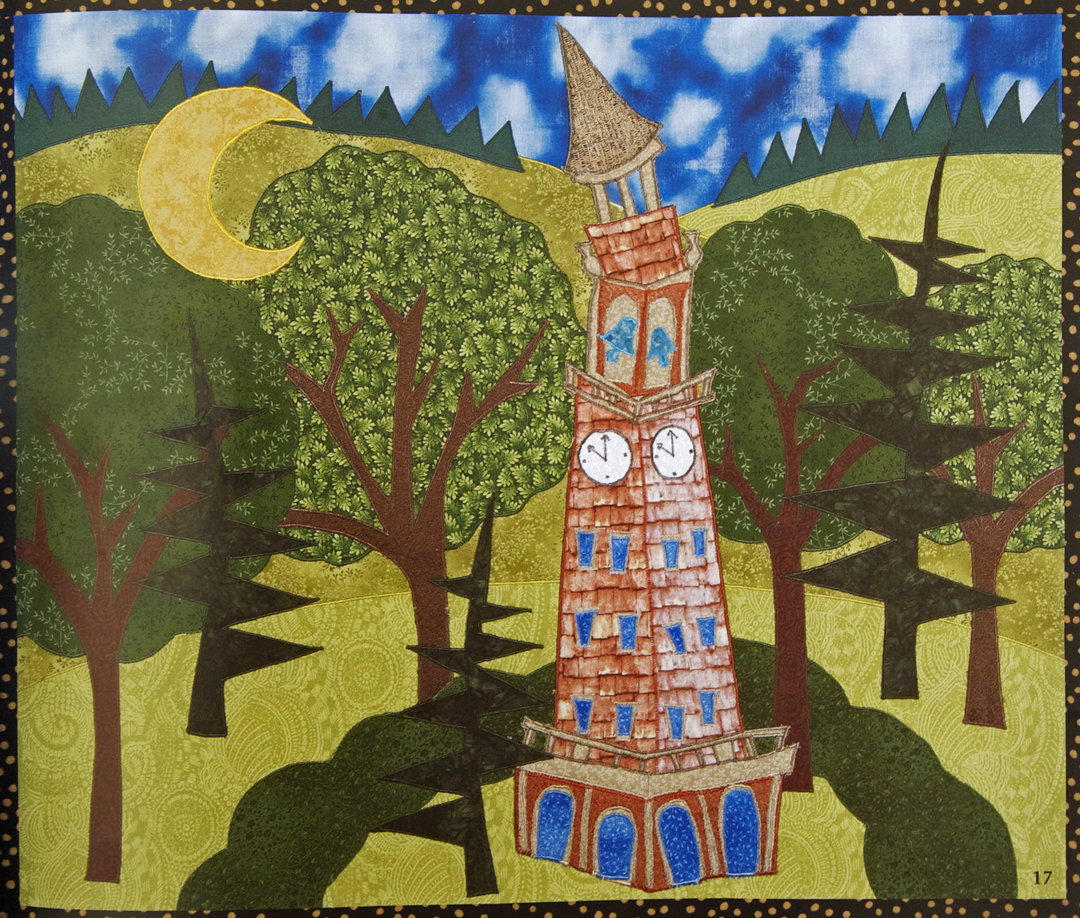 As a textile artist who creates her pieces strictly out of fabric and stitching, O'Neil's creations are time-consuming and meticulous. She employs the same artistic process with each work of art she crafts. "I approach each piece I create with a simple, rough sketch. In the case of this book, I knew the places by heart but also I took photos to use as I sketched. I had specs as guides for the sizes of each piece. Some pieces spanned both pages of the book-spreads, while some were individual to each page, and some were insets. We had the pages decided upon — which words went on which page, and which words needed an image. Once I had the sketch worked out, I chose fabrics for each piece — in a sense creating a fabric palette. At that point, I began cutting and layering the fabric pieces in place and sewing each piece down using a satin stitch. Once completed, I chose a fabric for the border of the piece that complemented the piece." The biggest challenge for O'Neil was the limited time-frame with which she had to work, and the large quantity of pieces required for the book. "There are 17 full-size pieces that I made for the book. Some measure 26″ x 30" and others are 17″ x 40". Then a few insets, such as the firefly and bell tower clock. I wanted them to be wonderfully colorful, magical pieces, and I hoped that the artwork would match as best it could with the wonderful words."
GETTING PUBLISHED
Once the story was written, Lloyd and Fox began their search for a publisher. Fortunately they only had to look as far as Carrboro, N.C. "The expression, 'when you completely commit to something, the path comes up to meet you' describes this project!" Missy relays enthusiastically. "The publisher, Susan McDonald, has been a dear friend to me and to Elaine for a long time. We decided to ask for her advice. She was supportive from the beginning! She came over to meet with us and I read the story to her. And she offered her professional services. Susan opened so many doors for us! We knew what we wanted – a beautiful, beautiful book — just not how to get there. The feel and weight of the paper, the typeface, the book jacket. Each and every piece and aspect of the book was important to us – ALL! Susan had the information, the advice, and the contacts. She knows quality and she knows us. Working with Susan was a blessing and critical to the beauty and success of our book. We are so very, very proud of this book!" O'Neil agrees, and adds, "We're all just so pleased with the final product!"
ONE CHAPEL HILLIAN'S REVIEW
Any and all fans of Chapel Hill will be equally pleased — make that delighted — upon reading this book. If my own daughter's love of Goodnight Carolina is any indication of its success, this book should be awarded a Pulitzer Prize. Since bringing home Goodnight Carolina from the book signing and launch party at Southern Season on June 30, 2012, my three year-old daughter, a.k.a. Zoomer, has insisted we read it to her several times a day and at every bedtime. She loves this book because she has lived this book, just like anyone who has spent time in Chapel Hill. Our little Zoomer has zoomed up and down Franklin Street, hid among the Bell Tower hedges, climbed up the sundial at Morehead Planetarium, strolled under the Coker Arboretum, and has run all over McCorkle Place only stopping for a second to rest on the bench under the Davie Poplar tree. She has sipped water from The Old Well, mooed at the Belted Galloway cows, neighed at the horses on Dairyland Road, sat under the hanging jerseys in the Dean Dome, and for the first time this year, watched the incredible fireworks display at Kenan Stadium. These experiences and many more are all captured perfectly in Goodnight Carolina, and as Zoomer told me just last night, "This is a beautiful book, Mommy!" This timeless tale will surely be treasured in our family for years to come.
Although Goodnight Carolina is the perfect bedtime storybook for tiny Tar Heels, it is so much more than that. Goodnight Carolina is truly a love story between a special town and its inhabitants. Whether you grew up in Chapel Hill as Missy Julian Fox did, are a former UNC-Chapel Hill student who stayed in town like Marie Myers Lloyd, a transplant that adopted Chapel Hill as her home like Elaine O'Neil, or just a visitor passing through wishing to take home a memento, this book is a must-have addition to anyone's personal library. It would make a wonderful gift for Chapel Hill natives, incoming UNC freshman, UNC graduates, newborn Tar Heels, and for Chapel Hillians of all ages no matter where they might currently reside. The book's dedication says it all: "For the Dear Ones we love…and to those who know the magic of a beloved place." Between the poignant writing and the fun-loving illustrations, there is so much warmth and celebration among its pages that anyone with a fondness for this Southern college town will certainly be misty-eyed by the end. I know I was.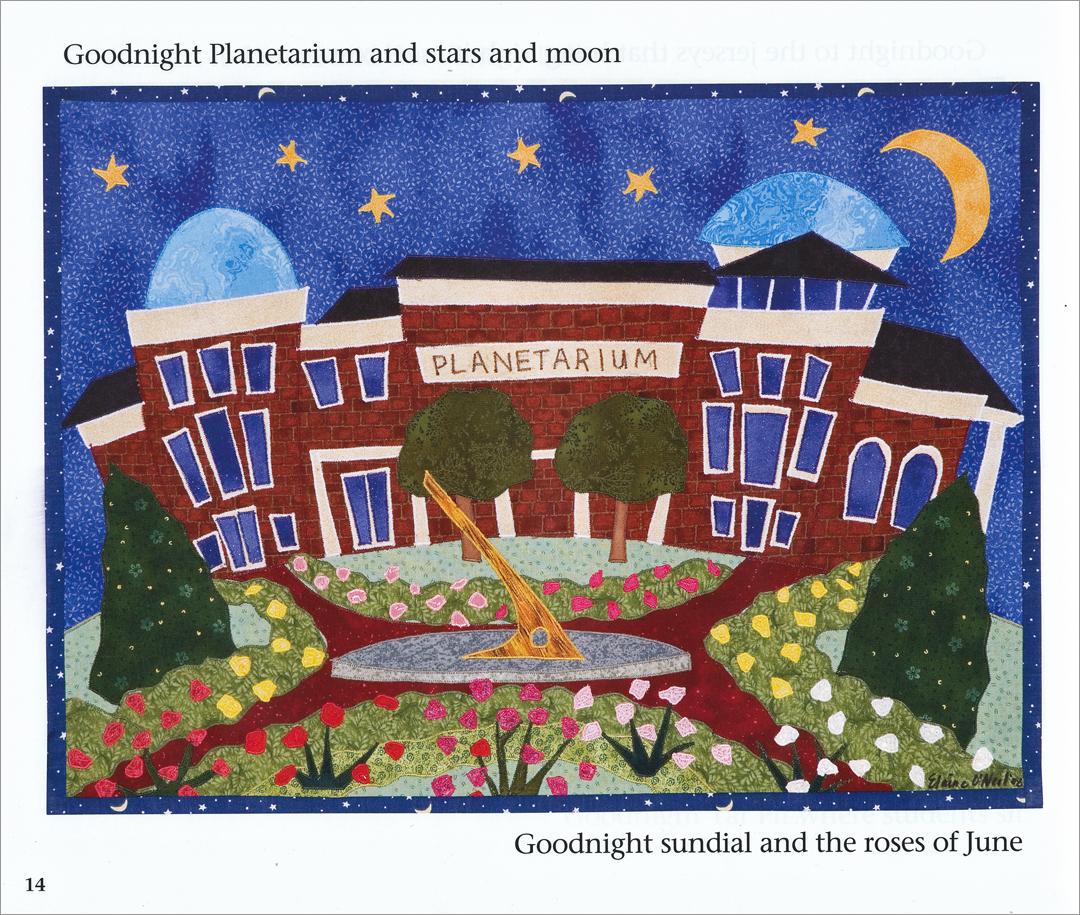 IS THERE A SEQUEL IN THE WORKS?
Goodnight Carolina is the result of close collaboration between Lloyd, Fox and O'Neil, and they clearly enjoyed this partnership. When these three get together, they feed off of each other's enthusiasm, and transform into giggly schoolgirls. It would be a missed opportunity if Goodnight Carolina was their one and only offering, and I for one would love to see what this local powerhouse trio could create next. Good Morning, Carrboro perhaps? According to Fox, we will all have to wait and see. "For now we are soaking in the joy of it all! Holding the book in our hands! Hearing how others like it! Truly thrilling! We are so grateful for this experience and the support of so many! We shared our hearts and now it is touching others' hearts, too. Wow! A dream has come true!" Lloyd is especially grateful as she has seen the success of her mission come to fruition. She is now finally able to share a storybook about her beloved town of Chapel Hill with her grandchildren. "The book has become a hit with my grandchildren. They have been in town for two weeks and I have read the book several times each day. I know the dream has come true when I hear, 'Tick tock, tick tock, bunny hiding, and firefly.' These memories will stick in my heart until I see them next."
WHERE TO BUY GOODNIGHT CAROLINA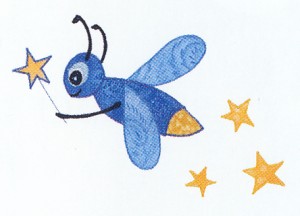 Goodnight Carolina can be purchased online or currently at any of the following local bookstores and shops:
A Southern Season
Bull's Head Bookshop at UNC Student Stores
Flyleaf Books
Julian's
McIntyre's Bookstore

Peacock Alley

The Children's Store

Quail Ridge Books
For more information and for a listing of upcoming events, please visit the Goodnight Carolina web site: www.goodnightcarolina.com.
You might also like:
Category: Arts & Entertainment