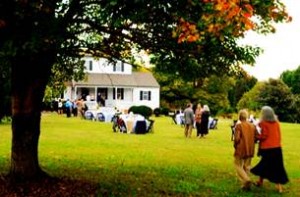 A new outdoor Bluegrass Festival is planned for Historic Moorefields Estate in Hillsborough, Saturday, September 6, 2014, from 2:00 PM – 7:00 PM. Food and refreshments will be available at the festival, with a selection of beer, wine, and food trucks.
Performers will include Constant Change, from Raleigh; Bethesda Bluegrass Band, from Durham; Cagle Family and Friends, from Efland; and Nash Street Ramblers, from Hillsborough.
Bluegrass at Moorefields will take place on the lawn at Moorefields, an idyllic homestead on 70 beautiful acres just 20 minutes from downtown Chapel Hill and Durham; a few miles outside downtown Hillsborough, NC. Bring your chairs and blankets.
The event, coordinated by Time and Tide Productions is open to the public. Lawn seating tickets are $20 per person. Kids under 12 are free and all parking is free. Proceeds benefit Historic Moorefields.
Moorefields was built in 1785 as a summer home by Alfred Moore, a military, educational and judicial leader who ultimately served as the second and last North Carolinian on the United States Supreme Court. The house at Moorefields is located three miles from the court house in Hillsborough (five miles by modern road) and strategically situated upon one of the highest points in central Orange County, where in summer it catches the prevailing southwest breeze. The entire property is maintained as a wildlife refuge and abuts Orange County's 300-acre Seven Mile Creek Nature Preserve. Developed campsites are available at Moorefields, and the property can be rented for weddings and other functions.
Moorefields is located at 2201 Moorefields Road in Hillsborough. Visit www.moorefields.org.
Media Contacts:
Howard Burchette
Time & Tide Productions
(919) 543-0775
Pam Hemminger
Moorefield's Volunteer
(919) 616-5568
You might also like:
Category: Press Releases