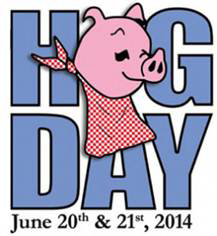 EFLAND, NC  –  The new chapter of the Optimist Club of Orange County N.C. is proud to announce that it has surpassed its initial fundraising goal for this year's 32nd Annual Hog Day event.  Hog Day will be hosted at the Efland Ruritan Club at 3106 Highway 70 West, Efland on Friday, June 20 from 5 pm – 10 pm and Saturday, June 21 from 9 am – 3 pm.  The Friday night kickoff has been nicknamed  "The Hog Day Family Reunion".  The main focus will be around the heart of Hog Day, "the BBQ", spotlighting the cooking teams and volunteers that have participated in Hog Day over its 32 year history.
Hog Day organizers are developing a slide show of pictures and participants over the many years and encourage the public to email a picture to hogday@email.com for consideration. Friday night will feature music including the Hot Roosters and the Cagle Family Band as well as kid's activities and the kickoff of the BBQ teams cooking.
Local music will continue on Saturday, June 21 as well as fun contests and games. Music ranges from Bluegrass and Beach music to Southern Rock and Top 40. A new addition to this year's Hog Day event is a partnership with the Efland Ruritan Club that will host the Car Show. Merchandise sales, concessions and a baking contest are also included.
The Hog Day Committee is still accepting applications for craft vendors, nonprofit booths and nonprofit food vendors until June 11th.  They are also still accepting sponsors for the event and all details and applications are available online at www.hogday.org. Profits of Hog Day will be designated towards community programs, projects and local nonprofits within Orange County.
"Our committee is amazed by the outpouring of support from our local businesses and key supporters to help support the event is such a short timeframe," says Hog Day Chairman Sam Hobgood.   The Hog Day committee is under the management of the Optimist Club of Orange County which decided to continue the event in February after the Hillsborough/ Orange County Chamber of Commerce voted not to continue the festival.  Hog Day Vice Chair Craig Lloyd added, "Our main focus now is to continue recruiting volunteers and coordinating logistics and promotions".  The website www.hogday.org and Hog Day Facebook page https://www.facebook.com/hog.day is a key point of information about the event from details about the car show, presales of BBQ to public transportation/ parking and the schedule of events.
You might also like:
Category: Press Releases