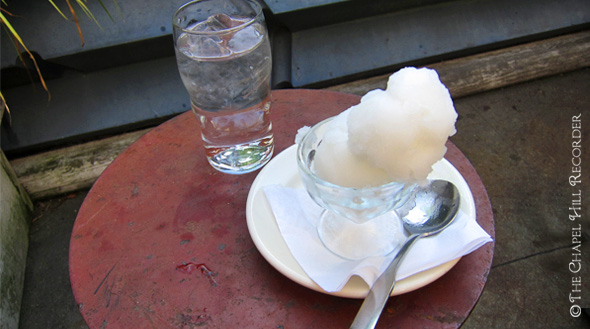 The Honeysuckle Sorbet at Crook's Corner restaurant is legendary. Be sure to enjoy some of this delicious treat before the season has ended, because once it's gone, it's gone!
Every late spring, my daughter, a.k.a Zoomer, is obsessed with eating wild honeysuckle nectar. She patiently pulls the little stamen out of each flower and relishes the tiny drop of sweetness that she finds hidden inside. Zoomer will stay by a honeysuckle bush for an hour, until every last flower has been picked, and each drop of "honey" carefully extracted.
This year, I decided to let Zoomer in on a little secret that we have here in Chapel Hill. I told her that Crook's Corner, our famous, gourmet Southern restaurant, serves homemade honeysuckle sorbet when it is in season, and it is amazing!
Zoomer's eyes practically popped out of her head when she heard the news. "Really? Can we go get some right now, Mommy?" It was Sunday night, and I told her that they were closed on Monday, but we could go on Tuesday night. She started jumping all around, happier than I have ever seen her. For two days straight, every hour or so, Zoomer asked me if it was Tuesday yet, because she wanted to "go get honeysuckle sorbet at Crook's Corner."
Finally, Tuesday rolled around. So as promised, we strolled up to Crook's as soon as they opened at 5:30 pm. Since we were just there for a honeysuckle sorbet treat, and were not eating dinner, they seated us outside on the patio by their gorgeous fish fountain. This was actually the perfect place for an energetic 5-year-old who could not contain her excitement, anticipating the arrival of the sweet treat.
When the sorbet was served, the dishes were literally overflowing with two huge scoops of cool, honeysuckle sorbet heaven. Zoomer quickly ate most of her first scoop, unconcerned about the possibility of brain freeze. Then, she brought the rest over to me. It looked as if she was giving me the remainder of hers, and I was shocked. "Don't you like it?" I asked surprised. "Well, Mommy, since you don't have that much of a sweet tooth, how about I give you mine and take yours?" She proceeded to walk away with my bowl of sorbet, which only had a few bites taken from it because I was savoring every icy bit. Before I could even react, she started inhaling my sorbet right down, spoonful after spoonful, so I didn't have a chance to complain about her sneaky sorbet switcheroo.
The next thing I knew, she was tipping the glass bowl into her mouth, slurping up every last drop of honeysuckle slush. Once her dish was thoroughly cleaned out, she asked me if we could go to Crook's and get honeysuckle sorbet every day. I told her in 5-year-old terms, that this was, sadly, a short-lived delicacy. Once the honeysuckle blossoms go away, so does the honeysuckle sorbet. Her perma-grin that had graced her face since we had arrived immediately melted into chagrin. To make her feel better, I told Zoomer that we would come to Crook's one more time before honeysuckle season was over, and she brightened up and started skipping about gleefully again.
Not wanting to disturb the patrons coming in for a peaceful dinner, we high-tailed it on outtathere as soon as we paid the check. But before we left the restaurant, I asked the hostess if she knew how much longer we had to enjoy this honeysuckle deliciousness. She said it was hard to tell, because sometimes honeysuckle season is very short, and sometimes it can last all summer. Since we had so much rain this spring, she predicted we had at least a few more weeks left to enjoy it. She also added that this batch was the smoothest honeysuckle sorbet she had ever enjoyed.
So for any folks who have yet to partake in the handmade honeysuckle delight by chef Bill Smith this season, there is still time. However, because of nature's unpredictability, I recommend getting to Crook's Corner as soon as you can, before the blossoms fade. You will not be disappointed!
For directions, hours of operation, and to see if Honeysuckle Sorbet is still on the menu, visit Crook's Corner's web site at: www.crookscorner.com
You might also like:
Category: Blog