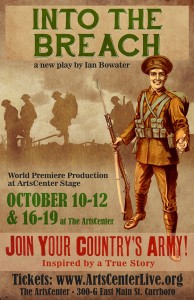 2013-14 Season: The Decade of Tomorrow: All The World's Affair
Into the Breach, World Premiere of a new play by Ian Bowater
October 10-12 and 16-19, 2014
Directed by Gregor McElvogue
ArtsCenter Stage opens its 2014-2015 season commemorating World War I with the world premiere of Into the Breach by Triangle playwright Ian Bowater running October 10-12 and 16-19. Shows on Thursdays, Fridays, Saturdays are at 8:00 pm and Sundays at 3:00 pm. Friday and Saturday tickets are $18, $16 for Students/Seniors, and $14 for Friends of The ArtsCenter. Thursday and Sunday tickets are $16, $14 for Students/Seniors, and $12 for Friends of The ArtsCenter. Group rates are available. To purchase tickets or for more information go to www.artscenterlive.org, visit The ArtsCenter, Box Office at 300-G East Main Street in Carrboro, or call The ArtsCenter's Box Office at 919-929-2787.
In this World Premiere, five young men journey from Shakespeare's school to the Western Front. Into the Breach is inspired by a true story from 1913 just one year before the onslaught of World War One. After acting in a production of Shakespeare's Henry V in which patriotism and the horrors of war are highlighted, five young men voyage into the horrors of battle themselves in the war to end all wars. The men travel different paths and are reunited to remount their performances for injured soldiers. Into the Breach inspires us to see the ways we can change, heal and unite even under the most difficult of circumstances. This is an ArtsCenter Stage commissioned project by Triangle playwright Ian Bowater.
"We were looking for a third play to round out our season when I happened upon a story from 1913 of a production of Shakespeare's Henry V by young men at King Edward VI School, which was Shakespeare's school," explains ArtsCenter Stage Artistic and Producing Director, Jeri Lynn Schulke. "Shakespeare's play deals with the role of leadership during wartime as well as the horrors of war. It's perhaps ironic that merely one year later, in 1914, World War One began and all the young men in this production went on to fight in the war."
For more information on the 1913 production of Henry V by King Edward's Boys visit: http://www.edwardsboys.org/henry-v-1913-2013/
"When I told this story to friends they said it would make a terrific play. I spoke with local playwright Ian Bowater about writing and we, in turn, spoke with Gregor McElvogue about directing and the three of us set upon outlining the play. Ian produced a first, rough draft in July for a cast read-through which led to a few revisions.  We started with a new draft of the play when rehearsals began on August 27.  Working on a new play from its inception is such a thrill.  Gregor and the entire cast have been instrumental in the process of creating this new play."
Playwright Ian Bowater says, "When Jeri Lynn asked me to consider dramatizing the story of Shakespeare's boys going to war I regarded it as an opportunity to write something as an antidote to my other World War One projects. I was commissioned to create two WWI screenplays. One was of the Shot At Dawn campaign to pardon the three hundred British soldiers summarily executed on the Western Front. The other was about two soldiers trapped in a tunnel under No Man's Land. Both aspects of the war are echoed in Henry V. However, what really interested me was the innocent enthusiasm of these young men. With hindsight it is easy to dwell on the horrors of war but these lads were barely out of school. Most typically Henry V is seen as a "call to arms", patriotic propaganda. Very little is said about Shakespeare's acerbic view of pre-war diplomacy or the flouting of the rules of war. These young men lived all of that. They learned fast as they struggled to live up to their noble reasons for joining the fight. And as I developed the drama I came to realize how much Shakespeare knew of warfare and how little has changed over the three hundred years since he wrote about Agincourt."
Director Gregor McElvogue adds, "Like most Brits I have family connections to World War One: both my great grandfather and my grand uncle, his son, died in this 'war to end all wars.' Their sacrifice has always been a part of my family's oral history and working on Into the Breach has brought that history into sharp focus. Exploring this very English story with a great, young, American cast and crew, has given me a greater understanding of the appalling waste of potential that all wars inflict on society; and for the echoes of a 100 year old conflict which are still heard in today's headlines. The numbers involved in WWI are unimaginably huge: 65 million combatants. 8 million killed in battle. 2.2 million deaths by disease. 6.6 million civilian deaths. We can only tell you the story of six people but perhaps, by concentrating on these six, we can bring the vast impact of the war to a more manageable human scale – just as my family's oral history does for me.
In addition to Playwright Ian Bowater and Director Gregor McElvogue, the Into the Breach company includes actors Jeb Brinkley, David Byron Hudson, Justin Johnson, Brandon Rafalson, Laurel Ullman, Peter Vance and production members Devon Abdo (Stage Manager), David Berberian (Tech Director), Jeb Brinkley (Co-Musical Director), James Carnahan (Set Design), Marissa Erickson (Costume Design), Nick Johnson (ASM), Adam Lindquist (Sound Design), Andy Parks (Lighting Design), Devra Thomas (Properties Design), Peter Vance (Co-Musical Director) and Nathaniel Wells (Tech Intern)
In 2013 ArtsCenter Stage was cited by Indy Week for Special Achievement in the Humanities for its 2013-14 season. Byron Woods, at Indy Week, stated that ArtsCenter Stage "took a programming risk, slating a season of theatrical works to commemorate the Civil War sesquicentennial through three different perspectives." "The payoff for this programming risk was a five-star review for The Whipping Man, raves from audiences for our season and patrons that were enlightened, engaged and encouraged to support our mission," says ArtsCenter Stage Artistic Director, Jeri Lynn Schulke. "This year, we will capitalize on that momentum with an even more ambitious season. We couldn't be more excited about the upcoming season for ArtsCenter Stage."
WHEN:
October 10-12 and 16-19
Thursday, Friday and Saturdays at 8pm, Sundays at 3pm
WHERE:
THE ARTSCENTER
300-G East Main Street, Carrboro, NC 27510
TICKETS:
Friday/Saturday:
General $18
Student/Senior (62+) $16
ArtsCenter Friends $14
Thursday/Sunday:
General $16
Student/Senior (62+) $14
ArtsCenter Friends $12
Tickets available at www.artscenterlive.org or 919-929-2787 
You might also like:
Category: Press Releases