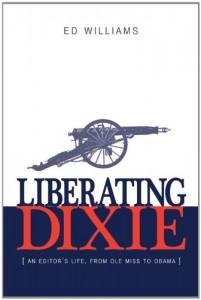 LIBERATING DIXIE: An Editor's Life, from Ole Miss to Obama
For more than a half-century as a journalist, Ed Williams has kept a keen – and critical – eye on the South and the nation. Liberating Dixie, a collection of his best work, offers an exhilarating tour through what he has seen.  The characters range from Jesse Helms to Jim and Tammy Faye Bakker, with Bill Clinton, Ross Barnett and William Faulkner's cow also making appearances. The topics amount to a panorama of Southern life – politics, religion, war and peace, race, gay rights, the arts, school reform, college sports, the joys and challenges of family life, as well as Ed Williams's rules for living.
Curtis Wilkie, author of The Fall of the House of Zeus, says Williams's commentary "has sparkled over the years with rare mixtures of wisdom and humor, elegance and irreverence, patriotism and skepticism, courage and tolerance." William Ferris, author of  The Storied South, calls Liberating Dixie  "a wonderful blend of courage and humor." Award-winning journalist Hodding Carter, now a University of North Carolina professor, says the book "is worth reading – and teaching – from first page to last."
For 25 years Ed Williams was editor of the editorial pages at The Charlotte Observer, where his columns and editorials were part of projects that won the Pulitzer Prize for Public Service in 1981 and 1988. He earned a B.A. in history from the University of Mississippi, where he edited the Daily Mississippian. He served two years in the U.S. Army and in 1967 signed on as a reporter for joined Hodding Carter's Delta Democrat-Times in Greenville, Mississippi. He was a Nieman Fellow at Harvard University and a writer for the Ford Foundation before coming to the Observer as an editorial writer in 1973. He retired in 2008 and was inducted into the North Carolina Journalism Hall of Fame. He lives in Charlotte, North Carolina, with his wife, Marylyn.
Liberating Dixie (288 pages, $27.95) will  be published in March 2014 by Lorimer Press. Williams is available for interviews and appearances,  For information, contact Cindy Campbell, 919-923-8857 or cincam@aol.com or visit edwilliamsbooks.com, where photos are available and Williams talks about the book.
You might also like:
Category: Press Releases