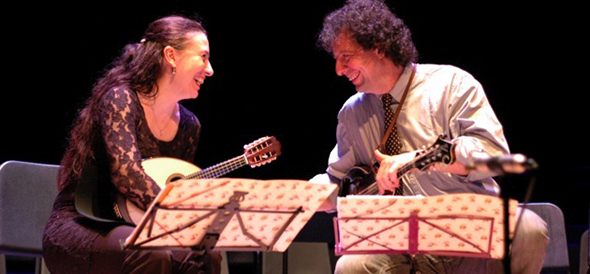 Caterina Lichtenberg and Mike Marshall, two of the greatest living mandolinists in the world, have created a beautiful new chamber music duo. On Sunday, August 10, 2014 at 7:00pm, they will perform live at The ArtsCenter. Tickets for this show are $16 General advance, $12 Friends/Student advance, and $20 Day of Show. To purchase tickets, visit: http://www.artscenterlive.org/events/mike-marshall-caterina-lichtenberg or call the Box Office at (919) 929-2787. The ArtsCenter is located at 300-G E. Main St. in Carrboro, NC.
The duo's recent release on Adventure Music captures their lively spirit within several musical styles. From Bach to Brazilian choro, and from Mike's own compositions to Venezuelan music. Caterina is the Professor of Mandolin at the Music Conservatory in Cologne, Germany. She and has been touring the world for eighteen years and has over ten CDs to her credit.
Together, these two virtuosos take you on a musical journey of the mandolin and mandocello – around the world and through the centuries – to create a provocative and engaging evening of music. In just two years as a duo, Caterina and Mike have already performed concerts in San Francisco, New York, Lunel (France), Genova (Italy), London and Berlin.
You might also like:
Category: Press Releases