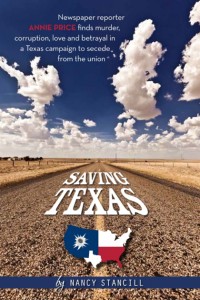 Nancy Stancill will be at McIntyre's Books, 220 Market Street in Fearrington Village, Pittsboro, NC on Saturday, September 27, 2014 at 2:00 pm, reading form her new novel Saving Texas.
About the novel Saving Texas:
Houston reporter Annie Price is looking for a career-defining story when she profiles Tom Marr, the state's first secessionist candidate for governor. But the big Texas story comes with more than she bargains for – a corrupt college president, a dangerous ex-CIA agent and a beautiful, deadly Peruvian assassin. Before long, Annie must grapple with two murders, political shenanigans and a love triangle that will test the limits of her ethics and her heart. Will she be able to get the story before her struggling newspaper implodes or her ruthless enemies get her?
Author Nancy Stancill, a former reporter for the Houston Chronicle for 15 years, goes behind the headlines and deep into the gritty heart of journalism and politics in today's Texas.
For more information, visit: http://www.nancystancill.com
You might also like:
Category: Press Releases