This children's show at Morehead Planetarium, starring Sesame Street favorites Big Bird, Elmo and their new Muppet friend from China named Hu Hu Zhu, is a great summer activity for the whole family.
I grew up within walking distance of Franklin Street in Chapel Hill, so my brother and I spent countless hours playing at Morehead Planetarium. We climbed the sun dial, played tag among the roses, dreamed of owning the big telescope that was for sale in the gift shop, pressed all the buttons on the permanent science exhibit downstairs, and hid in the pitch-black, spinning planet room, which sadly, is no longer there. My all-time favorite planetarium treat was when we got the chance to see a show under the great projection dome. These presentations made astronomy come to life before my eyes, as the stars and planets swirled above my head. By the time I was eight, I could name and locate over a dozen constellations. Visiting the planetarium became a ritual for me in childhood, throughout my teen years, in college, and as an adult. I marveled at the Pink Floyd laser show in high school, studied Astronomy as a sophomore at UNC specifically so I could take the Astronomy Lab that was held at The Planetarium, and witnessed the Comet Hale–Bopp up close through the giant telescope as it passed by in 1997. Chapel Hill is extremely fortunate to have this amazing facility right downtown.
Now that I am raising my daughter "Zoomer" in Chapel Hill, I want her to have the same love for Morehead Planetarium that I do. We have climbed on the sun dial and played peek-a-boo in the rose garden, but at three years old, she was a little too young to see a show — until now! As part of their summer series, Morehead Planetarium is showing One World, One Sky: Big Bird's Adventure, which is perfect for star-gazers of any age. This show was specifically designed by the Sesame Workshop to foster a love of astronomy in children ages 4-6, but is perfect for pre-schoolers as well.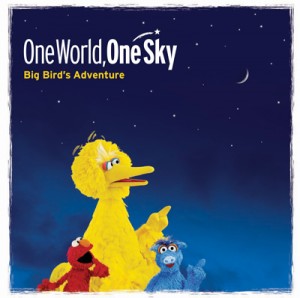 Last Saturday, Zoomer and I headed over to the showing of One World, One Sky: Big Bird's Adventure. I was so excited to finally bring my daughter to a show at the planetarium, and relive my childhood memories through her excited eyes at seeing the huge dome light up for the first time. I was a little apprehensive before the show began, however, because Zoomer had never been to a movie theater before. Seeing a movie projected on a 68′ tall spherical ceiling as her first big screen experience could possibly be a little overwhelming for a three-year-old. I was also wondering if it might be too dark or too loud, as my daughter is sensitive to both conditions. Fortunately, I had nothing to worry about — anything created by Sesame Street takes all toddler sensitivities into account, and Zoomer enjoyed the show immensely. Sesame Workshop CEO Gary Knell explains that the show was created to educate young children about space: "There's just not a lot of other programs out there that engage little kids without scaring them half to death in a dark room… This will give them an introduction and hopefully instill in them at a very young age a love for science." [1]
The movie One World, One Sky: Big Bird's Adventure begins in daytime, so the screen is well-lit. The familiar Sesame Street theme song starts to play as Big Bird appears in a boat and says, "I'm going to look at the stars!" However, the only star he can see is the sun, so he asks the audience to use their imagination to make the sun set faster. After counting down slowly from five, the sun sets and the stars come out. This gradual shift to the dark of night was a gentle transition for little ones, and the "zillion gabillion" twinkling and shooting stars that appeared above evoked oohs and aahs from parents and children alike in the audience. "It's beautiful!" my daughter enthusiastically exclaimed. After singing a song about stars, Big Bird connects the starts to make shapes, which is the perfect beginner's lesson about constellations, ending with The Big Dipper.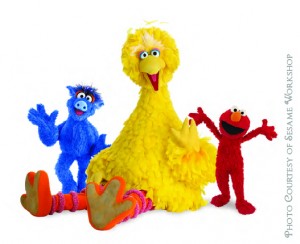 Then Elmo arrives on Sesame Street, much to the enjoyment of the youth in the crowd, and introduces his new friend from China, a bright blue pig Muppet named Hu Hu Zhu (pronounced Hoo Hoo Joo). Another goal of the show is to foster a cross-cultural appreciation between the United States and China. When it was first released in 2008, it premiered in both Beijing and Chicago. Big Bird, Elmo and Hu Hu Zhu discuss the similarities and differences between the two countries, and Hu Hu Zhu teaches the audience a few words in Mandarin. They also perform a "Twinkle Twinkle Little Star" sing-along in both English and Mandarin.
During the rest of the 20-minute presentation, the three Muppets explore the Moon, find the North Star, and close the show with a friendship song as the sun rises. As we left the theater, Zoomer was really excited. "I like that show, Mommy! It was fun! Tomorrow we can see it again, OK?" The other three-year-old boy we saw it with really enjoyed it too. Additionally, in the packed house of 220 attendees of all ages, I did not hear one child fuss or cry during the entire show — it was all smiles. One World, One Sky: Big Bird's Adventure is a great way to spend a family morning out, especially considering the steamy summer we have been having where it is 100 degrees in the shade.
One World, One Sky: Big Bird's Adventure is playing at Morehead Planetarium on UNC campus Tuesday – Saturday at 10:30 am thru August 19, 2012. They are also offering this show during their fall season every Saturday at 10:30 am thru October. The movie runs 20 minutes. Admission is free for members, $7.25 for adults, and $6.00 for children, students and senior citizens. If you see more than one planetarium show in a day, the second and all subsequent planetarium shows are $3. For more information, visit: www.moreheadplanetarium.org.
You might also like:
Category: Blog