Look out for all those orange numbered signs placed around town, because they are pointing you towards a studio of one of the many local artists participating in the Orange County Open Studio Tour this weekend and next. Follow the signs and discover what amazing artists we have in town!
Now in its 20th year, the Orange County Open Studio Tour is one of our community's most popular events. It is made possible by volunteers from the Orange County Artists Guild (OCAG), a non-profit organization whose mission is to increase the visibility and recognition of area artists and crafts people. This year, 83 local artists are participating in the Open Studio Tour by opening up their studios, which are often located in their own homes, to the general public. During a visit, members of the community get a chance to meet artists, learn about their creative process first-hand, view their body of work up close, and have the opportunity to purchase their pieces directly from the artist on location. Local artists benefit greatly from the tour by increasing their exposure to a broader community base, receiving immediate feedback from prospective buyers, and by selling their work on site.
HOW IT WORKS
The Open Studio Tour is this weekend, November 1-2 and next weekend, November 8-9, 2014, on Saturdays from 10:00 am – 5:00 pm and Sundays from 12:00 pm – 5:00 pm. The OCAG has done an amazing job making the Open Studio Tour extremely easy to attend. The event is free to the public, and there is no pre-registration necessary. Just pick up a brochure at participating venues, including FRANK Gallery in Chapel Hill, NC Crafts Gallery in Carrboro, all three Weaver Street Market locations, Hillsborough Gallery of Arts, Eno Gallery, Hillsborough Arts Council Gallery and many other shops, businesses and public places all around Chapel Hill, Carrboro, Hillsborough, and Durham, or download a print-friendly PDF version of the brochure here. It is beautifully designed and highlights all the participating artists with a detailed map to each location. If you would like just the map, to take with you, you can also download a print-friendly version of just the map here. Select the artists you would like to visit, and go! These are serious artists who excel in their craft, so there are treasures to be found at every location. If you do not have a brochure handy, or feel like being adventurous by winging it, drive around until you find one of the bright orange signs with balloons posted all around town. Follow the arrows, and they clearly mark the way literally right up to the door of each studio, so getting lost on the way there is not possible. Then, venture inside to discover a local talent! This is one of the few times a pop-in visit is not only welcome, but also encouraged!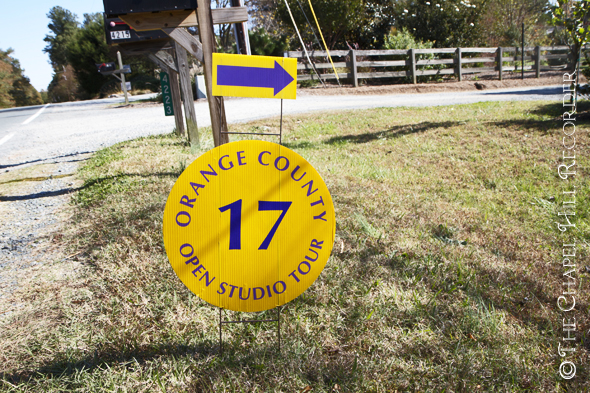 It's really that simple, and a great way to spend an afternoon. Because there are 83 artists on the tour this year, it would be challenging to see them all. Instead of trying to visit each and every one, I recommend selecting a few and really spend time getting to know each artist and their work. Also, keep in mind that several of these artists have open studio hours throughout the year, and they are all available for private appointments, so feel free to contact them if you are not able to visit them during this tour. I always visit the studio of one of my favorite local artists, Elaine O'Neil, who is the illustrator of the book Goodnight Carolina, and #15 on the Open Studio Tour this year. (She is only going to have her studio open this weekend, November 1-2, 2014, and her new studio is in Hillsborough at 226 South Bellvue Avenue.) She works in textile collage, so her studio is filled with an amazing assortment of colorful fabrics and threads. Seeing her extremely detailed work up close and getting a chance to visit with her is definitely worth the trip out there. This year, I also plan to visit a few more studios, including Jennifer Padilla's studio in downtown Carrboro. I have known her since I was nine years old, and I love her work. I can also walk there from home, and I know her studio is child-friendly, so my 5-year-old "Zoomer" will be more than welcome to come along with me. Whichever artists you chose to visit, I assure you that you will not be disappointed. All OCAG artist members have been juried into the Guild, and they are all exceptionally talented.
We are a region that truly supports local artists, and it is estimated that over 800 working artists reside in Orange County alone. A wonderful outcome from having a tour such as this one, is seeing so many "Orange County Open Studio Tour" signs posted throughout our community. During these weekends, these bright orange circles magically appear on intersections, street corners and throughout neighborhoods, with arrows that beckon you to follow them, saying, "Amazing Artist This Way!" They are living among us, and speaking to the OCAG's mission, these signs alone definitely increase their visibility, whether or not you attend the Open Studio Tour itself. You cannot help but feel a sense of pride and joy, knowing that each numbered sign represents a working artist that is able to follow their passion, fulfilling their creative soul. And who knows… it might inspire you to dig those paintbrushes out of your closet and create a masterpiece of your own!
ORANGE COUNTY OPEN STUDIO TOUR DETAILS
The Open Studio Tour 2014 is this weekend, November 1-2 and next weekend, November 8-9, 2014, on Saturdays from 10:00 am – 5:00 pm and Sundays from 12:00 pm – 5:00 pm. Here is the printer-friendly brochure and map (PDF). Don't miss it!
Participating artists include: Ruth Ananda, Katherine Armacost, Peg Bachenheimer, Sasha Bakaric, Judy Bauman, Elia Bizzarri, Natalie Boorman, Becky Filene Broun, Linda Carmel, Clay Carmichael, Ginny Chenet, Barbi Dalton, Alan Dehmer, Heather Delisle, Carolyn Doyle, Julie Eastman, Carmen Elliott, Elizabeth Emerson, Judith Ernst, Michael Everhart, Peter Filene, Susan Filley, Amy Fletcher, Lisa Philipps Goldstein, Chris Graebner, Lew Graham, Jamie Hagenberger, Jennifer Hahn, Lindesay Harkness, Deborah Harris, Shelly Hehenberger, Barbara Higgins, Ellen Stark Hill, Susan Hope, Jeannette Johnson, Michelle Johnson, Cathy Kiffney, Bernice Koff, Marcy Lansman, Eduardo Lapetina, Carroll Lassiter, Janae Lehto, Patricia W. Lloyd, Roberta Marasca, Joan Meade, Mary Mendell, Anita Mills, Dale A. Morgan, Dan Murphy, Scott Myers, James Oleson, Elaine O'Neil, Jenifer Padilla, Marilyn Palsha, Mary Ann Peter, Linda Prager, Claudia Prose, Luna Lee Ray, Ellie Reinhold, Carol Retsch-Bogart, Mike Roig, Susan Rosefielde, Patricia Saling, Savannah Scarborough, Gail Schaefer, Vera Shanley, Nancy Smith, Will Stanley, David Stickel, Marilyn Strother, David Taylor, Hollie Taylor, Pringle Teetor, David Terry, Trudy Thomson, Mark Todd, Barbara Tyroler, Betsy Vaden, Emily Eve Weinstein, Anita Wolfenden, and Nadine Zenobi. Please note: Studios #20 (Beeman), #38 (Lees), And #59 (Burns) will not be participating this year.
For more information about the Orange County Open Studio Tour, visit: http://orangecountyartistsguild.com/tour.php.
You might also like:
Category: Arts & Entertainment