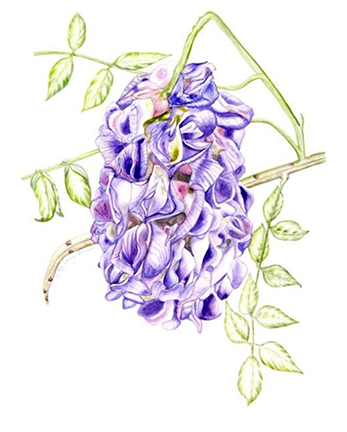 The Town of Carrboro invites you to enjoy the artwork that is currently being displayed in the Century Center Gallery through the end of July, 2014. 
Artist reception for 2nd Friday ARTWALK July 11, 2014 from 6:00 pm – 9:00 pm. Public welcome. Galleries are open to the public during regular business hours for the buildings.
Century Center Art Exhibit: Water colors, pen and Ink, and mixed media; mostly botanical and animal paintings; some landscapes.
About the artist:
Betsy Lowry Donovan is a graduate of UNC at Chapel Hill, the University of Southern Maine, and the NC Botanical Garden Certificate Program in Botanical Illustration.

After raising three daughters in Maine, she returned to her native state of North Carolina, and currently lives in Chapel Hill. 
Betsy paints watercolors, pen and ink and media. A retired educator, she is also a duplicate bridge player, a gardner, and avid reader. Creating designs for greeting cards is one of her special interests.
For more information, visit: http://betsylowrydonovan.com
You might also like:
Category: Press Releases