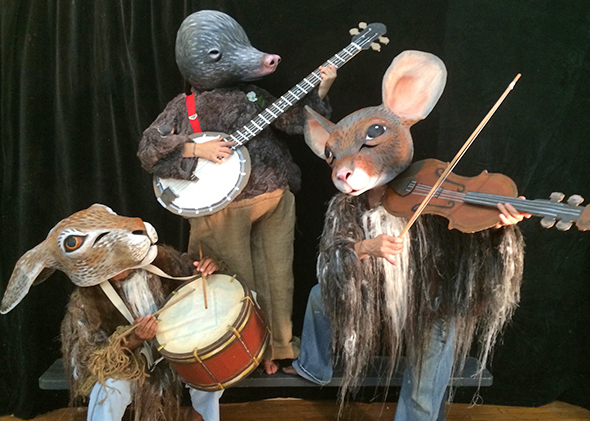 Paperhand Puppet Intervention shows are not to be missed! They are story-telling masters who create other-wordly scenes with fantastical creatures. It has to be seen to be believed!
Award winning Paperhand Puppet Intervention returns this August 8-September 7, 2014 with THE PAINTED BIRD, their newest summer spectacle. This is Paperhand's much anticipated 15th annual outdoor show featuring giant puppets, masks, stilt walkers, shadow puppets, live music, and more.
THE PAINTED BIRD is an enchanted pageant of weaving colors, huge puppets, rabbits, mice, and hedgehogs! It is a story of where we came from and how we got here. From the little creatures of the fields and forests, emerging from the brown earth, to the lumbering beasts of green sunlit pastures, all dancing to the rhythms of life. It is a story of time and forgetfulness. Who of us can remember the story of the Painted Bird who carries all the shades of the world on its wings, when the land has gone grey and the light faded? The furry creatures of forest and field must work together to keep a numbing greyness from sweeping across the land. Will the colors be consumed entirely from the world by the ever-encroaching grey? Come see for yourself, and the Painted Bird will rise with our own dreams of a brighter world this summer.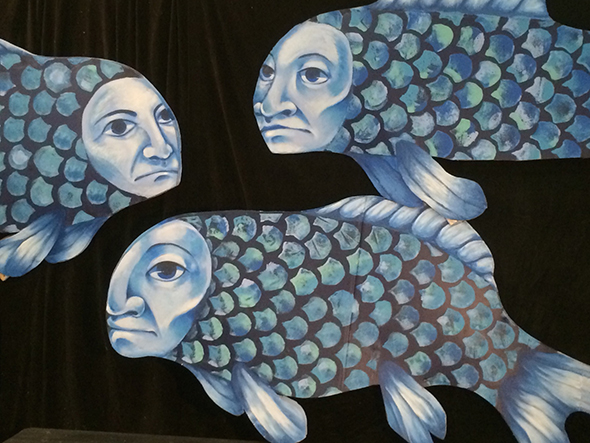 "We are so grateful for the amazing support we receive from our community," says Paperhand co-founder Donovan Zimmerman. "Each year we have over a hundred volunteers who lend their hands sewing, painting, and paper macheing to make our shows possible. This year we were able to raise over $10,000 on Kickstarter to fund THE PAINTED BIRD. It takes a lot of hands, hearts, money, and effort to put on a show of this size. We couldn't do it without the love and support of hundreds of people."
"It's truly bizarre, and wonderful, to look back and think about where we started 15 years ago and where we are today. Last year we had over 14,000 people come to see the show," says co-founder Jan Burger. "Each year we keep growing and trying new things. We just try to bring a little beauty and hope into our part of the world."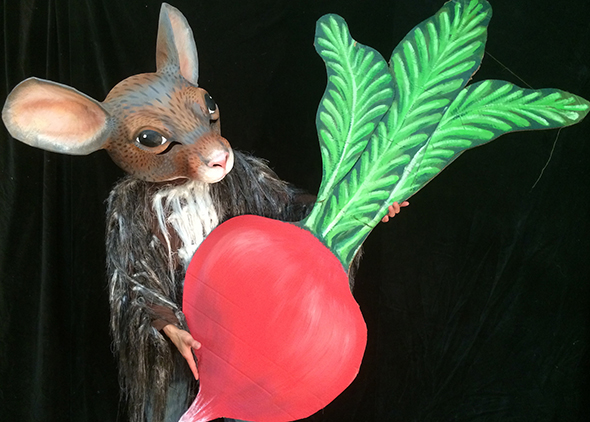 THE PAINTED BIRD runs August 8-September 7, 2014 at the Forest Theatre in Chapel Hill with performances every Friday, Saturday, Sunday and Labor Day at 7:00 pm. Matinee shows will be held August 23th, 30th, and September 6th at 3:00 pm. Tickets are General Admission at the door for a suggested donation of $12 for adults and $8 for children, 2 and under get in free.
Additional performances can be seen at the North Carolina Museum of Art from September 12-14, 2014. Tickets for these performances can be purchased online at: www.ncartmuseum.org.
Both venues have pre-show performances each night at 6:20 pm from local bands and musicians. Matinee pre-shows are at 2:20 pm.
To find out more about the show, the opening acts, volunteer opportunities and sneak peeks behind the scenes visit: www.paperhand.org.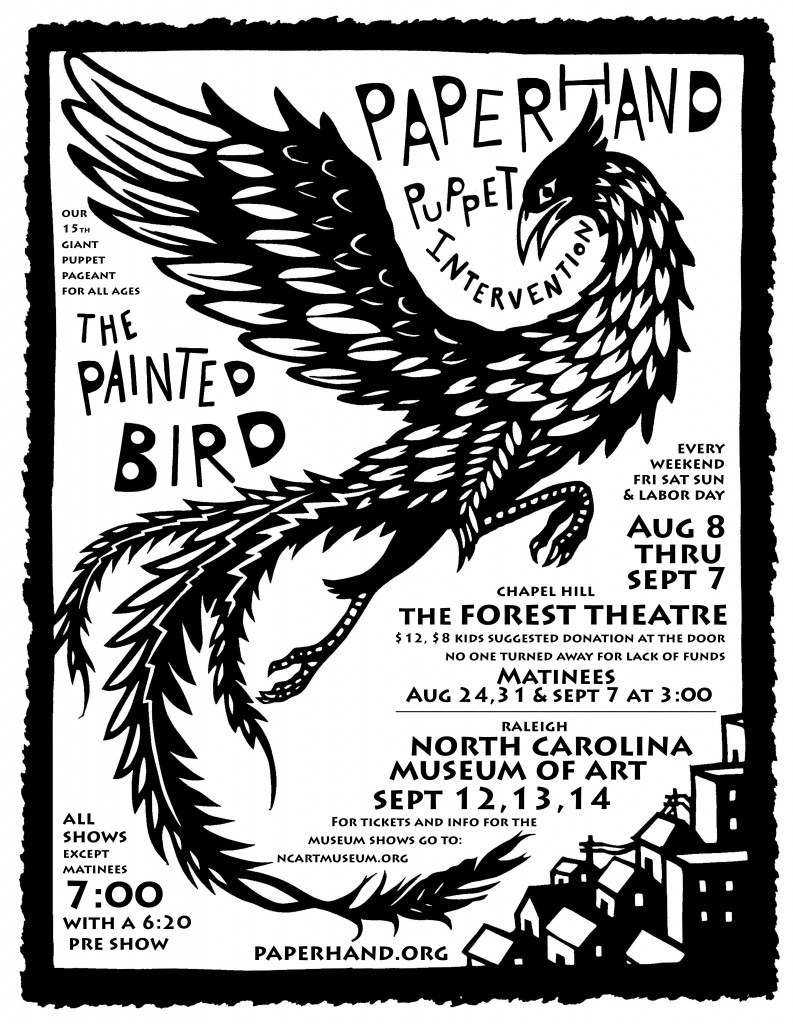 ABOUT PAPERHAND PUPPET INTERVENTION:
Paperhand Puppet Intervention was born from the creative collaboration of Donovan Zimmerman and Jan Burger in 1999. Their vision is inspired by their love for the earth and its creatures as well as their belief in justice, equality and peace. Paperhand's mission is to produce work that inspires people, promotes social change, and is deeply satisfying for everyone involved. The puppet shows they create are a synthesis of many artists and art forms including, but not limited to: sculpting, painting, music, dance, improvisation, costume/set design and theater. In 2013 they were honored with the Goodman Award and for several years they have been voted one of The Independent Weekly's Best of the Triangle for live theatre.
You might also like:
Category: Arts & Entertainment