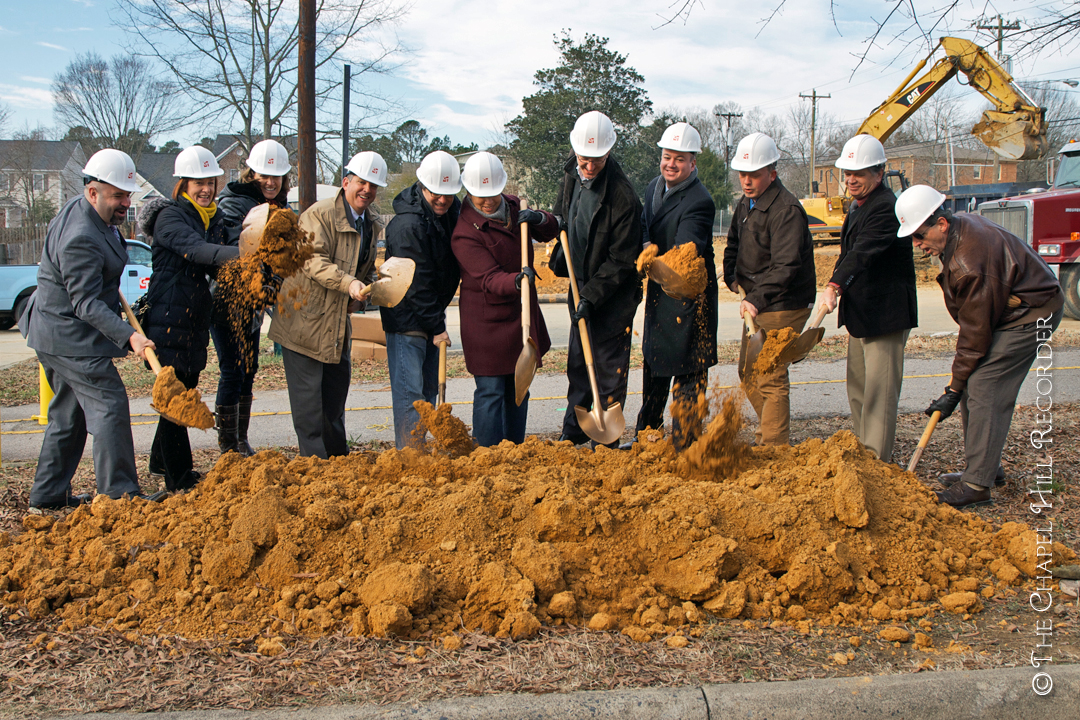 Since its founding in 1952, the PTA Thrift Shop has been a non-profit leader in supporting our community and our public schools, and it has never once asked for any financial help in return… until now.
This morning, PTA Thrift Shop board members, campaign volunteers, city and school leaders, staff and citizens braved the cold and celebrated the ground breaking for the construction of the new PTA Thrift Shop Carrboro store at 103 Jones Ferry Road. The new building will consist of 14,000 square feet of retail space, a donation and drop-off site, administrative offices, and an additional 8,000 square feet dedicated to lease space, which is already leased at full capacity. A second building will consist of 5,600 square feet of future lease space for restaurants, retail, and office space. There will also be landscaped grounds that create a plaza to serve as a community meeting place and to help beautify and revitalize the neighborhood.
ABOUT THE PTA THRIFT SHOP
The PTA Thrift Shop is a non-profit resale business operated for the benefit of the Parent Teacher Associations (PTAs) of the public schools located in Chapel Hill and Carrboro. It currently has two resale stores in Chapel Hill and Carrboro, North Carolina that sell a wide range of donated goods, from clothing, to books, to furniture at substantially reduced prices. All donations are tax-deductible.
However, the PTA Thrift Shop is so much more than a thrift store — it is a vital resource for our community and our public school system. It is one of the largest private funding sources for the Chapel Hill-Carrboro City School PTAs, supporting all elementary schools and virtually every club, team, music group and other student organizations in the middle and high schools. Over the last 15 years, they have donated more than $5 million directly to local public and charter schools throughout Chapel Hill and Carrboro, amounting to over $200,000 every year. This money helps schools pay for books, technology, play equipment, supplies, events, field trips and other educational programs. The PTA Thrift Shop also provides in-kind donations to help clothe clients of local social service organizations such as Inter-faith Council, Orange County Department of Social Services, Project Homeless Connect and TABLE. "The PTA Thrift Shop allows IFC to issue free clothing vouchers to our low-income clients for use at its stores. This helps many who struggle to make ends meet. We are grateful for this community service," says Kristin Lavergne, Community Services Director, Inter-Faith Council (IFC) for Social Service. Furthermore, in partnership with their customers, they supply gift cards for their stores to help families in need in the Chapel Hill-Carrboro City School District.
Additionally, they are Green Plus Certified through the Institute for Sustainable Development, and keep almost 300 tons of non-sellable items out of the landfill each year. Their upcycling business model and recycling efforts have received national acclaim, and they often donate unsellable yet reusable items to organizations like The Scrap Exchange. Since 2008, they have recycled over 133 tons of metal. In 2010, the PTA Thrift Shop received the 2010 Progress Energy Sustainable Business of the Year Award and in 2011, was a finalist for the North American Sustainable Enterprise Awards.
"Our school district is growing, and to honor our mission we want our contributions to keep pace was with, as well as to continue our award-winning recycling program and to serve as an affordable retail store offering quality gently used items," said Barbara Jessi-Black, PTA Thrift Shop Executive Director.
Another important, yet more subtle, outcome of the PTA Thrift Shops' success is its ability to eliminate the stigma of shopping for second-hand goods. Through their community spirit and generosity, they have managed to unite the diverse Chapel Hill-Carrboro community, breaking down socio-economic divisions. They attract customers and supporters from all cultures and backgrounds. In fact, it has always been trendy to shop at the PTA Thrift Shop. The unspoken "rule" in town, when in need of any item, is to "check the PTA Thrift Shop first." I have many friends who visit there on a weekly, if not daily, basis. When they hold their semi-annual, 3-day $3.00 per Bag Sale, it is completely mobbed without any elbow-room to spare. Many an amazing piece of clothing in my wardrobe has been proudly scored at the Thrift Store, and I have donated countless items, as well.
One reason that supporting the PTA Thrift Shop is a cause near and dear to my heart is thanks to a personal experience thirty years ago. It was 1982, and the World's Fair was being hosted on the other side of the Blue Ridge Mountains in Knoxville, Tennessee. My sixth grade teacher at Ephesus Elementary School, Mr. Zimmerman, had a dream to take our entire class on a field trip to experience this historic event. The funds, however, were non-existent for something that extravagant. But he was determined, and set up a volunteering partnership with the PTA Thrift Shop. Every Saturday for months, each student in our class spent all day sorting donations, folding clothes, stacking books, cleaning furniture — whatever was needed. Mr. Zimmerman created a huge chart to hang on our classroom wall, tracking our service hours and subsequent money raised. By May, when the World's Fair finally opened, we had our funding, and off we went on an educational adventure I will remember fondly for the rest of my days. But it was not just the trip itself that was so meaningful. We all learned a valuable lesson in giving back and serving our community. Yes, we received something in return — a wonderful trip. Nevertheless, we contributed our time and energy earning those service dollars in a meaningful way, and that was the true reward that has inspired me to give back to my community ever since. I expect most students who have attended the Chapel Hill-Carrboro Public School System could share a similar story about how the PTA Thrift Shop has significantly benefitted their lives in some way.
GIVING BACK TO THE PTA THRIFT SHOP
In the 61 years that the PTA Thrift Shop has been in operation, it has never once asked the Chapel Hill-Carrboro community for monetary donations and it has not had the need to host fundraisers of any kind. Now worth $1.4 million, this non-profit organization raises money through donated items for the sole purpose of giving money back to the community. Years ago, they outgrew their space and were in desperate need to expand their facility. The previous structure that housed the store had not been renovated since 1989, and was in such a state of decrepitude that building a new building was much more cost-effective than renovating the existing space. The new building will provide almost twice as much retail space as they now have, which means more customers and sales. More retail combined with revenues from leased space equals greater donations to schools. The final structures will have a green footprint that incorporates both LEED construction standards and the Town's sustainability standards. It will also create more jobs to boost the local economy, as well as provide an economic boost for our local construction industry. The PTA Thrift Shop plans to retain their 30+ staff and add new jobs to accommodate the bigger space.
The PTA Thrift Shop is an essential local institution on which we have come to depend — as consumers, as participants in the public schools, and as community members. "The contribution from the PTA Thrift Shop is an awesome benefit! I wouldn't want us to find out what would happen if we didn't have it," says Deshera Mack, Principal of Rashkis Elementary. This is a cause that is worth every penny, and they need our help.
HOW TO DONATE TO THE PTA THRIFT SHOP
The PTA Thrift Shop is on a mission to raise the $1 million necessary to complete their new building project, and for the first time, they need the financial support of our community. They have already raised $400,000 and are working hard to raise the rest needed for their Building Campaign. The non-profit is offering a variety of giving options to support the project, including a $12 x 12 campaign (a donation of just $12 for 12 months), brick pavers that will be placed in the entrance way of the new store, as well as interior and exterior naming opportunities.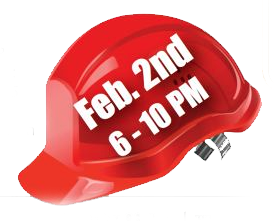 They are also hosting a Hard Hat Bash on Saturday, February 2, 2013 from 6:00 pm – 10:00 pm at The Great Room of Top of the Hill located at 100 East Franklin Street in Chapel Hill. Ron Stutts from WCHL will be emceeing this fun, fundraising event. Live music will be provided by Six Pack Cadillac and a silent auction will be held. Tickets are $50 a person and $80 a couple, and include one drink ticket per person. If you would like your ticket purchase to go toward a Chapel Hill-Carrboro public school's PTA Thrift Shop Community Building Campaign credit, please indicate such in the "Add Special Instructions to the Seller" field of the PayPal checkout page. For more information and to purchase tickets online, visit: http://ptathriftshop.org/hardhatbash.shtml
Financial donations can be made with checks payable to:
PTA Thrift Shop Building Campaign
and mailed to:
Barbara Jessie-Black, Executive Director
PTA Thrift Shop Executive Offices
115 West Main Street, Carrboro, NC 27510
Donations and pledges can also be made securely online at: www.ptathriftshop.org/building campaign. Contact the PTA Thrift Shop to make financial donations using life insurance, bequests, multi-year pledges, appreciated stock, property, and other tangible items by calling (919) 942-6565  or by emailing: ptathriftshop@bellsouth.net. Every little bit helps, so no amount is too small.
At the very least, keep supporting the PTA Thrift Shop by shopping there, donating your gently used goods to them, and spreading the word about this wonderful organization. They also welcome volunteers to help in the store itself. We are a stronger community thanks to their tireless and selfless contributions and they deserve our support. For more information about the PTA Thrift Shop, locations and hours, visit: http://ptathriftshop.org
You might also like:
Category: Places