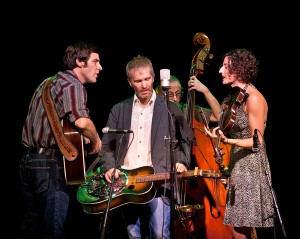 Like their namesake heirloom apple variety, Asheville's Red June has strong roots in the Appalachian tradition while constantly forging new ground in American music. On Saturday, June 21st at 8:00pm, they will perform at The ArtsCenter. Tickets for this show are $15 General advance, $11 Friends/Student advance, and $19 Day of Show. To purchase tickets, visit: www.artscenterlive.org/events/red-june or call the Box Office at (919) 929-2787. The ArtsCenter is located at 300-G E. Main St. in Carrboro.
Red June is one of the more creative and innovative North Carolina bands working within and without the old-time format. Great singing and original material informed by tradition make for a special and entertaining ensemble. Their third CD dropped on April 15th, just in time for their performance at MerleFest.
For more information, visit http://redjunemusic.com.
You might also like:
Category: Press Releases