Santa Claus has arrived at our very own University Place and will be available to meet your Little Ones every day from now until December 24th!
November 27, 2015 was the first day to visit Santa this year at University Place! Back in 2012, my daughter "Zoomer" and I headed straight there the day Santa arrived in town. Zoomer was only three years old at the time, and she had just figured out all that Christmas entails, and she was so excited to meet Santa! When we arrived, Zoomer's face lit up when she saw the real Santa himself for the first time, sitting in his big Santa chair of plush, green velvet.
University Place always outdoes itself with holiday decorations each year, and giant Christmas trees, snowmen and reindeer abound. Zoomer, now six years old, is always still in awe of how her "Little Mall" is transformed into a winter wonderland. The excitement in the air coming from the children about to meet Santa is contagious, and the Christmas outfits they wear are always beyond adorable.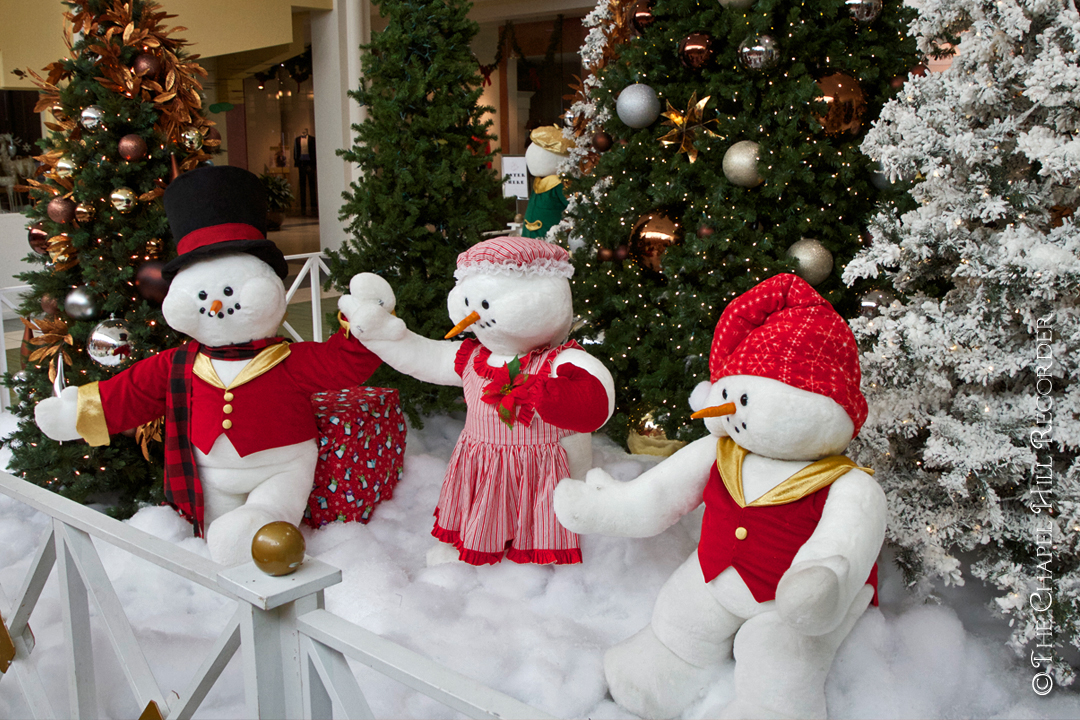 MR. CLAUS
Back in 2012, I felt a little nervous while I waited, not knowing how Zoomer would react to being on Santa's lap for the first time. She knew the drill, however, and was going to ask Santa for a jump rope for Christmas. When it was finally her turn, Santa put her immediately at ease, and she hopped right on up. He spoke to her kindly and sincerely, and said that bringing her a jump rope would be no problem at all. This Santa was so real-looking, from his bright blue eyes and rosy cheeks, to his real white beard and red velvet suit, he had me believing in him all over again. As tempted as I was, however, I did not join Zoomer up on the other knee.
SANTA PHOTOS
After some quality Santa time, photos of Zoomer and Santa were then taken by Santa's helper, and I was really pleased at how well they came out. Zoomer is notorious for looking away from any camera, but she was so happy being with Santa, they actually got her smiling! I ordered the smallest package, which was 2, 5″ x 7″ photos for $17.99+tax, and they printed them right on the spot. There were bigger packages available, too, with a variety of photo sizes and frames and even a build-a-bear option. I was thrilled that I could use these photos for my Christmas cards that year, and therefore I did not have to torture my Little One with another holiday photo shoot, as I have previously done. They were also allowing parents to take their own photos of their kids with Santa, so be sure to bring your camera and capture the moment.
SPECIAL SANTA VISITS
Santa is going to be stationed by Southern Season, and available every day for most of the day from now until December 24, 2015. Times vary, so be sure to check the Santa Schedule on the University Place web site before you come. There are a few special Santa visits planned for this year, as well. Monday, December 14 from 6:00 pm – 8:00 pm, and Sunday, December 20th from 10:00 am – 2:00 pm and 2:45 pm – 6:00 pm, is reserved exclusively for Tar Heel fans. For these two Tar Heel Fan Days, Santa will not be donned in the colors of N.C. State, as he usually is. Instead he will be wearing his Carolina Blue Santa suit, Chapel Hill-style, so die-hard UNC fans won't want to miss that!
Sunday, December 6th and Sunday, December 13th are Pet Nights, and will be reserved for photo ops with Santa and your fuzzy family members. This is one of the few times pets are allowed in University Place, so bring your kittens and canines! It should definitely be a lot of fun! School groups, church groups and other large groups can make Santa visit reservations Monday-Thursday from 10:00 am – 12:00 pm, and will get a discounted rate, lunch and special photo.
DON'T MISS SANTA THIS YEAR!
We are so fortunate here in Chapel Hill that University Place hosts a visit with Santa Claus every Christmas. There is ample parking, short lines, and Santa himself does a wonderful job. A woman with four kids waiting in line in front of Zoomer and me said it best when she mentioned to me, "Imagine having to fight the crowds at South Point Mall, or driving all the way to Crabtree Mall, just to see Santa? What a headache that would be!" I couldn't agree more. I would personally like to thank University Place for making my daughter's first experience meeting Santa Claus back in 2012 one she will always remember! And that jump rope she asked Santa for was waiting for her under the tree on Christmas morning.
For the complete Santa Claus schedule at University Place, visit: http://www.universityplacenc.com/event/santa-photos-at-university-place/2145464255
You might also like:
Category: Blog