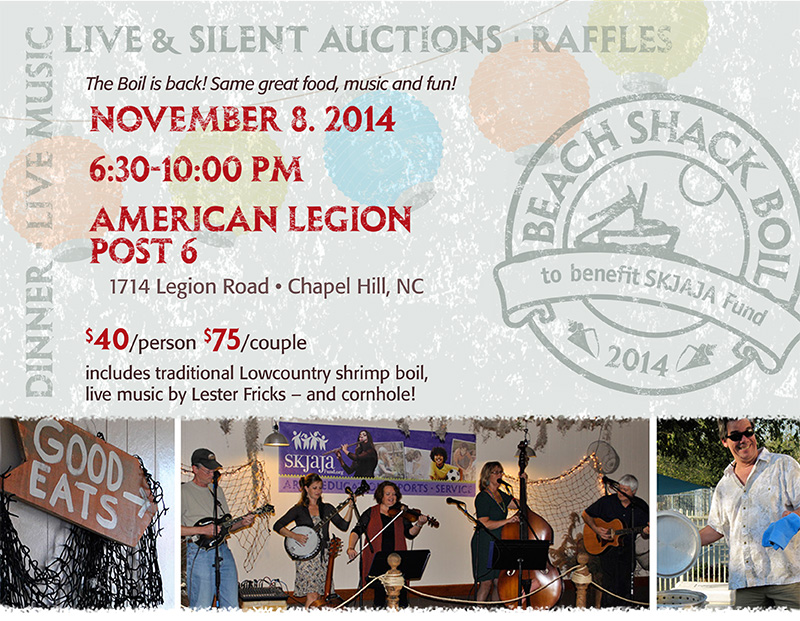 The SKJAJA Fund is a volunteer organization that raises money to provide funding for local children in lower income homes to participate in athletic, social and educational enrichment activities.
The SKJAJA Fund depends on the generosity and support of the local community to make the dreams of local children come true. They host two major fundraisers a year. Next month they will host the 6th annual "Beach Shack Boil." The "Boil" will be held on November 8, 2014 from 6:30-10 pm at the American Legion Post on Legion Road in Chapel Hill. And in the spring they organize the "Color the Hill Fun Run."
Founder, Eric White describes the Beach Shack Boil as "A big, ol' party with bluegrass, boiled shrimp and cold beverages!" Ticket prices are $40 per person or $75 per couple. The evening will feature live music by the Lester Fricks Band. A traditional Lowcountry Boil of shrimp, sausage, corn, potatoes and spices will be served up with corn bread, beer, wine, sweet tea and dessert. A silent auction will also be held and will feature gift certificates to local restaurants and businesses.
To purchase tickets to the Beach Shack Boil, please click on the link below, or visit http://www.skjajafund.org.   
SKJAJA has made it possible for elementary aged children to attend summer camps, enroll in art programs, take music lessons, take lessons in martial arts and attend summer education programs. Older students have been able to travel abroad on orchestra trips, attend summer camps, study abroad in exchange programs, enroll in weight loss programs, and attend high school conferences. These are just a few examples of the many opportunities that have been granted to local children. The impacts of these enrichment activities will be felt for many years, as the children mature and carry with them the confidence and empowerment they have gained.
The SKJAJA Fund is unique, in that it expects the recipients of the scholarships to "pay it forward," or do a good deed for someone else without expecting anything in return.  Recipients have "paid it forward" by tutoring younger children, volunteering at summer camps and charities, cleaning up school gardens and assisting with hunger relief programs at their schools.
Visit SKJAJAfund.org for additional information.
CLICK HERE TO PURCHASE BEACH SHACK BOIL TICKETS
You might also like:
Category: Press Releases