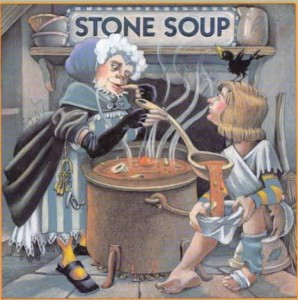 The next SuperFun show at The ArtsCenter will take place on Saturday, June 21st at 11:00am. Rags to Riches Theatre for Young Audiences will present their adaptation of the beloved children's book "Stone Soup," written by Marcia Brown. Tickets are $9 General admission, $7 for Youth (Children 2 & Under are free!), $6 for Friends, and $28 for a Family 4-pack.
For more information or to purchase tickets, visithttp://www.artscenterlive.org/events/superfun-show-stone-soup-presented-rags-riches-theatre-young-audiences or call the Box Office at (919) 929-2787. The ArtsCenter is located at 300-G E. Main St. in Carrboro.

Stone soup to fill the pot, stone soup yes it's nice and hot! A mysterious stranger name Little enters the town who is awfully hungry. After asking for food from a lot of residents, our stranger decides to make stone soup for everyone so that they all could feel better. "Why, when I was at the King's table, we had the best stone soup that has ever been made." The "magical" stone is thrown into a pot of water, but it would be better with a carrot or two. Rabbit brings one. Soon, the townspeople all add something to the pot and they share the best stone soup that has ever been had!

This show is suggested for PreK-elementary and lasts approximately 45 minutes.

The SuperFun Series is supported in part by Chapel Hill Tire Co. Car Care Centers and The Children's Store.
You might also like:
Category: Press Releases