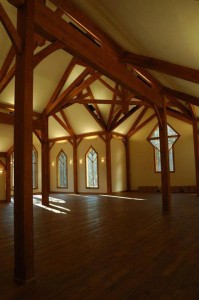 Chapel in the Pines presents a diverse selection of local musicians.
The Chapel in the Pines Presbyterian Church announces the inaugural season of the Strobilus Music Series, slated for September through December 2014. The schedule features free performances in a range of acoustic formats including bluegrass, vocal recital, jazz, choral works, and handbells.
Series coordinator Nathan Kotecki explained the vision of the series: "The aesthetics of the Chapel in the Pines, with its rough-hewn beams and expansive views of the surrounding pine forests, along with the exceptional acoustics afforded by the hardwood floors and vaulted ceilings, make the sanctuary both a unique and an ideal location for intimate acoustic performances. Our hope is that the greater community will visit us and experience the great local talents we have lined up for this premier season."
On Saturday, September 13, local favorites Jason and the G-Runs will kick off the series with A Bluegrass Family Tradition, a program of bluegrass and newgrass played on guitar, mandolin, dobro, banjo, and bass.
On Saturday, October 18, tenor Mitchener Howell and bass Jay Pierson, both active vocal artists in the Triangle, will present a joint recital titled The Highs and the Lows, with selections including art songs, spirituals, arias, and duets.
On Saturday, November 8, Willard McKiver, known for his stirring performances with the local Martin Eagle Quartet, will sing Extraordinary Music for Great Souls, an eclectic program of jazz, blues, and gospel songs.
On Saturday, November 22, the Triangle-based Women's Voices Chorus will present Awakenings: Songs of New Births and Origins, a program of sacred and secular music ranging from the Renaissance to contemporary works.
On Sunday, December 7, the Chapel in the Pines handbell choir will be joined by two other area handbell groups for a rousing holiday program featuring religious and popular favorites, all played live on three or more octaves of bells.
All performances are open to the public and free with a suggested donation. More information about each performance and the Strobilus Music Series can be found at the series website: www.strobilusmusic.tumblr.com
Pastor Mindy Douglas said, "The Chapel in the Pines has hosted some performances in the past that were very well received, but we haven't explored the full potential of this space to present music. The Strobilus Music Series is an exciting development for us, and we hope it will be as enriching for the neighboring community as it is for the congregation."
Located at 314 Great Ridge Parkway in southern Chapel Hill, the Chapel in the Pines Presbyterian Church welcomes everyone, and the facility is fully ADA accessible.
The music series takes its name from the botanical term for the pinecone, which derives from the Greek strobilos, meaning whirlwind.
For more information, contact:
Nathan Kotecki
Strobilus Series Coordinator
strobilusmusic@gmail.com
917 414-2239
You might also like:
Category: Press Releases