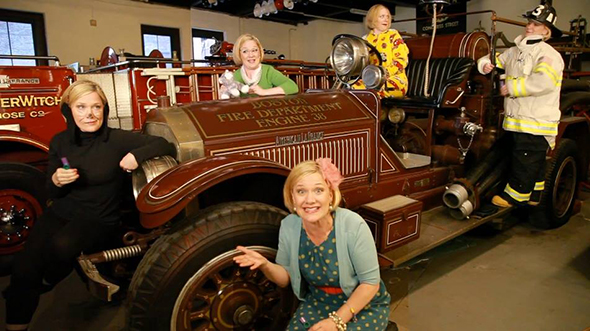 The next SuperFun show at The ArtsCenter will take place on Saturday, July 12th at 11:00am. Parents Choice Award-winning Karen K & the Jitterbugs have have been delighting families up and down the East Coast since the release of their debut album, Pancakes for Dinner, in 2011. Their new album, Big Ol' Truck, (2013) is also packed with Karen K's original, genre-swirling and totally catchy tunes. Tickets for the show are $7 for Youth (Children 2 & under Free!), $6 for Friends, $9 for Adults, and $28 for a Family 4-Pack. For more information or to purchase tickets, visit our website athttp://www.artscenterlive.org/events/superfun-show-karen-k-jitterbugs/ or call the Box Office at (919) 929-2787. The ArtsCenter is located at 300-G E. Main St. in Carrboro.

Their high-energy live shows feature Karen K's Bug Out, the fort in her backyard, and her friends Bumble (guitar), the bee who doesn't like to sting; Hop (bass) who loves karate; and Stink Bug (drums) who adores playing outside but despises taking a bath. Karen K's best friend Lightning Bug (banjo/guitar) also makes appearances, wearing his lightning cape (he thinks he's a super hero) and full of adventure.

Called the "Kiddie Queen" by the Brooklyn Paper, Karen K & her Jitterbugs have been featured on CBS, as a top pick in Time Out New York Kids, Mommy Poppins and on Boston.com. Jitterbugs music classes for kids ages newborn to age 5 years operate in Brooklyn, NY and Boston, MA.

For more info or to download music, visit www.karenkjitterbugs.com.

This show is suggested for PreK-elementary and lasts approximately 45 minutes.

The SuperFun Series is supported in part by Chapel Hill Tire Co. Car Care Centers andThe Children's Store.
You might also like:
Category: Press Releases