Syd's Hair Shop is more than just a great Chapel Hill hair salon. For the last eleven years, they have been committed to helping our community by donating their time and energy fundraising for local causes.
UPDATE: Syd's Hair Shop is now located at 106-B N. Graham Street in downtown Chapel Hill, North Carolina, and is open Monday-Saturday. For more information, or to book an appointment online, visit: www.sydshairshop.com or call (919)-942-7616.
When I first moved back home to Chapel Hill, North Carolina from New York City a few years ago, I asked around for recommendations for a good hair salon. When I lived here previously, Lori from The Beehive in Carrboro, North Carolina was my stylist, but she sold that salon in 2006 and I no longer knew any other stylists in town. Some did recommend The Beehive, but the overwhelming majority said, "Amy-Jae at Syd's!" Several friends also mentioned that they take their children to Syd's Hair Shop for haircuts, as well, which tipped my favor their way. As a parent of a pre-schooler, any place that is kid-friendly gets a big thumbs up from me. I made my appointment with Amy-Jae Crawford and was thrilled with the results. That was over two years ago, and my daughter and I have been happily patronizing Syd's ever since.
SYD'S STYLIST AMY-JAE CRAWFORD
Amy-Jae Crawford is one of the three original owners of Syd's and she is everything you want in a sylist. Most importantly, she is skilled at her craft. She has been cutting hair for 21 years, keeps up with current hair and fashion trends, and often travels the country doing hair shows, teaching classes and hosting workshops. I have really thick, yet fine hair, so my haircuts require a lot of thinning, and she wields that razor blade masterfully.
The second most important quality in a stylist is listening to the client. I usually have a specific idea of how I want my hair to look, and Amy-Jae has always patiently honored my requests to the letter. I have had many stylists in the past who have forced their own vision for my hair on me. Once in Brooklyn, New York I came out looking like a drag queen wannabe, which was not my intention. That would never happen at Syd's, unless of course, that is the look you are going for.
Amy-Jae is also helpful if you want a new look and need suggestions. Last fall, I had been growing out my hair for about six months and was thinking of going really short again, but was not sure about the style. Amy-Jae took me over to the numerous hair magazines they have on display in their waiting room, and we flipped through the pages together until I found an example of a cut I liked. She agreed that it would be flattering on me, and would work with my "wash-and-go" approach to hair care. She proceeded to give me that exact cut, and then she showed me how easy it was to style it. It looked amazing, and I am still getting compliments on my hair wherever I go.
The third quality that I find important in a salon is the atmosphere. Personally, I am more comfortable visiting the dentist than going to a hair salon. There is something really intimidating and anxiety-producing about sitting in a chair staring at yourself in front of a mirror while someone takes scissors to your hair. The conversation is often forced and awkward, and I never know how much style input from me will be accepted or tolerated. Additionally, because I have had some disappointing cuts in my day, I am always nervous about how the cut is going to look once it is finished.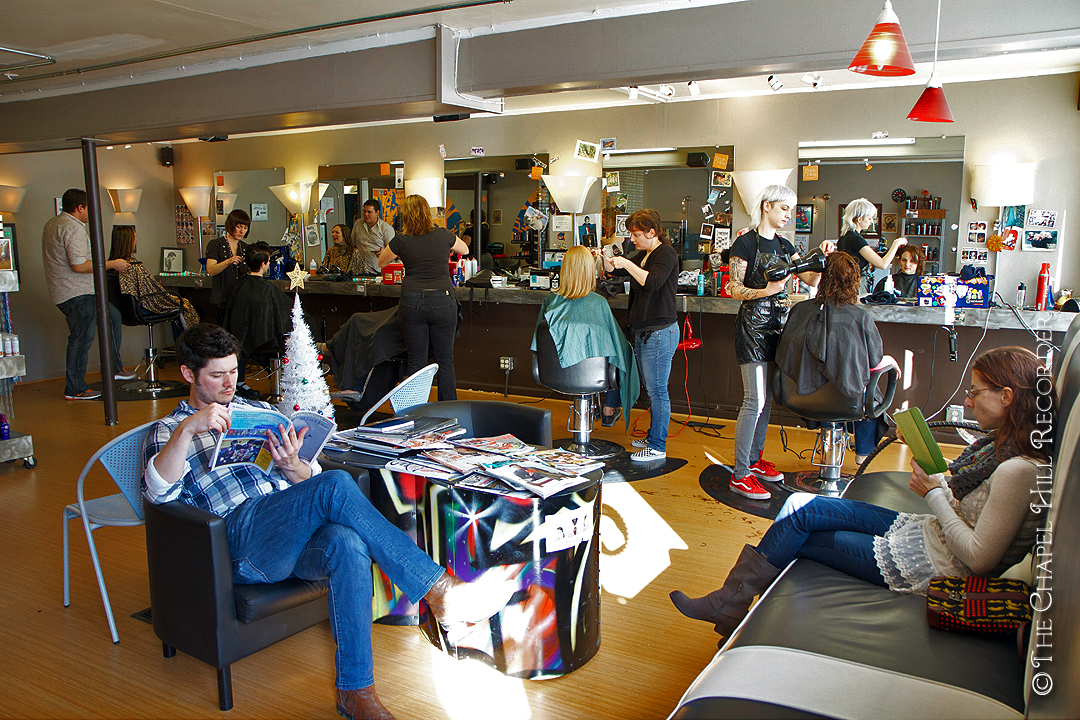 Walking into Syd's, however, I feel right at home. I am always greeted with a big smile from the receptionist, and the waiting area's big sofa and chairs are comfy. Syd's attracts a clientele of all ages, ranging from kids, to UNC students, to forty-something townies like me, and retirees, so it is easy to fit in there. Once in the chair, Amy-Jae is a great conversationalist and always puts me at ease. We are both from Chapel Hill, so we share a lot of mutual friends and experiences. Also, our daughters are about the same age, so we always trade pre-schooler eating and sleeping tips — mine eats, hers sleeps. It feels more like I am having an outing with a fellow Mommy-friend than getting a haircut. When Amy-Jae cut my daughter "Zoomer's" hair for the first time for her first ever haircut, Zoomer felt equally as comfortable. Syd's has booster seats and special kid-friendly, colorful capes for little ones, and Amy-Jae had Zoomer laughing and smiling the whole time. The best part about finding Syd's is that I no longer have to worry about how my haircut will turn out, which is a huge relief. Amy-Jae gets it right every time!
AMY-JAE FINDS HER PATH, WHICH WAS THERE THE WHOLE TIME
Before opening Syd's in 2001, Amy-Jae took a little while to find her calling as a stylist. In 1984, her family moved to Chapel Hill, North Carolina from Greencastle, Indiana when her father got a job in Research Triangle Park at IBM. After graduating from Chapel Hill High School in 1991, she attended Appalachian State University, where she first began cutting hair in her dorm room for friends. She then transferred to UNC-Charlotte, and then to Durham Tech, and finally to UNC-Chapel Hill where she majored in Anthropology. When she started her spring semester at UNC-CH, the job market for Anthropologists looked bleak. However, throughout her collegiate re-locations, the one thing that remained consistent was her side-business cutting hair. "I realized what I was doing in my kitchen or on my porch was a career I hadn't considered," Crawford says. "I had been cutting my friends' hair since freshman year in my dorm & my mother was a cosmetologist before having me. It made sense to me to pursue this career. So glad I did it! Thank goodness I have a job I love. There's nothing I'd rather do!"
Crawford enrolled in Leon's Beauty School in Greensboro, North Carolina and she worked in a salon in Greensboro, North Carolina immediately after hair school. "The school owned a chain of salons," Amy-Jae says. "It wasn't the best fit, so I apprenticed with a wonderful stylist/mentor named Angela Wood before moving back to Chapel Hill and getting a job at a salon in downtown Chapel Hill where I worked for almost five years before I made the leap to opening Syd's."
OPENING SYD'S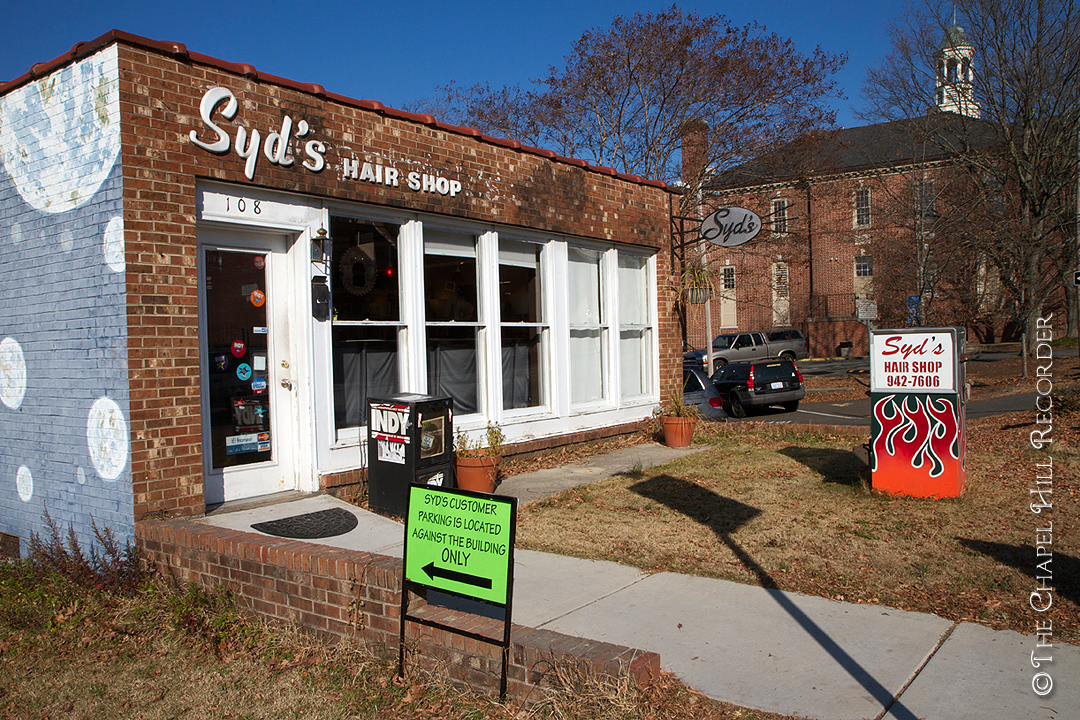 In the summer of 2001, Amy-Jae and her co-workers Bradford Scott and Erin Corry decided it was time to open their own hair shop in Chapel Hill. Amy-Jae reflects, "We all had the desire to create something that was our own and to open a place that cared about the stylists and employees. We wanted an amazing work environment that filled a void in town for clients and patrons." It is one thing to want to start your own business, but actually going through with it certainly takes guts, hard work, and the right philosophy. "If you want to start your own business, you can't be afraid to fail," says Amy-Jae. "In fact, accepting that failure was a very real possibility probably helped me. I would just have to do something else if this didn't work out, but I would do my best to succeed. 9/11 happened one week after we opened. You don't always get second chances to realize your dreams. Take the risk, but have backup plans. And plenty of parking."
They found the perfect spot right at 108 West Rosemary Street in downtown Chapel Hill, that over the years housed numerous businesses, including a computer career matching business and a bar called Kirkpatrick's and The Shack. Once a location was selected, choosing the name came easily. "We wanted a business name that was androgynous, and a place that was laid back, a little rock-n-roll, and a one word name," says Amy-Jae. "I thought of Sid from Sid Vicious, and Erin suggested spelling it with a "y" so it could be either gender. And we thought it could also be your uncle, someone you'd visit. 'I'm going to Syd's.' A place you'd want to hang out."
The most difficult aspect of getting up and running were the extensive building repairs needed to turn this run-down building into their vision which is now Syd's. "The biggest challenge was getting all the renovations finished!" explains Amy-Jae. "We signed the lease and opened for business in six weeks! We had friends, family and partners help us do all the demolition, construction, plumbing — everything. The large front area was three separate rooms. The floors were carpet with five layers of linoleum underneath. We were hairdressers, but determined and capable and willing to work hard. Boy, was it hard! But, we were ready and willing to do whatever it took to get open and stay open." So far, they have been open and successful for eleven years! Two of the original three owners, Amy-Jae and Brad, are still at Syd's working behind the chair. The third, Erin, returned to her native Rhode Island and that is when current co-owner Amy Testerman came on board.
Two notable features that were also added is their iconic gas pump on their front lawn, and the "Many Earths" mural that was painted on the west wall of Syd's by local muralist Michael Brown in 2002. The gas pump was their submission to the town for their business sign, and it was originally supposed to be red. Initially, it was not well-received by the "powers that be" of Chapel Hill, but it was approved as long as it was painted green, not red. Joe Mcvey, husband of Syd's previous co-owner Erin, made the gas pump. Scott Nurkin painted the flames, which ended up making the sign look more red than green anyway. Michael Brown submitted two ideas to Syd's for the mural, and they decided on the "Many Earths" design.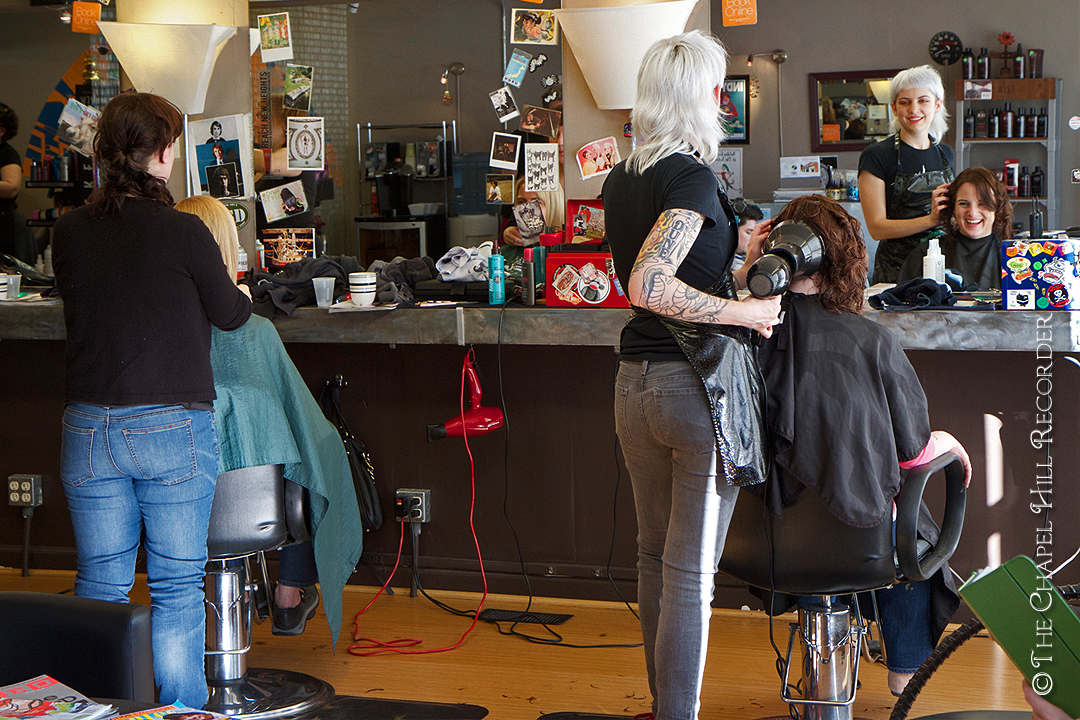 GIVING BACK TO THE COMMUNITY & BEYOND
Since its opening, Syd's has been dedicated to fundraising for local, national and international causes based on need. "When catastrophes happen, that may decide where the money goes," Amy-Jae explains. "Our support of many local charities is on-going. When folks need an item to raffle or auction off, they can count on us to contribute. We have special places in our hearts for kids & animals & cancer-fighting or awareness-raising organizations. Fighting hunger or supporting shelter residents also are important causes we like to raise awareness for by donating money, time or services. We always, as hairdressers, felt a desire to do more for charities. We are often so busy behind the chair working & realized we could combine the two. The stylists love working fundraisers. They donate their day off & 100% of proceeds are donated. If you have time and a product or service, you can raise a lot of awareness & money!" With the help of Syd's, over $10,000 has been raised for charities, including: Paws4Ever, TABLE, Piedmont Wildlife Center, National Audubon Society, Greater New Orleans Foundation, Japan Disaster Relief, Rock Against Cancer, Susan G. Komen for the Cure, and St. Baldrick's Foundation.
Their latest fundraising effort comes in the form of a 2013 wall calendar. These calendars can be purchased at Syd's for $20.00, and all proceeds benefit TABLE and Paws4Ever. This is the second year in a row that Syd's has sold a wall calendar, and last year the calendars alone raised $944.00 for these two local causes. "The calendar idea had been thrown around as a joke for years. Then it came up again more seriously. Courtney Plaster deserves the credit for this project's fruition. This year's concept is Through the Decades. We are showcasing popular hair styles from 1900-2010." The photos are amazing and fun, and it is an easy way to contribute to and support our community.
Additionally, Syd's is one of our local hair salons that supports organizations who collect donated hair. They participate in Locks of Love, Pantene Beautiful Lengths, and others. If you are interested in donating your hair to one of these causes, Syd's has print-outs in baggies available explaining the requirements of each organization, what they need to do, and where to send the hair. Information about these programs can also be found on their own individual web sites.
THE SECRET TO SYD'S SUCCESS
Syd's Hair Shop has been awarded one of the best salons by Independent Weekly readers in 2002, 2005, 2006, 2007, 2008, 2009, 2010 and won the best salon in 2011 and 2012. They have amassed an impressive loyal following and they have earned it. "We always felt everyone deserved a great, affordable haircut without pretentions or attitude," Amy-Jae says. "Hopefully this is what we've achieved. Our staff are, hands down, some of the most talented, kind, genuine and thoughtful individuals alive. We think they are just fun to be around. Everyone is unique in personality and style, and we all respect and get along with each other, so I think that folks sense this and feel comfortable and included."
For anyone else out there who has the desire to open their own salon, here is some advice from Amy-Jae that you would be wise to heed: "To succeed in hair you have to train, educate, practice, be disciplined, ask questions, work, love, and create. Realize what happens in your chair is transformative, and not just aesthetically. Cutting, coloring, and transforming the hair transforms the attitude of its owner. It is about making people happy, and helping folks understand their hair and themselves and accepting it. People want great haircuts, but need relationships. They want both from you, and this is important to realize. And you are only as good as your last haircut."
Syd's Hair Shop truly lives up to their slogan, "Making hair fun since 2001." If you want a great, affordable haircut, definitely pay them a visit. However, I recommend booking a month or so before you really need a cut or color, because their open slots fill up quickly. There is always a waiting list available if your coiffure needs are urgent, but they are worth the wait!
Syd's Hair Shop is now located at 106-B N. Graham Street in downtown Chapel Hill, North Carolina, and is open Monday-Saturday. For more information, or to book an appointment online, visit: www.sydshairshop.com or call (919)-942-7616.
You might also like:
Category: Places