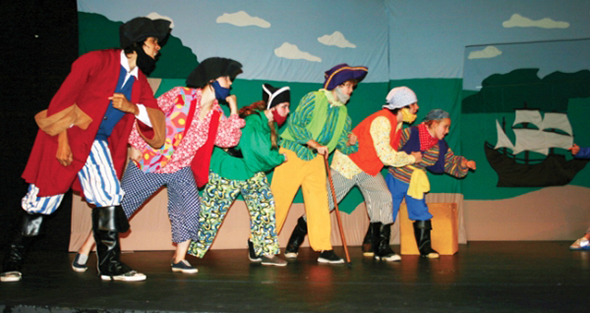 On Saturday, July 26th, Missoula Children's Theatre and The ArtsCenter present Blackbeard the Pirate, a full-length, original musical production featuring a cast of colorful characters who explore the secrets of Blackbeard's legendary treasure. The show will take place at Carrboro Elementary School Auditorium and tickets are $8 for Adults and $4 for Children. For more information, visit: http://www.artscenterlive.org/events/black-beard-pirate-presented-missoula-childrens-theatre or call The ArtsCenter Box Office at (919) 929-2787. Carrboro Elementary is located at 400 Shelton St, Carrboro, NC 27510.
What starts as a lazy day at the beach, quickly turns into mystery and adventure when the search for Blackbeard's treasure begins! Tales both past and present lead us on a search of untold riches. Just where has Blackbeard and his crew hidden their legendary treasure? Grab some sun screen, come on down to the beach and get ready to solve the mystery of BLACKBEARD THE PIRATE!
The Missoula Children's Theatre (MCT), the nation's largest touring children's theatre, has been touring extensively for more than 40 years now from Montana to Japan, and will visit nearly 1,200 communities this year with up to 44 teams of Tour Actor/Directors. A tour team arrives in a given town with a set, lights, costumes, props and make-up, everything it takes to put on a play…except the cast. A public performance is presented that Saturday.
Recommended for family audiences.
Spaces Still Available for Rising 1st-12th Grade Actors (no experience necessary!)  (Program Dates July 21-26) 
To register your child contact Summer Camps Coordinator at: Camp@ArtsCenterLive.org

You might also like:
Category: Press Releases