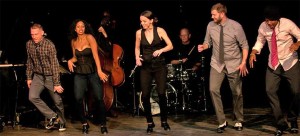 CARRBORO – Join us at The ArtsCenter on Saturday, June 14th at 7:30pm for a special one-night only performance that is a celebration of the best of rhythm tap. This is a rare opportunity to see solo and group performances from some of the nation's best tap dancers: Michelle Dorrance, Derick Grant, Jason Janas, Melinda Sullivan, and Nicholas Young, who are in town to teach at the North Carolina Rhythm Tap Festival. Music will be provided by Jim Crew on piano, John Hanks on drums, and Robbie Link on bass. Tickets are $15 General advance, $13 for Friends of The ArtsCenter, and $17 Day of Show. North Carolina Rhythm Tap Festival participants pay a discounted rate of $10. For more information, go to http://www.ncyte.org/ncrtf/. To purchase tickets, call the ArtsCenter Box Office at (919) 929-2787 or visit http://www.artscenterlive.org/events/nc-youth-rhythm-tap-festival-performance/. The ArtsCenter is located at 300-G E. Main St. in Carrboro. 

Michelle Dorrance – A Chapel Hill native, Michelle is one of the most sought after tap dancers of her generation and one of the most imaginative tap choreographers working today. The recipient of many accolades, she was recently awarded the Herb Alpert Award in the Arts and has also received the Jacob's Pillow Dance Prize, Princess Grace Award and a Bessie Award. She performed for four years in both the off-Broadway and touring casts of "STOMP" and has been seen on television and on stages throughout the world. Michelle founded Dorrance Dance / New York in 2011. www.dorrancedance.com

Derick Grant has an established career that spans over three decades. He was an original company member and dance captain for Bring in 'Da Noise, Bring in 'Da Funk at The Joseph Papp Public Theater/New York Shakespeare Festival and on Broadway. He created the critically acclaimed show, Imagine Tap, which had a successful run in Chicago, and A Night Out: Tap! He is the co-artistic director of Chicago Human Rhythm Project's Rhythm World Summer Festival. Mr. Grant was the recipient of the Princess Grace Award for Upcoming Young Artists and the Helen Hayes Award (Washington D.C.) for outstanding featured actor for his role in Bring in 'Da Noise, Bring in 'Da Funk. He has choreographed for Fox Television's So You Think You Can Dance.

Nico Rubio is recognized as one of the lead tap dancers of his generation. Nico has entertained throughout the United States for over a decade and in the past few years, has performed in Europe, Asia, Latin America, and South America. Nico is a former member of one of Chicago's most recognized tap companies M.A.D.D. Rhythms, where he received most of his professional tap training. He is currently a member of the tap dance company, Jus'LisTeN and Sour Apples Crew, an "all elements" hip-hop group. He was recently featured in the Canon USA, INC. tap commercial Rhythm of Life. After studying performing arts management at Columbia College Chicago, Nico has further pursued opportunities as a director. In 2011, he directed "Beat-Niks" a sold-out show in the Chicago Human Rhythm Project's "Rhythm World" Tap Festival which received rave reviews in the Chicago Tribune, Time Out Chicago, and See Chicago Dance.

Melinda Sullivan is best known for being a top 10 finalist on FOX's "So You Think You Can Dance" (Season 7) and as a dancer and choreographer in Jon M. Chu's new YouTube channel, DS2DIO. Melinda was recently named one of Dance Magazine's "25 to Watch" of 2013. Since starting at the age of 14, Melinda has danced professionally under the direction of Danny Daniels, Kenny Ortega, Jeff Calhoun, Jason Samuels Smith, Noah Racey, Lynn Dally, Chloe Arnold, and Galen Hooks. She has a number of film/ TV credits including "Glee," "Dancing With The Stars," "90210", and the upcoming "G.I. Joe: Retaliation." Theater credits include national tour of "Cats", original cast of "High School Musical," and Town Hall's "Broadway By The Year." Melinda's choreography has been featured at the LA Tap and Pasadena Dance Festivals. She was a semi-finalist for Center Theater Group's Sherwood Award and the winner of the 2012 Capezio ACE Award. She has choreographed and collaborated on a variety of film shorts with Imagiland Productions, including a tribute to Ann Miller, which was recently featured in Dance Magazine. www.melindasullivan.com

Joseph C. Wiggan, native of Los Angeles, began tap dance with Paul and Arlene Kennedy. Joseph is a 2004 Presidential Scholar in the Arts, and winner of the 2005 Princess Grace Award for outstanding artistic achievement. Joseph performed in tap dance musical Imagine Tap!, choreographed by Derick K. Grant. He has performed in concert as a featured guest with Orlando Poleo, Roy Hargrove, Marcus Strickland, and Wynton Marsalis. Joseph works in a tap duo act, The Double J's, with his older sister Josette. With her, he toured in two Cirque du Soleil shows, spanning four years. Joseph was accepted to the New School for Jazz and Contemporary music as a tap dancer, and hopes that other tap dancers will apply to university jazz programs worldwide.
You might also like:
Category: Press Releases