It is time once again for the free Come Out & Play Sculpture Show at JimGin Farm! For the 15th year in a row, local artists are coming together to exhibit their work for everyone to enjoy. Opening Day is Saturday, August 27, 2016!
"Come Out & Play" started as part of 5000 Flowers, a series of art shows that Jackie Helvey, Debbie Meyer, Hollie Taylor, Anke Gassen, and Hunter Levinsohn put on all over Chapel Hill and Carrboro in 2002, in memory of the victims of September 11th. The Come Out and Play Sculpture Show grew from there, and for 15 years, it has been hosted at the home of Debbie Meyer and Eric Brantley.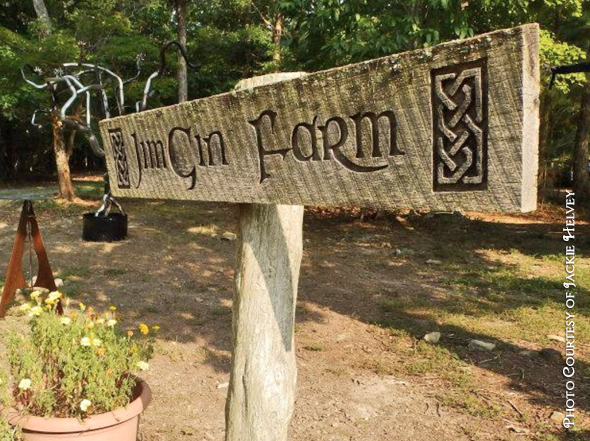 Debbie says, "My husband Eric and I had no idea that this would become an annual event. Initially, we wanted to honor all those affected by 9/11, in addition to those who died. But I did go to high school in Michigan at Kingswood, part of the Cranbrook Educational Community that includes the Cranbrook Art Academy. I lived on campus and there was art everywhere, including incredible sculpture. It was in unexpected places, like the woods, in addition to the 'normal' places. I knew then, even as a teenager, that someday I wanted to have a home that emulated this love of art and the surprises that it can offer people. So when people wanted us to hold a sculpture show at our home again after that first year in 2002, a tradition began.
There were only 10 or so artists that first year, and only one reception with about 100 people. Now there are usually around 70 artists, over 2000 attendees and five receptions. I am always to be found in the kitchen cooking and serving food since we feed everyone lunch and dinner at the opening and then dinner at the later receptions as they start at 3:00 pm. We see this as a gift to the community by connecting people to each other, people to art, and of course, dogs to art since dogs are encouraged to attend. One of the other wonderful things is how many artists have become good friends because of meeting through our show. Even though I am now 52 and know the world is a rough place, I still feel that by events like this, we can change things for the better."
This year, the Come Out and Play Sculpture Show opens on Saturday, August 27, 2016 from noon until dark. The show features over 60 artists on exhibit inside and outside at the 17-acre JimGin Farm, located at 150 Wild Horse Run in Chatham County. There are five receptions total with free food and live music: August 27, 2016 (Opening Day) from 12:00 pm-dark, and September 3, 10, 17 and 24, 2016 from 3:00 pm – dark. Dogs on leashes and children of all ages are particularly encouraged to attend! And as always, all artists keep 100% of the proceeds from their sales. This is a rain or shine event.
Please note: If you come to Opening Day on Saturday, August 27th, there is a free, off-site parking area at Storybook Farm (which is before you get to the JimGin Farm, off Jones Ferry Road on the left if you are coming from Carrboro), with a free shuttle running from noon until the show concludes. Parking for the following four receptions is available only on-site. Please take advantage of the shuttle on opening day since there is limited parking on the farm.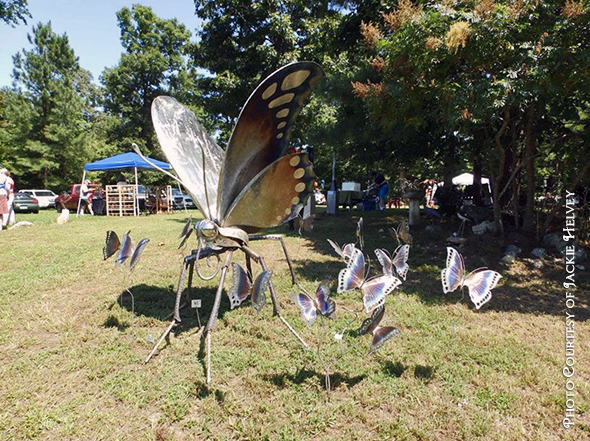 My daughter "Zoomer" and I attended the Come Out & Play Sculpture Show the last four years, and we always have a wonderful time! The food, which is potluck buffet style and provided free by the hosts and friends of the event, is both plentiful and delicious. A few years ago, Debbie even made us a few veggie dogs upon Zoomer's request! (Thanks, Debbie!) The live music, provided by the NC Songwriters Co-op, enhances the festive spirit of this event. We even had the opportunity to visit with the pig and the horses on the farm. Zoomer had the best time feeding the horses lots of carrots and petting their soft noses.
There is also plenty of space outdoors on the farm for kids to run around and explore all the incredible art that can be discovered at every turn. Zoomer and I spent most of our time seeking out the seemingly endless artistic treasures carefully displayed throughout the property, as well as inside the home of Debbie Meyer and Eric Brantley.
There are numerous sculptures for sale, as the name suggests, as well as jewelry, paintings, textiles, woodworking, ceramics, metallurgy, pottery, prints, handmade furniture, stained glass, and more! Some artists were even working on site, demonstrating their technique and process. The variety of work is astounding, and there is truly something for everyone.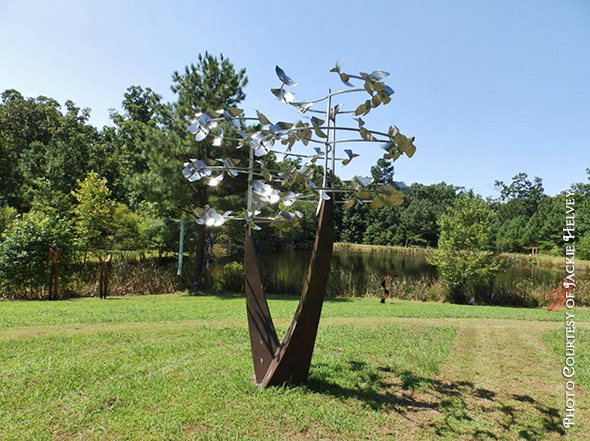 Planning a public art show of this magnitude is by no means an easy task — especially when it is held at your own home for an entire month. But after 14 years, Debbie and her husband Eric have it down to a science. "We make lists months ahead of time of things that need to get done on the farm to prep for the show." Debbie explains. "It always seems doable, and we work hard to check things off, but inevitably, in the week before, we re-prioritize. It takes about two weeks to install the art. Truthfully, most artists are still working on pieces right up until the show, so they appreciate not having to install too much earlier before the opening. But there are always things to have to work out, like this year, one of the artists sited his work and then discovered, rather quickly, that he had put it on top of a yellow jacket hive. He is coming very early tomorrow morning, around 5:00 am when he believes the bees will be sleeping, and move the piece to a safer location. I work full-time, so except for the two days preceding the show, I am not around and artists are welcome to install without me here. Someone always forgets and installs a work in the area for parking, so we either have to have them come move it or move it ourselves."
With over 400 working artists living in Orange County, being selected as one of the artists for the Come Out & Play Sculpture Show is an honor as well as a great opportunity for exposure. Debbie and Eric have also deliberately created a very artist-friendly experience, by making the show as easy for them as possible. "This is a juried show," Debbie says, "but once someone has accepted the invitation to show their work, there is only one rule – that your work needs to be properly installed so no one is killed by it. I made this rule when we started having very large sculptures. Otherwise, there is no fee to show, artists get to keep 100% of any proceeds of work they sell, and artists don't have to sell their work so they can do experimental installations, which is not often the case at galleries. Also, they don't have to be at any of the openings so artists who prefer not to hang out are not required to do so."
Additionally, visitors who "Come Out and Play" will find themselves swirling from the creative energy created by the fabulous art surrounding them in this beautiful and peaceful country setting. It is both exhilarating and relaxing, which is also intentional. "My husband and I always wanted this experience to be unlike most others in life – stress-free in every way," explains Debbie. "And that is why this event is free with food and music. We want people to have a stress-free experience where we shower them with art and fun. So much in life costs something. Not this. Putting on this show is a profound experience of joy for my entire family. When I was growing up, my grandparents often opened up their home and farm in Ohio for civic events and my parents have always been involved in the arts and kept our home open to everyone. I wanted to emulate this generosity and trust, and also the idea that no one really is a stranger."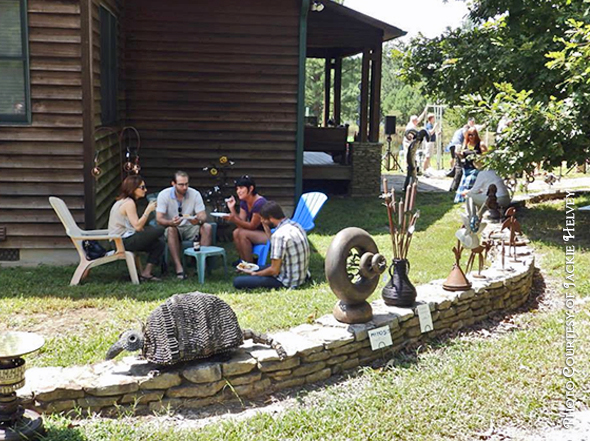 This philosophy is immediately felt the moment you arrive on Debbie and Eric's property. When party hosts are as open and welcoming as they are, it's contagious! I met so many wonderful "strangers" when my daughter and I visited the show last year, and it seemed like I had known them for years. This is definitely one of the best "feel-good" parties of the year!
Debbie and Eric have created a special community through this event that is truly inspiring. It is obvious that they love every aspect of hosting this incredible art show each year. "I love the set up because it is so quiet without hundreds of people around and I can photograph installations and catch up with artists. I love shopping and figuring out how to feed all the attendees on a limited budget. I love the receptions even though I am hidden away in the kitchen as I get to hear the joy in so many people's voices as they discover a piece of art or a new friend, or are rejuvenated when they arrive weary or stressed. I love that each year new art appears. I have always been amazed that even after all these thousands of years of us being on earth, people still come up with new and beautiful, and yes sometimes wild, ways to express themselves or share their creativity with the world," says Debbie.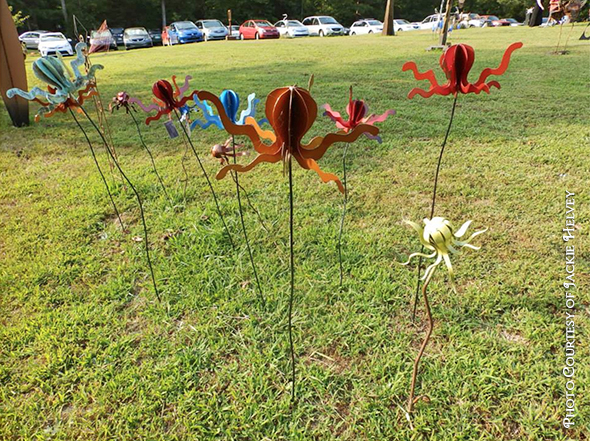 Debbie and Eric's families also contribute greatly to the success of the show. Debbie says, "My parents live in downtown Chicago and come every year to help. It would not be the same show without them. Also, my brothers and their families, who also live in Chicago, come down when they can. My husband's family comes as well, from Charlotte, Greensboro, and Chapel Hill. Their support means the world to us."
There are four different opportunities to visit the Come Out & Play Sculpture Show this year, and it shouldn't be missed. It is a wonderful community event that supports local artists, is family and dog-friendly, and it's free! See you there!
This year's artists include: Abdullateef | Flora Arnsberger | Matthew Arnsberger | Ginger Bauer | Paul Bauer | Cindy Biles | Meredith Bridges | William Brock | Gary Caldwell | Nora Cirella | Joe Coates | Lee Moore Crawford along with Jewel Bee and The Lady Goose | Karen Paden Crouch | Jonathan Davis | Lauren deSerres | Teddy Devereux | Andrew Dixon | John Donahue | Mark Elliott | Holly Felice | Reuven Fields | Ken Fisher | Phyllis Fleming | Johny Glaze | Dumay Gorham | Forrest Greenslade | Chris Harkey | Phil Hathcock | Carol Haynes | Jimmy Haynes | Jackie Helvey | Carter Hubbard | Orlan Johnson | Kevin Kuhnel | Carol Kroll | Eduardo Lapetina | Anthony Lester | Joy Lester | Hunter Levinsohn | Susi Lieff | John Makowski | Frank Mangieri | Jenny Marsh | Katie Maxwell | Stevenson McNeill | Brian Mergenthaler | Christie Minchew | Chuck Minchew | William Moore | Ray Olive | Kate Parrent | James Peery | Linda Person | Roger Person | Brian Plaster | Norman Rabins | Steven Reinhart | Barbara Rhoades | Thomas Rockriver | Mike Roig | Beverly Rouse | Jackson Rudolph | Edson Seda | Ryan Schmidt | Richard Seed | John Shoneman | Rusty Sieck | Jason Smith | Melissa Smith | Holly Taylor | Pringle Teetor | Wayne Vaughn | Bob Wade | Timothy Werrell | Edwin White | Melissa York | Sailot Ziira
Download the invitation/flyer designed by Anke Gassen
DIRECTIONS TO JIMGIN FARM:
West from Carrboro, go out Jones Ferry Road. Measuring from the light at Willow Creek Shopping Plaza, go 5 and 3/4 miles then turn left onto Wild Horse Run, a gravel drive marked by a street sign. There are Come Out and Play banners at the street entrance. Follow the drive until it ends at JimGin Farm. Parking is on the right after passing through the wooden gate.
For more information, visit: http://comeoutandplay.info
You might also like:
Category: Arts & Entertainment