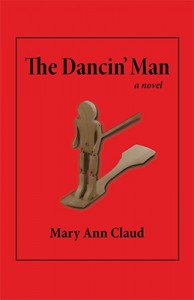 LYSTRA BOOKS and Literary Services Announces Publication on May 1 of Mary Ann Claud's "THE DANCIN' MAN," Novel of South Carolina Textile Family Dynasty.
"The Dancin' Man" traces the story of Ted Brunson who marries into a fabled southern textile family dominated by his mother-in-law, Dolly Ward. Sensing his potential, Dolly hires Ted to help run the family company. Ted who is both smart and ambitious, succeeds adjusting to the lifestyle of a small tightly drawn society, but the real tests of his courage and ingenuity come later, in his middle years. When Dolly Ward dies in 1988 Ted must survive the guile of his wife's brothers and the loss of his mentor along with the first intimations of the decline of the American textile industry.
SC Readings
May 6: Medford Library, USC- Lancaster, SC
May 8: Books on Broad, Camden, SC
May 13: Overhead Station, Rock Hill, SC
May 22: Hub City Books, Spartanburg, SC
June 10: Landrum Library, Landrum, SC
June 14: Barnes and Noble, Mt Pleasant, SC
June 24: PJ's, Landrum,SC
NC Readings
May 16: Scuppernong Books, Greensboro, NC
May 18: McIntyre's Books, Pittsboro, NC
May 20: Lanier Library, Tryon, NC
June 20: Literary Bookpost, Salisbury, NC
Mary Ann Claud has been a published writer for thirty years. "The Dancin'Man" is her first novel. Over the course of a varied career she has written art and music reviews, travel pieces and features for various regional and national specialty magazines. In her role as columnist for The Times News in Hendersonville, N.C., she traveled the highways and back roads of western North Carolina, talking and listening to the people who make the area unique. For most of her life she has lived in the foothills and Piedmont, on the border between North and South Carolina. She is an avid reader with a special interest in the literature of the south.
In "The Dancin' Man" Claud employs a modern writing style to tell a classic family story of secrets kept and passions revealed. Her work has been characterized as moving easily from past to present, her descriptions called poetic and her characters, sharply drawn. An accomplished story-teller, Claud keeps the reader turning pages with pathos, humor and fast-paced dialog.
For more info on events or bio thedancinman.tumblr.com
For interviews, contact Cindy Campbell 919-923-8857, cincam@aol.com
You might also like:
Category: Press Releases