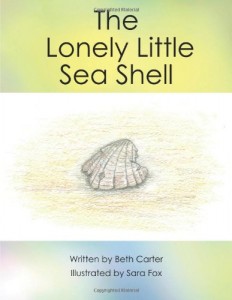 NC Educator Beth Carter new children's book, THE LONELY LITTLE SEA SHELL, helps children learn self worth and inner beauty.
Beth Carter shares her love of children and sea shells in a unique manner while they learn to identify common "treasures" found on our beaches.
The Lonely Little Sea Shell by Beth Carter
Have you ever felt all alone? Do you question why anyone would love you? Have you experienced struggles in your life? Take a journey to the beach where The Lonely Little Sea Shell, with the insight of a special little girl, discovers the true meaning of inner beauty. The book also has an interactive component to assist families in identifying common seashells and other "treasures" found at the beach.
Beth Carter attended undergraduate school at UNC-Greensboro and received her BA degree in Speech Language Pathology and Audiology. She completed her Master's Program at Appalachian State University with an MA degree in Communication Disorders. She lives in Statesville NC with her husband Daryl. They have two sons and two grandchildren. Beth is a Speech-Language Pathologist with 25 years of experience in both the clinical and educational setting. She currently works in an Elementary and Middle School. She has taught Children's Literature and Language and Literacy Experiences at the Community College level. Beth fell in love with seashells as a child when her family lived at the beach for the summer. This story is a product of her love for children, the beach and seashells.
Helping children explore and identify their uniqueness and special gifts can become a challenge especially among life's many frightening and unexpected storms. The Lonely Little Seashell is a heartwarming story that will enlighten children about the importance of self-worth and the discovery of inner beauty.
"The Lonely Little Sea Shell"
By Beth Carter
Softcover 8.5×11 28 pages
ISBN: 978-1-49182-878-6
Available online at Amazon and Barnes & Noble
You might also like:
Category: Press Releases