The Standard Restaurant and Bar, located at 403 West Rosemary Street, definitely lives up to its mission of offering affordable gourmet cuisine. Not only is it delicious, reasonably priced, and family-friendly — it is owned by three Chapel Hill native siblings!
Editor's Note: The Standard has reopened under the name Industry, and is now run by just Annie and Katie Williams. It's better than ever, so definitely go check it out! Here is their updated web site: http://www.industrychapelhill.com
This evening, my husband Doug, my three year old daughter "Zoomer" and I had the pleasure of dining at The Standard Restaurant and Bar for the first time. They recently celebrated their one year anniversary, and if our wonderful experience there was a typical one, I expect they will be celebrating many future anniversaries for years to come. It is located in what I still refer to as "the Tijuana Fats building, where Henry's used to be," although it has been renovated to the nines and hardly resembles the dark and dank ambience of the old Fats. The only recognizable feature from years past is the beautifully carved heavy wooden front door, which I myself have pulled open countless times over the last 35 years, and it greeted me like an old friend.
THE AMBIANCE
The interior of The Standard is an eclectic mix of high-end diner stainless steel tables and chairs, hand-made benches that serve as comfy booths, and modern spot lighting that is remarkably welcoming. There is a lounge area in the back with sofas that would be perfect for a gathering of friends, and a refurbished patio perfect for warm summer nights — or in the case of this year, warm winter nights. The wall decor changes every month, as they feature the work of local artists in collaboration with the 2ndFriday Art Walk, without taking any commission for helping to sell it. This month's artist is Brian Mergenthaler, who won third place at this year's Festifall for his sculptures made from recycled mechanical objects. Even if you just stop by the restaurant to see his work, it would definitely be worth a visit. But I highly recommend you stay for dinner.
OUR VISIT
We arrived to dine at the early hour of 5:30 pm, that is a time typically reserved for parents of pre-schoolers whose bedtime is 7:00 pm. Our Zoomer is at the age where sitting still for an entire meal is challenging to say the least, so the other benefit of eating so early is that there are usually few other patrons in attendance to disturb when she gets antsy and acts, well, like a three-year-old. Co-owner Annie Williams seated us in the uninhabited lounge area in the back, which allowed Zoomer to safely explore her surroundings while we waited for her pizza to arrive, which did not take long. She also gave Zoomer two coloring books and a whole pack of crayons, so we knew our young daughter was more than welcome at their establishment, which is always appreciated.
Before we made our reservation, (which is not required), I had given the owners a heads-up that we were all vegan, and they were more than happy to accommodate us, and prepared an amazing three-course meal that was not on the menu. It was so delicious, I think it should be added to the menu. Vegans and non-vegans alike would definitely love it. The first course was the mixed greens house salad with sliced grapes, tomatoes, grilled purple shallots, and roasted sunflower seeds with a mild vinaigrette dressing. Zoomer ate all of our grapes immediately, but the one I tried before they were all gone was pleasantly complimented by the tart dressing, and I honestly have never had more flavorful, fresh tomatoes.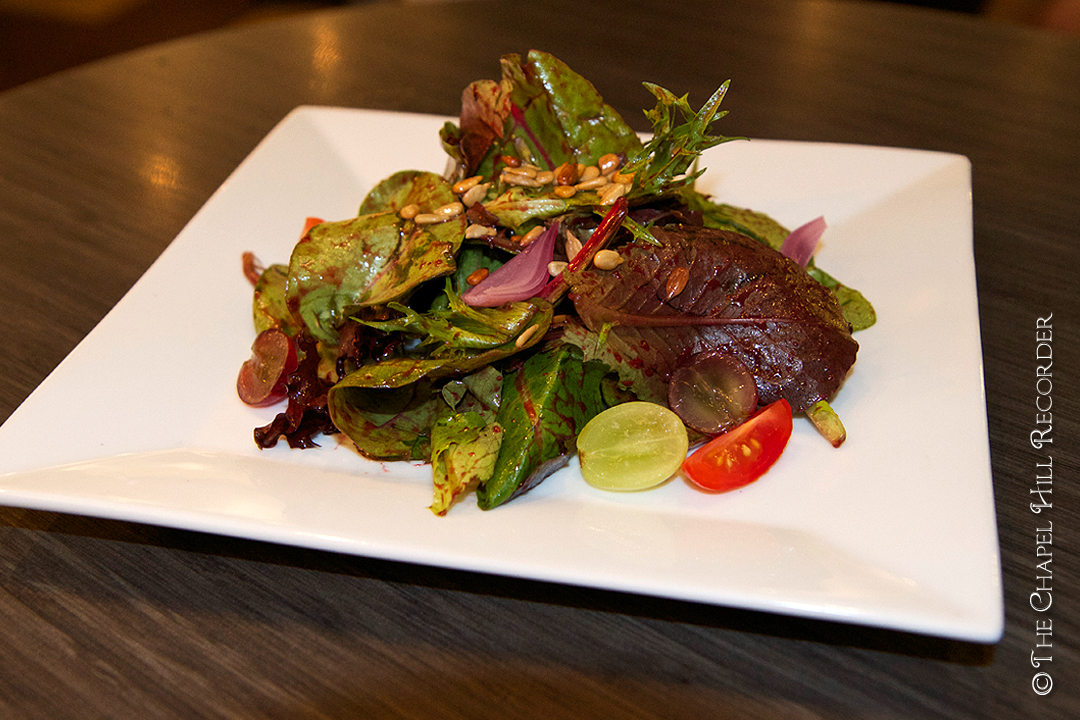 The second course was a veggie and panko breadcrumb-stuffed portabella mushroom cap that was grilled to perfection. It was plated with a roma tomato dipping sauce and drizzled with truffle oil that Zoomer enjoyed eating like soup. They also offer portabella cap burgers or black bean burgers for $9.00, which I cannot wait to try on our next visit.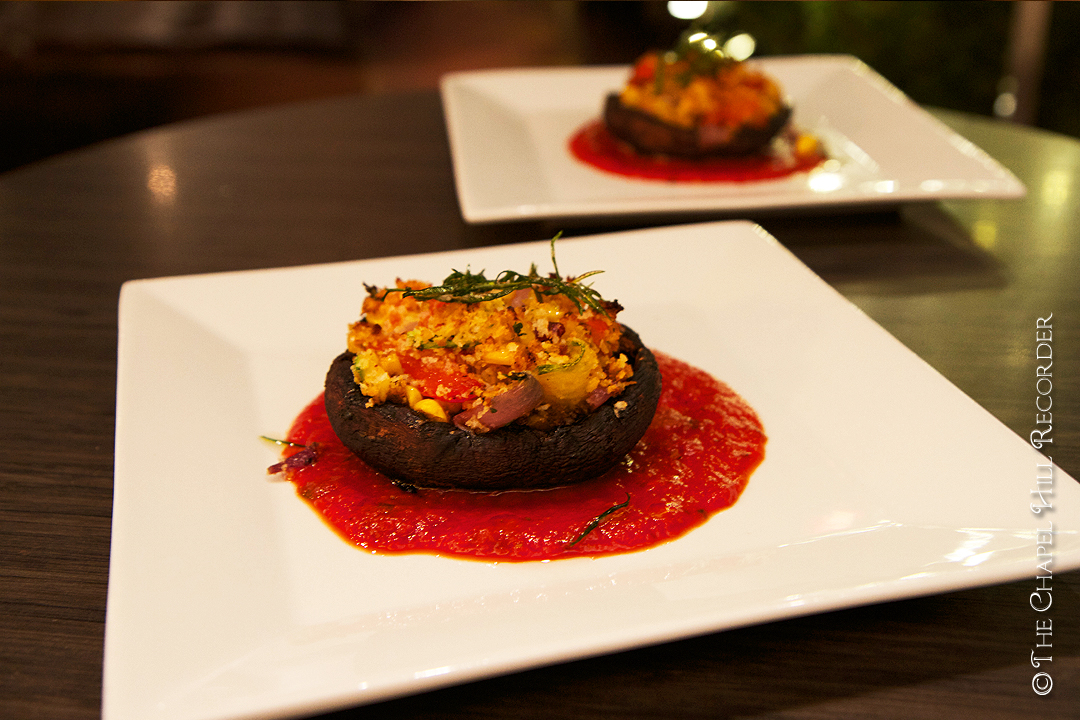 Our final course was a homemade black and green olive, cheese-less personal pizza for Zoomer, which she devoured, and a vegetable Wellington for Doug and me that they created just for us. The crispy yet tender dough was wrapped around a mélange of grilled veggies and avocado spread, that mimicked the paté usually served with the more traditional beef Wellington. The tomato sauce was a perfect compliment to lighten this rich entreé and its presentation was gorgeous.
AFFORDABLE GOURMET
After finishing our meal and feeling full and satisfied, I wondered how The Standard was able to craft such amazing dishes without the usual high price tag that comes with them. The "amazing dishes" part is easily explained. Their head chef is Jaime Gonzalez who was the chef at our local gourmet restaurant La Residence during its peak. When I asked co-owner Nick Williams how he managed to woo such a culinary genius over to The Standard, he replied, "We went to Chapel Hill High School together," which is usually how questions like that are answered among us locals. That was the only explanation I needed. Us CHHS alums are a tight bunch! The affordability is what this restaurant strives for. "A lot of people that do gourmet, well, it's just extremely pricey," explains Williams. "And we have found ways to use high-quality ingredients and not rob you, so to speak."
Nevertheless, do not let the gourmet presentation and caliber of the food lead you to believe this is a fancy, stuffy venue. It is, in fact, the opposite. The Standard has a very relaxing atmosphere, and no jacket and tie are required here. They specialize in comfort foods like specialty pizzas, sandwiches and salads, and offer three different kinds of fries or tater-tots to go with them. The varied menu options are anything but standard, however, with unique pizza toppings like figs and quince jam, and sandwiches that feature goat cheese mousse and black garlic aioli sauce. Their beer list is extensive, which includes rare local craft brews. Every dish is made fresh to order, which is how they can be so accommodating with dietary restrictions and preferences. It is not surprising that this year they won "Best New Restaurant" in the INDY Best of the Triangle 2012 competition.
SIBLING COLLABORATION
The three owners of The Standard are a team of two sisters, Annie and Katie Williams, and their brother, Nick Williams, all born and raised in Chapel Hill, N.C. Nick began his restaurant tenure at Henry's Tapas Lounge, managing their catering, and fell in love with the location. He always had an affinity for cooking and seeking out craft beers, and at one point, tried to buy Henry's from the owner Lance, which did not pan out. Therefore, when FUSE closed its doors in 2011, Nick jumped at the chance to start his own restaurant there, and enlisted his two sisters to help. Annie, a recent graduate of economics from UNC-Chapel Hill had been a waitress and bartender at Top of the Hill for six years, so she brought with her even more restaurant experience, and with her economics degree, helps manage the books and handle the paperwork. Little sister Katie manages the restaurant and waitresses, as well, helping complete this culinary power trio. Although I personally cannot imagine running a restaurant with my own siblings, it is obvious that these three get along really well the minute you meet them.
When FUSE vacated the premises, the building was literally crumbling and in shambles, so overhauling it was an enormous and costly project. They did much of the work themselves and many friends volunteered to help. Local vendors were brought in as much as possible to create what is now a completely renovated interior that is sparkling clean and refined. On our way out the door, as we were leaving The Standard to return home, my daughter exclaimed, "This is what is called a beautiful restaurant, Mommy!" And truly, it is.
COMMUNITY CONTRIBUTIONS
The Williams' connection to the town of Chapel Hill goes back to the 1940's when their grandparents moved here, and their mother attended Chapel Hill High School when it was located where University Square is now. They strongly believe in supporting our local economy and pride themselves on using grass-fed, hormone-free ground beef purchased right down the road at Cliff's Meat Market in Carrboro, N.C. Additionally, their bread comes from Pittsboro, N.C. and their eggs are from Hillsborough, N.C. They are working on becoming even more "farm to fork" and are looking to use local farmers for their vegetable and mushroom supply, as well. Along with their dedication to local vendors, they are also involved in supporting local causes. They have hosted benefits for Engineers without Borders, are presently collecting Toys for Tots in collaboration with the UNC-Chapel Hill MAC Program. Also, tomorrow, on Sunday, December 16, 2012, they are hosting Sunday at the Standard, a fundraiser for Volunteers for Youth as they celebrate their 30th Anniversary. To honor the occasion, The Standard will be serving a special Volunteers for Youth pizza, with 30% of the proceeds donated directly to Volunteers for Youth. This is a cause near and dear to their hearts because all three Williams siblings are graduates from the Volunteers for Youth mentoring program and clearly benefitted greatly from the support they received there.
FUTURE PLANS & EVENTS
Now that they have become established in town, the Williams' will be expanding their offerings, including a Family Night on Tuesdays, which offers a free pizza with the purchase of an entreé. They will soon be adding a jazz night and/or jazz brunch, a 1stFriday Art Walk that will feature local children's art work, and a "Build Your Own Pizza" family pizza night where children can make their own pizzas. They are also working with Volunteers for Youth to offer discounts to VFY mentor and mentee pairs when they visit the restaurant. They are also planning on expanding their menu by adding more vegetarian, vegan and gluten-free options in the near future.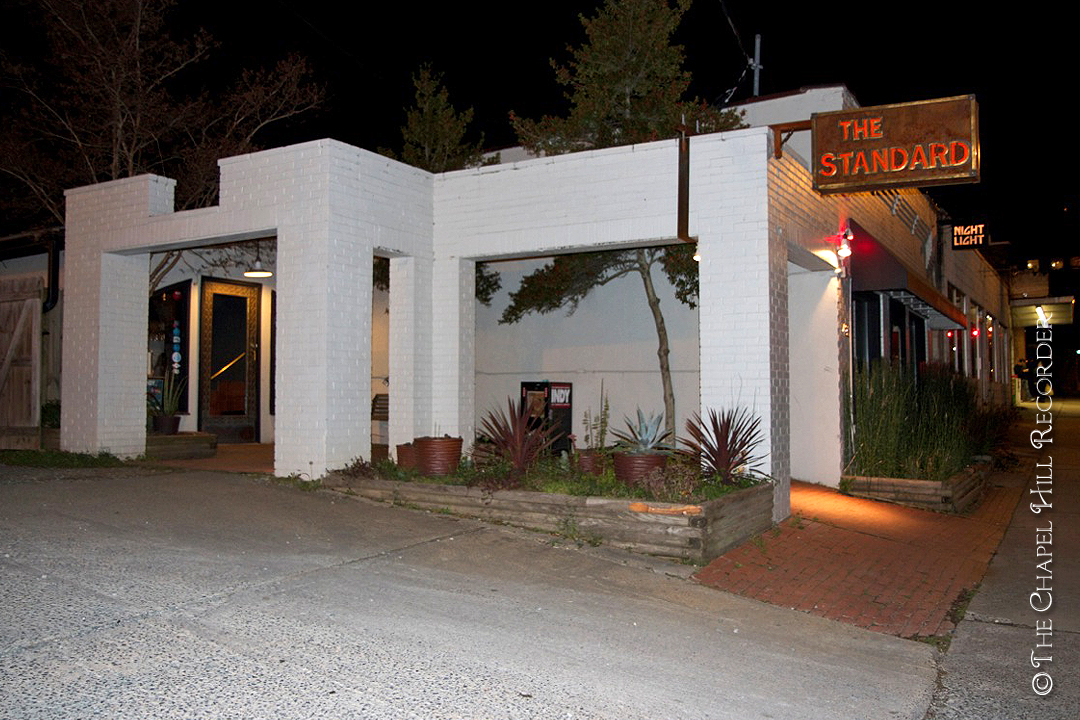 LOCATION & HOURS
The Standard is located at 403 West Rosemary Street in Chapel Hill, N.C. right across from Mitchell Lane. There is no parking on site anymore, but the UNC parking lot right next door on the other side of the fence and across the street is available and free after 5:00 pm, and there is also parking on the street. Along with their unique and delicious fair, another special feature is that they are open seven days a week from 5:00 pm, and serve their full menu until 2:00 am. It is the perfect venue for an after movie or theater dinner, and UNC students will find they have a healthier late night option other than Time Out for their past-midnight-after-party hunger pangs. Their wide-screen TV's also make it a great place to watch UNC basketball and football games. It has also been personally kid tested and kid approved by the Largent family, so grab those young ones of yours and share a pizza or two together! I expect this will now become one of our regular haunts, and my daughter has already asked us if we can go back for dinner tomorrow night.
For more information and for updates, visit http://thestandardchapelhill.com, follow them on FaceBook or follow them on Twitter: @TheStandard403. For reservations, call (919) 918-3932.
You might also like:
Category: Places