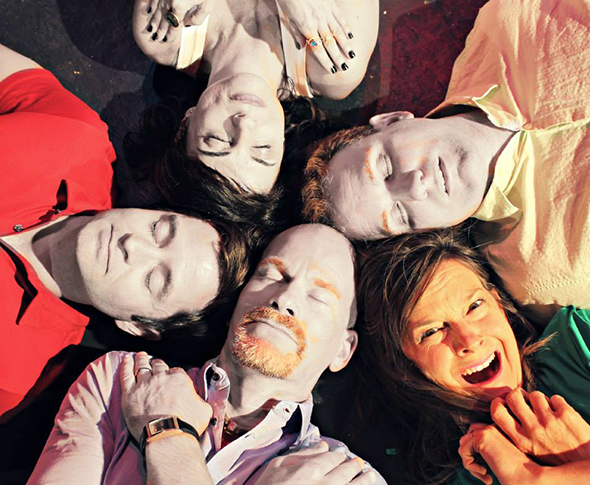 Transactors Improv tries to give you a wicked case of the willies with The Scary Show, featuring instrumental rockers Killer Filler! This all-improvised show is made up of five distinct episodes, each focusing on horror, suspense, the macabre, or the plain old weird. The Scary Show both pays homage to and spoofs film and television styles and themes, ranging from classic black-and-white movies through Alfred Hitchcock and The Twilight Zone to more modern approaches. Each episode is scored by Killer Filler, the instrumental surf/rock/soul band from Hillsborough that has been delighting fans since 2004. This is the fourth collaboration between Killer Filler and Transactors.
The ArtsCenter will host The Scary Show on Saturday, October 25th at 8:00pm! Tickets for this show are $15 General admission, $12 Seniors, and $10 ArtsCenter Friends/Student. For more information or to purchase tickets, visit http://www.artscenterlive.org/events/transactors-improv/ or call the Box Office at (919) 929-2787. The ArtsCenter is located at 300-G E. Main Street in Carrboro. 
"Working with horror and suspense is challenging and a lot of fun," says director Greg Hohn. "I've gotten goose bumps in some of the scenes we've done and audience members have come up to us after our scary shows and told us they were really creeped out!"
The cast for The Scary Show includes guests Tamara Kissane and Juliet Kaplan, along with Greg Hohn, Bart Hubbard, Steve Scott, Steven Warnock, and Jane Allen Wilson. Jenn Evans handles lighting and sound effects.
The Killer Filler lineup is Crispy Bess (keyboard and guitar), Bryon Settle (guitar), Greg Bowers (guitar), Steve Eisenstadt (bass), and Paco Robles (drums).
About Transactors Improv:
Transactors Improv is the oldest improvisational theater in the south. The company began in 1983 at The ArtsSchool (now The ArtsCenter) in Carrboro as a children's theater. Over time the group morphed into a professional touring company performing improvisational theater for all ages. Transactors performs in theaters, festivals, colleges and schools throughout the Southeast, as well as coast to coast and from Florida to Canada. They have been heard on National Public Radio and the Canadian Broadcasting Co. Members of Transactors Improv have studied with some of with the leading lights of improv, including Del Close, Martin de Maat, Keith Johnstone, Mick Napier, Second City, and Paul Sills.
For more information, please visit: http://transactors.org or call (919) 824-0937.
"If you're not sure you'd like improvisational comedy because you think it's just some big party game, or if the only improvisation you've seen is at a stand-up comedy club, go to see Transactors. You're in for a big surprise." – News & Observer
Transactors Improv: If you laugh we're doing comedy; if you scream we're doing horror.
You might also like:
Category: Press Releases