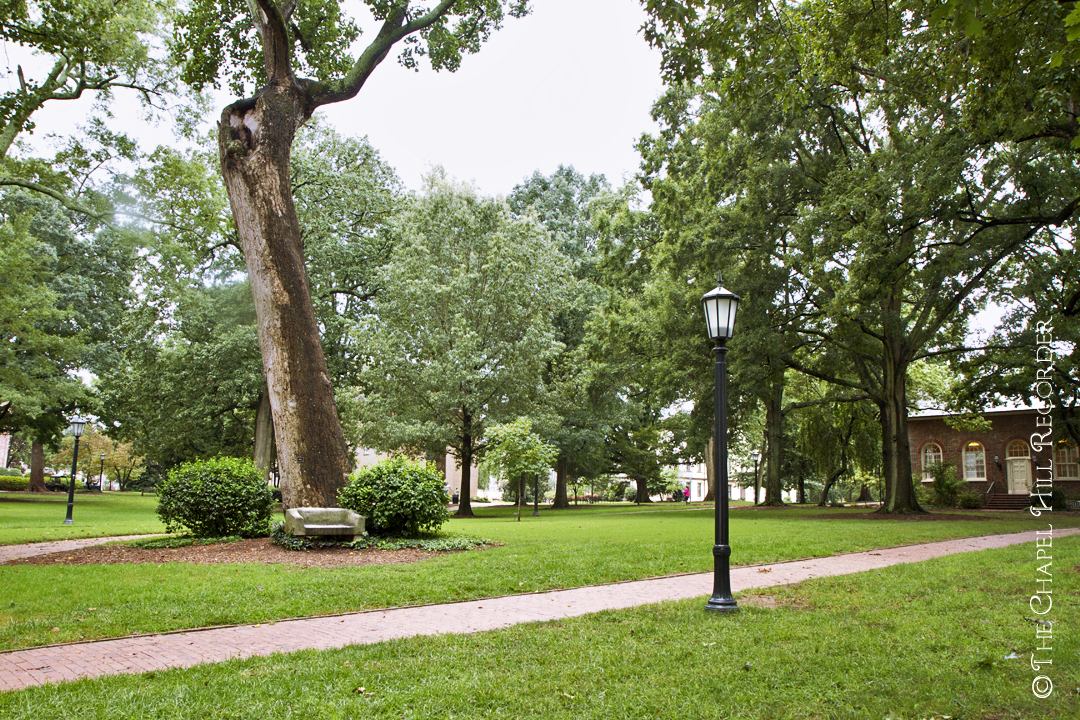 As a UNC-CH alumna myself, I often reflect on the famous alumni that have walked these brick paths before me. Although I believe, as Tar Heels, we are all notable.
We were students, all of us, spending a few years on this beautiful campus, seeking to better ourselves and enrich our lives through the collective college experience. A group of scholars as distinct as snowflakes, yet united as Tar Heels. We shared the same hallowed lecture halls that Hinton James, the first UNC student, attended in 1795. We took sips from The Old Well to refresh ourselves on hot, humid days. We all tripped on roots and bricks on the way to class at least once. We had professors who inspired us and challenged us. We learned the vital skills of critical thinking and to appreciate well-written prose. We met life-long friends. We dreamed about the future. And we wondered how to best incorporate all of this new-found knowledge and experience into our lives upon graduating. While each of our lives took widely varied paths, I believe we have all succeeded each in our own way.
Out of the many UNC alumni there have been since its founding, 286,707 are still with us as of May 2012, scattered all over the globe. Many are unsung heroes, making silent yet worthy contributions as they go. Others have reached a level of fame and acknowledgement few ever do. Below is an extensive list from Wikipedia of notable UNC alumni. It is fascinating to see the tremendous variety of accomplishments and accolades Carolina students have attained in life. As impressive as this list is, it is hardly complete. Many more names need to be included. Feel free to email info@chapelhillrecorder or "Leave a Reply" below if you would like to be added to the list, or would like to add someone to the list to acknowledge their personal contributions in life, no matter how seemingly small. Having attended The University of North Carolina at Chapel Hill at some point in your life is the only requirement, as several of those on the list never graduated. I would love to see this list include each one of us, so that all of us Tar Heels receive some recognition for our personal achievements and good deeds.
Notable Alumni of the University of North Carolina at Chapel Hill
(Click on a category below to jump directly there, or simply scroll down to see the entire list.)
ACADEMIA
University Leaders
| Name | Class | Major | Notability |
| --- | --- | --- | --- |
| Edwin Alderman | 1882 | | Former president of the University of North Carolina at Chapel Hill, Tulane University and University of Virginia |
| William Brantley Aycock | Grad | Law | Former Chancellor of the University of North Carolina at Chapel Hill |
| Kemp P. Battle | 1848 | | Former president of the University of North Carolina at Chapel Hill |
| Erskine Bowles | 1967 | Business administration | Former President of the University of North Carolina, former U.S. Senate candidate, and former White House Chief of Staff, co-chair President of the National Commission on Fiscal Responsibility and Reform |
| Mary Sue Coleman | Grad. | Biochemistry | Current President of the University of Michigan |
| B.B. Dougherty | 1899 | Philosophy | Co-founder and first president of Appalachian State University |
| Elson S. Floyd | 1978 / Grad. | Higher and Adult Education | President of Washington State University |
| Porter Lee Fortune, Jr. | 1941 / Grad. | History | Former Chancellor of the University of Mississippi |
| William C. Friday | Grad. | Law | Former President of the University of North Carolina |
| Carol Garrison | 1974 / Grad. | Epidemiology | Current President of the University of Alabama at Birmingham |
| R. Barbara Gitenstein | Grad. | English | Current President of The College of New Jersey |
| Edward Kidder Graham | 1898 | | Former President of the University of North Carolina at Chapel Hill |
| Frank Porter Graham | 1909 | | Former president of the University of North Carolina at Chapel Hill, and United States Senator from North Carolina |
| Gordon Gray | 1930 | | President of the University of North Carolina, Secretary of the Army, and National Security Advisor |
| Charles Duncan McIver | 1881 | | Founder of the University of North Carolina at Greensboro |
| Heather Monroe-Blum | Grad. | Epidemiology | Current Vice-Chancellor of McGill University |
| J. Michael Ortiz | Grad. | Education | President of California State Polytechnic University, Pomona (Cal Poly Pomona) |
| William L. Pollard | Grad. | Social Work | President of Medgar Evers College |
| Thomas Ross | Grad. | Law | Current President of the University of North Carolina, Former President of Davidson College |
| Terry Sanford | 1939 / Grad. | Law | Former President of Duke University, and Senator from and Governor of North Carolina |
| J. Carlyle Sitterson | 1931 / Grad. | History | Former Chancellor of the University of North Carolina at Chapel Hill |
| Holden Thorp | 1986 | Chemistry | Chancellor of the University of North Carolina at Chapel Hill |
| Tony Waldrop | 1974 / Grad. | Political science / Physiology | Provost of the University of Central Florida, gold medalist 1975 Pan American Games |
| George T. Winston | | | Former president of the University of North Carolina at Chapel Hill |
Professors
Name
Class
Major
Notability
Dan Ariely
Grad.
Cognitive Psychology
Alfred P. Sloan Professor of Behavioral Economics and Professor of Behavioral Economics at Duke University
Donald H. Baucom
1971 / Grad.
Psychology
Professor of psychology at University of North Carolina at Chapel Hill
Lewis Binford
1954
Arts & Sciences
Archeologist
Volker Berghahn
Grad.
History
Professor of history at Columbia University
Albert Coates
1918
Arts & Sciences
Founder and Director of the Institute of Government University of North Carolina
Dan T. Carter
Grad.
History
Professor of history at the University of South Carolina
W. H. Clatworthy
Grad.
Statistics
Professor of mathematics at the University at Buffalo
Frederick A. de Armas
Grad.
Comparative Literature
Andrew W. Mellon Distinguished Service Professor in Spanish and Comparative Lit. at the University of Chicago
Robert Digges Wimberly Connor
1899
Philosophy
UNC professor, historian, and Archivist of the United States
David L. Downie
Grad.
Political Science
Author; Commentator; Professor of Politics and Environment Policy at Fairfield University
Glenda Gilmore
Grad.
History
Peter V. & C. Vann Woodward Professor of History, Yale University
Bud Goodall
Grad.
Speech
Professor of Communication at Arizona State University
Peter Blair Henry
1991
Economics
Dean of New York University Stern School of Business
Robert Hobbs
Grad.
Art History
Professor of Art at Virginia Commonwealth University
Rafat Hussain
Grad.
Public Health
Deputy Head of the School of Rural Medicine at the University of New England, Australia
John D. Kasarda
1971
Sociology
Director, Frank Hawkins Kenan Institute of Private Enterprise, Kenan-Flagler Business School, University of North Carolina at Chapel Hill, developer of the aerotropolis concept
Jack Knight
1974 / Grad.
English & Religious Studies / Law
Professor at Duke University School of Law
Christina Kramer
Grad.
Slavic languages and literature
Professor of Slavic and Balkan languages at University of Toronto
Leo Moser
Grad.
Mathematics
Professor of Mathematics at University of Alberta
Charles Nam
Grad.
Sociology
Professor of Sociology at Florida State University
Kai Nielsen
1949
Professor of philosophy at Concordia University
Arthur F. Raper
1924 / Grad.
Sociology
Professor at Agnes Scott College
Dwijendra Kumar Ray-Chaudhuri
Grad.
Mathematics
Professor of mathematics at Ohio State University
D. W. Robertson, Jr.
1935 / Grad.
English
Professor of medieval English at Princeton University
David Robinson
Grad.
Business Administration
Professor of Marketing at Haas School of Business, University of California, Berkeley
Caryl Rusbult
Grad.
Psychology
Professor of psychology at Vrije Universiteit
Scott Silliman
1965 / Grad.
Philosophy / Law
Professor of the Practice of Law at Duke Law School
Carol Miller Swain
Grad.
Political Science
Professor of Law at Vanderbilt Law School
William Y. Thompson
Grad.
History
Professor of History at Louisiana Tech University
Greg Turk
Grad.
Computer science
Professor of computer science at Georgia Institute of Technology
Odd Arne Westad
Grad.
History
Professor of International History at the London School of Economics and Governor of the International History Department
ARTS & LITERATURE
Artists
Playwrights
| Name | Class | Major | Notability |
| --- | --- | --- | --- |
| Paul Green | 1921 | Dramatic art | Playwright and Pulitzer Prize winner |
| Kermit Hunter | Grad. | Dramatic art and English | Playwright |
| Amon Liner | 1965 | Dramatic art | Poet and playwright |
Poets
Writers
Other
BUSINESS
| Name | Class | Major | Notability |
| --- | --- | --- | --- |
| John Allison | 1971 | Business Administration | Chairman, BB&T Corporation/Branch Banking & Trust Co |
| Max C. Chapman | 1966 | Economics | Former president and CEO of Kidder, Peabody & Co |
| Warren Grice Elliott | 1867 | | President of Atlantic Coast Line Railroad |
| David Gardner | 1988 | English | Co-founder of The Motley Fool |
| Peaches Golding | 1976 | Biology | High Sheriff of Bristol, England, 2010-11[2] |
| Bowman Gray, Sr. | 1890 | Did not graduate | Former President and Chairman of R.J. Reynolds |
| William B. Harrison, Jr. | 1966 | Economics | Former CEO and Chairman of JPMorgan Chase |
| George Watts Hill | 1922 / Grad. | Commerce / Law | Banker and philanthropist |
| John Sprunt Hill | 1889 | Philosophy | Banker and philanthropist |
| Walter E. Hussman, Jr. | 1969 | Journalism | Publisher of the Arkansas Democrat-Gazette in Little Rock |
| Richard "Dick" Jenrette | 1951 | | Founder of the Wall Street firm Donaldson, Lufkin & Jenrette and Chairman and CEO of world insurance leader The Equitable from 1990 to 1996 |
| William Johnson | Grad. | Law | President and CEO of Progress Energy |
| Paul Kolton | 1944 | Journalism | Chairman of the American Stock Exchange.[3] |
| Sallie Krawcheck | 1987 | Journalism | Chairman and CEO of Citigroup Global Wealth Management and former CFO of Citigroup Inc. |
| Jason Kilar | 1993 | Journalism and Business Administration | CEO of Hulu |
| Howard R. Levine | 1981 | Business Administration | Chairman of the board and CEO of Family Dollar |
| Scott Livengood | 1974 | Industrial relations | Owner and CEO of Dewey's Bakers and former CEO of Krispy Kreme |
| Hugh McColl | 1957 | Business administration | Former CEO of Bank of America |
| John Medlin | 1956 | Business administration | Former CEO of Wachovia |
| Allen B. Morgan, Jr. | 1965 | History | Founder and former CEO of Morgan Keegan & Company |
| Mercer "Merce" Reynolds III | 1967 | Business administration | Finance chair of U.S. President George W. Bush's 2004 re-election campaign and a U.S. ambassador to Switzerland and Liechtenstein |
| Julian Robertson | 1955 | Business administration | Founded the investment firm Tiger Management Corp. |
| Bill Ruger | 1940 | Did not graduate | Founded firearms manufacturer Sturm, Ruger |
| Pete Rummell | 1967 | Chemistry/English literature | Former Chairman and CEO of Walt Disney Imagineering and St. Joe Company |
| Marcus G. Smith | Did not graduate | Journalism | President and COO of Speedway Motorsports, Inc. |
| Ken Thompson | 1973 | American studies | Former Chairman and CEO of Wachovia |
ENTERTAINMENT
Actors
| Name | Class | Major | Notability |
| --- | --- | --- | --- |
| Whit Bissell | 1932 | Arts & Sciences | Actor |
| Dan Cortese | 1990 | Radio, television & motion picture | Actor and TV personality |
| Billy Crudup | 1990 | Speech | Actor |
| Michael Cumpsty | 1982 / Grad. | English / Dramatic art | Actor |
| Melissa Claire Egan | 2003 | Dramatic art | Soap opera actress, Annie Lavery on All My Children. |
| John Forsythe | 1948 | | Actor |
| Louise Fletcher | 1957 | Dramatic art | Academy Award-winning Actress |
| Rick Fox | 1994 | Radio, television & motion picture | Actor & former professional basketball player |
| Andy Griffith | 1949 | Dramatic art | Actor, comedian, writer, and producer, The Andy Griffith Show, Matlock |
| George Grizzard | 1949 | Radio, television & motion picture | Actor |
| Liza Huber | | | Soap opera actress (formerly Gwen Hotchkiss on Passions), daughter of Susan Lucci. |
| Ken Jeong | Grad. | Medicine | Actor and comedian |
| Darwin Joston | 1960 | Dramatic art | Actor |
| Ben Jones | | | Actor and former U.S. Representative from Georgia |
| Kay Kyser | 1928 | Economics | Popular bandleader, radio personality, and movie actor in the 1930s and 1940s |
| Sharon Lawrence | 1983 | Journalism | Emmy Award nominated actress |
| Michael Louden | 1986 | Did not graduate | Actor |
| Crystal McLaurin-Coney | 1993 | Journalism | Actress |
| Jane McNeill | | Journalism | Actress |
| Jack Palance | 1949 | | Actor (transferred to Stanford and graduated from there) |
| Jim Rash | 1994 | Radio, TV, Motion Pictures | Actor and Oscar-winning screenwriter |
| Jeff Richards | 1998 | Communications | Actor and comedian |
| Randolph Scott | | Did not graduate | Actor |
| Jay Thomas | | | Actor and winner of Emmy Award for portraying "Jerry Gold" in "Murphy Brown" |
Broadcasters
Musicians
| Name | Class | Major | Notability |
| --- | --- | --- | --- |
| Laura Ballance | 1990 | Anthropology | Bassist in the rock band Superchunk and co-founder of Merge Records |
| Meg Christian | 1968 | Music | Singer and founder of lesbian record company, Olivia |
| Anoop Desai | 2008 | Political science and American studies | American Idol 6th place finalist, singer |
| Lisa Furukawa | 1999 | Music and Asian studies | Pianist, singer, songwriter, and J-pop and anime theme song performer |
| George Hamilton | | | Country music singer |
| Wayne Handy | 1962 | Business Administration | Rockabilly singer |
| Brendan James | 2002 | Communications | American singer and songwriter |
| Kay Kyser | 1928 | Economics | Popular bandleader, radio personality, and movie actor in the 1930s and 1940s |
| Lachi | 2005 | Economics, Management and Society | Alternative rock artist, Author |
| Doug Largent | 1994 | Computer Science | Bass Player, Organist, The Doug Largent Trio |
| Tift Merritt | 2000 | | Singer |
| Oliver | 1967 | Radio, television & motion picture | Pop singer |
| David Olney | – | Did not graduate | Musician |
| Bud Shank | 1947 | | Musician |
Writers, Producers & Directors
Other
| Name | Class | Major | Notability |
| --- | --- | --- | --- |
| Lewis Black | 1970 | Dramatic art | Comedian and playwright |
| Wyatt Cenac | 1994 | Did Not Graduate | Comedian and Producer |
| Jeff MacNelly | 1969 | Art | Creator of Shoe comic strip |
JOURNALISM
Pulitzer Prize Winners
Politics & Public Life
President of the United States
Vice President of the United States
Governors
U.S. Senators
U.S. Representatives
U.S. Cabinet Members & Other Executive Officers
Federal Judges
Law
Religious Leaders
Other
Sciences
SPORTS
Baseball Players
Basketball Players
| Name | Class | Major | Notability |
| --- | --- | --- | --- |
| Harrison Barnes | | Business Administration | Professional basketball player |
| Dudley Bradley | 1979 | Recreation administration | Professional basketball player |
| Pete Brennan | 1958 | Industrial relations | Professional basketball player |
| Larry Brown | 1963 | History | College and professional basketball coach and member of the Basketball Hall of Fame |
| Steve Bucknall | 1989 | Radio, television & motion picture | Professional basketball player and coach |
| Vince Carter | 2001 | African-American Studies | Professional basketball player |
| Pete Chilcutt | 1991 | Industrial relations & psychology | Professional basketball player |
| Ed Cota | | | Professional basketball player |
| Sylvia Crawley | 1994 | Radio, Television & Motion Picture | Professional basketball player |
| Billy Cunningham | 1971 | History | Professional basketball player and member of the Basketball Hall of Fame |
| Brad Daugherty | 1986 | Radio, Television & Motion Picture | Former professional basketball player and sportscaster |
| Hubert Davis | 1992 | Criminal Justice | Professional basketball player and UNC assistant coach |
| Walter Davis | 1988 | Recreation Administration | Professional basketball player |
| John Dillon | 1948 | | Professional basketball player |
| Wayne Ellington | | | Professional basketball player |
| Darrell Elston | 1974 | History | Professional basketball player |
| Raymond Felton | | | Professional basketball player |
| Phil Ford | 1978 | Business administration | Professional basketball player |
| Joseph Forte | | | Professional basketball player |
| Rick Fox | 1994 | Radio, Television & Motion Picture | Professional basketball player and actor |
| George Glamack | | | Professional basketball player |
| Danny Green | 2009 | Communications | Professional basketball player |
| Tyler Hansbrough | 2009 | Communications | Professional basketball player |
| Brendan Haywood | 2001 | Communications | Professional basketball player |
| John Henson | | | Professional basketball player |
| Antawn Jamison | | | Professional basketball player |
| Bobby Jones | 1974 | Psychology | Professional basketball player |
| Marion Jones | | | Professional basketball player and former track and field athlete |
| Michael Jordan | 1986 | Geography | Professional basketball player and member of the Basketball Hall of Fame |
| George Karl | | | Professional basketball player and coach |
| Tommy Kearns | 1958 | History | Professional basketball player |
| Mitch Kupchak | 1976 | Political science & Psychology | Professional basketball player and general manager of the Los Angeles Lakers |
| Ivory Latta | 2007 | Exercise & sports science | Professional basketball player |
| York Larese | 1961 | Sociology | Professional basketball player and coach |
| Ty Lawson | | | Professional basketball player |
| George Lynch | 1993 | African studies | Professional basketball player |
| Sean May | 2009 | African-American studies | Professional basketball player |
| Kendall Marshall | | | Professional basketball player |
| Bob McAdoo | | | Professional basketball player and member of the Basketball Hall of Fame |
| Rashad McCants | | | Professional basketball player |
| Rashanda McCants | 2009 | | Professional basketball player |
| Jeff McInnis | | | Professional basketball player |
| Horace McKinney | 1948 | | Professional basketball player and coach, college coach |
| Larry Miller | 1968 | Business administration | Professional basketball player |
| Doug Moe | | | Professional basketball player and coach |
| Eric Montross | 1994 | | Professional basketball player |
| David Noel | 2006 | African-American studies | Professional basketball player |
| Ademola Okulaja | 1999 | International studies | Professional basketball player |
| Sam Perkins | 1984 | Radio, Television & Motion Picture | Professional basketball player |
| Dave Popson | 1987 | Geography | Professional basketball player |
| J.R. Reid | 1992 | Radio, Television & Motion Picture | Professional basketball player |
| Henrik Rödl | 1993 | Biology | Professional basketball player and coach |
| Lennie Rosenbluth | 1957 | | Professional basketball player |
| Clifford Rozier | | | Professional basketball player |
| Charlie Scott | | | Professional basketball player |
| Lee Shaffer | 1960 | Business administration | Professional basketball player |
| Charlotte Smith | 1999 | Sociology | Professional basketball player |
| Kenny Smith | | | Professional basketball player and basketball analyst |
| Jerry Stackhouse | 1999 | African-American Studies | Professional basketball player |
| Rasheed Wallace | | | Professional basketball player |
| Marvin Williams | | | Professional basketball player |
| Scott Williams | | | Professional basketball player |
| Shammond Williams | | | Professional basketball player |
| Joe Wolf | 1987 | Industrial Relations | Professional basketball player |
| Al Wood | 1988 | Recreation Administration | Professional basketball player |
| James Worthy | 1985 | Recreation Administration | Professional basketball player and member of the Basketball Hall of Fame |
| Brandan Wright | | | Professional basketball player |
| Tyler Zeller | 2012 | Business administration | Professional basketball player |
Basketball Coaches
| Name | Class | Major | Notability |
| --- | --- | --- | --- |
| Larry Brown | 1963 | History | College and professional basketball coach and member of the Basketball Hall of Fame |
| Jason Capel | 2002 | Communications | Current head coach of the Appalachian State |
| Scott Cherry | 1993 | Business administration | College basketball coach |
| Billy Cunningham | 1971 | History | Professional basketball coach and member of the Basketball Hall of Fame |
| Matt Doherty | 1984 | Business administration | College basketball coach |
| Eddie Fogler | 1970 / Grad. | Mathematics / Physical Education | College basketball coach |
| George Karl | | | Professional basketball player and coach |
| John Kuester | 1977 | Health | Professional and college coach |
| Jeff Lebo | 1990 | Business Administration | College basketball coach |
| Monk McDonald | 1923 / Grad. | Medicine | College basketball player and coach |
| Wes Miller | 2007 | Political science | College basketball coach |
| Doug Moe | | | Professional basketball player and coach |
| Mike O'Koren | 1980 | Recreation Administration | Professional basketball player and coach |
| Buzz Peterson | 1986 | Geography | College basketball coach |
| King Rice | 1992 | Radio, television & motion picture | College basketball coach |
| Henrik Rödl | 1993 | Biology | Professional basketball player and coach |
| Tony Shaver | 1976 / Grad. | Business Administration / Education | College basketball coach |
| Roy Williams | 1972 / Grad. | Education | Current North Carolina Tar Heels men's basketball coach and member of the Basketball Hall of Fame |
Football Players
Football Coaches
Golfers
Soccer
Sports Administrators
Track & Field
Olympians
| Name | Olympic Sport | Location | Year |
| --- | --- | --- | --- |
| Bill Albans | Track & Field | London | 1948 |
| Natalie Anter | Softball | Athens | 2004 |
| Danute Bankaitis-Davis | Cycling | Seoul | 1988 |
| Scott Bankhead | Baseball | Los Angeles | 1984 |
| Kate Barber | Filed Hockey | Beijing | 2008 |
| Tracy Bates-Leon | Soccer | Athens | 2004 |
| Jim Beatty | Track & Field | Rome | 1960 |
| Larry Brown | Basketball | Tokyo, Athens | 1964, 2004 |
| Vince Carter | Basketball | Syndey | 2000 |
| Lori Chalupny | Soccer | Beijing | 2008 |
| LaTasha Colander-Richardson | Track & Field | Sydney, Athens | 2000, 2004 |
| Sharon Couch | Track & Field | Barcelona, Sydney | 1992, 2000 |
| Crystal Cox | Track & Field | Athens | 2004 |
| Kendall Cross | Wrestling | Barcelona, Atlanta | 1992, 1996 |
| Illse Davids | Field Hockey | London | 2012 |
| Walter Davis | Basketball | Montreal | 1976 |
| Rachel Dawson | Field Hockey | Beijing, Londona | 2008, 2012 |
| Yann DeFabrique | Swimming | Barcelona | 1992 |
| Dominic Demeritte | Soccer | Sydney, Athens, Beijing | 2000, 2004, 2008 |
| Erin Donohue | Track & Field | Beijing | 2008 |
| Lorrie Fair | Soccer | Sydney | 2000 |
| Katelyn Falgowski | Field Hockey | Beijing, London | 2008, 2012 |
| Nadine Faustin-Parker | Track & Field | Beijing | 2008 |
| Shalane Flanagan | Track & Field | London | 2012 |
| Phil Ford | Basketball | Montreal | 1976 |
| Charles Foster | Track & Field | Montreal | 1976 |
| David Fox | Swimming | Atlanta | 1996 |
| John Friedberg | Fencing | Barcelona | 1992 |
| Robyn Gale | Soccer | Beijing | 2008 |
| Nicole Gamble | Track & Field | Sydney | 2000 |
| Robyn Gayle | Soccer | London | 2012 |
| Laura Gerraughty | Track & Field | Athens | 2004 |
| Jesse Gey | Track & Field | Beijing | 2008 |
| Vikas Gowda | Track & Field | Athens, Beijing, London | 2004, 2008, 2012 |
| Laurie Gregg | Soccer | Atlanta, Sydney | 1996, 2000 |
| Bill Guthridge | Basketball | Montreal | 1976 |
| Mia Hamm | Soccer | Atlanta, Sydney, Athens | 1996, 2000, 2004 |
| Janis Hape | Swimming | Montreal | 1976 |
| Ken Harnden | Track & Field | Atlanta, Sydney | 1996, 2000 |
| Sylvia Hatchell | Basketball | Seoul | 1988 |
| Tobin Heath | Soccer | Beijing, London | 2008, 2012 |
| April Heinrichs | Soccer | Atlanta, Sydney, Athens | 1996, 2000, 2004 |
| Perrin Henderson | Wrestling | Melbourne | 1956 |
| Monique Hennagan | Track & Field | Sydney, Athens | 2000, 2004 |
| Laurel Hershey | Field Hockey | Atlanta | 1996 |
| Kelli James | Field Hockey | Atlanta | 1996 |
| Allen Johnson | Track & Field | Atlanta, Sydney, Athens | 1996, 2000, 2004 |
| Curtis Johnson | Track & Field | Sydney | 2000 |
| Bobby Jones | Basketball | Munich | 1972 |
| Michael Jordan | Basketball | Los Angeles | 1984 |
| John Keller | Handball | Atlanta | 1996 |
| Mitch Kupchak | Basketball | Montreal | 1976 |
| John Lacey | Basketball | Tokyo, Munich | 1964, 1972 |
| Tom LaGarde | Basketball | Montreal | 1976 |
| Nhi Lan Le | Fencing | Atlanta | 1996 |
| Kristine Lilly | Soccer | Atlanta, Sydney, Athens | 1996, 2000, 2004 |
| Carrie Lingo | Field Hockey | Beijing | 2008 |
| Lynda Lipson | Track & Field | Atlanta, Sydney | 1996, 2000 |
| Leslie Lyness | Field Hockey | Atlanta | 1996 |
| Thompson Mann | Swimming | Tokyo | 1964 |
| Ann Marshall | Swimming | Munich | 1972 |
| Dax McCarty | Soccer | Beijing | 2008 |
| Andrew Miller | Baseball | Athens | 2004 |
| David Monasterio | Swimming | Barcelona | 1992 |
| Siri Mullinix | Soccer | Sydney | 2000 |
| Joan Nesbit | Track & Field | Atlanta | 1996 |
| Eddie Neufville | Track & Field | Atlanta, Sydnney | 1996, 2000 |
| Tracy Noonan | Soccer | Atlanta | 1996 |
| Heather O'Reilly | Soccer | Athens, Beijing, London | 2004, 2008, 2012 |
| Marcia Pankratz | Field Hockey | Seoul | 1988 |
| Cindy Parlow | Soccer | Atlanta, Sydney, Athens | 1996, 2000, 2004 |
| Steve Penn | Handball | Atlanta | 1996 |
| Sam Perkins | Basketball | Los Angeles | 1984 |
| Eddie Pope | Basketball | Atlanta | 1996 |
| Catherine Reddick | Soccer | Athens | 2004 |
| J.R. Reid | Basketball | Seoul | 1988 |
| Phil Riker | Swimming | Tokyo | 1964 |
| Tiffany Roberts | Soccer | Atlanta | 1996 |
| Trish Roberts | Basketball | Montreal | 1976 |
| Henrik Rödl | Basketball | Barcelona | 1992 |
| Blake Russel | Track & Field | Beijing | 2008 |
| Alice Schmidt | Track & Field | Beijing, London | 2008, 2012 |
| Charlie Scott | Basketball | Mexico City | 1968 |
| Ola Sesay | Track & Field | London | 2012 |
| Karen Shelton | Field Hockey | Los Angeles | 1984 |
| Chuck Simmons | Track & Field | London, Helsinki | 1948, 1952 |
| Dean Smith | Basketball | Montreal | 1976 |
| Chris Stevenson | Swimming | Los Angeles | 1984 |
| B.J. Surhoff | Baseball | Los Angeles | 1984 |
| Amy Swensen | Field Hockey | London | 2012 |
| Lindsay Tarpley | Soccer | Athens, Beijing | 2004, 2008 |
| Liz Tchou | Field Hockey | Atlanta | 1996 |
| Stan Tinkham | Swimming | Melbourne | 1956 |
| Amy Tran | Field Hockey | Beijing | 2008 |
| Tisha Venturini | Soccer | Atlanta | 1996 |
| Tisha Waller | Track & Field | Atlanta, Athens | 1996, 2004 |
| Chryss Watts | Handball | Atlanta | 1996 |
| Wendy Weinberg | Swimming | Montreal | 1976 |
| Carla Werden | Soccer | Atlanta | 1996 |
| Cindy Werley | Field Hockey | Atlanta | 1996 |
| Kacey White | Soccer | Beijing | 2008 |
| Roy Williams | Basketball | Athens | 2004 |
| Harry Williamson | Track & Field | Berlin | 1936 |
| Staci Wilson | Soccer | Atlanta | 1996 |
Other
Miscellaneous
You might also like:
Category: People, Popular Articles