Carolina fans have always been vocal when it comes to what their team wears on the basketball court. Whether it is superstition or just our acute fashion sense, any change to UNC's uniform makes us nervous.
North Carolina Men's Basketball uniforms have come a long way since they were initially donned in 1910. The first time I saw a UNC basketball uniform in person was at the Blue and White game at Carmichael Auditorium in 1975. I was five years old, and the short shorts made the legs of Phil Ford and Walter Davis appear even longer than they already were. There was a clean, streamlined look to them, even though the close fitting tops and bottoms are almost laughable by today's fashion standards.
When I entered UNC as a freshman in 1988, the uniforms had not changed that much since the seventies – the shorts were still short and the Tar Heel foot remained planted on each side. Over the next three years, the shorts gradually grew longer, eventually hitting the knees, and the jerseys flowed with extra fabric. For the 1991-92 basketball season, my last year at Carolina, Coach Dean Smith asked local clothing designer Alexander Julian to redesign the uniforms. The argyle sides he created were initially greeted with shock and skepticism, but nowadays, few can even remember the uniform without it. It has become a UNC trademark as recognizable as our interlocking NC logo and the Tar Heel foot. I expect it would be considered sacrilege to remove it.
The 1999-2000 UNC basketball season brought another major change to the jersey. The always present "North Carolina" that surrounded the player's number on the front had been replaced with simply the interlocking NC logo. The resounding negative feedback from alumni and fans alike led to the reinstatement of the words "North Carolina" for the very next season, and all was fogiven.
In 2001, after the 9/11 tragedy, American flag patches were added to the front of the jersey, and still remain. However, the uniform's overall look and feel retained its classic design through 2011, until Nike introduced their new aerographic line and UNC adopted it for the 2011-12 season.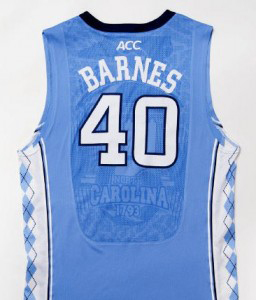 The front of the jersey looks basically the same, while the back is a crowded triptych of the state of North Carolina, The Old Well and a basketball. Most Tar Heel fans with whom I spoke do not care for the design, but they were relieved that the argyle remained at least.
Since the UNC basketball program celebrated its 100th year in 2009, a new trend seems to have developed where the uniform changes for specific games. On November 9, 2009, in their season opener against Florida International, and also when they played Rutgers on December 28th, the Tar Heels wore throwback uniforms in the style of the 1957 undefeated national championship team, with its distinctive red trim.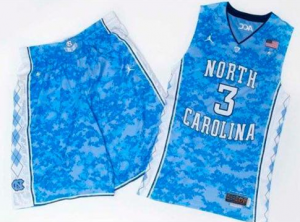 For the Carrier Classic game on November 11, 2012, North Carolina wore a camouflage version of their uniform, though the all-important argyle pattern thankfully remained intact. In the game against Georgia Tech on January 29, 2012, in recognition of Coaches vs. Cancer Suits and Sneakers awareness weekend, North Carolina's players suited up wearing bright pink shoes.
These changes, however slight, are unsettling for us loyal Tar Heel fans. Whatever mojo is created from consistency and predictability, we become extremely uneasy when anything different might throw off the potential winning energy.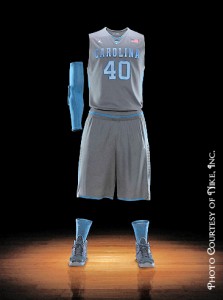 Therefore, when Nike first unveiled its plan for North Carolina to showcase their new Hyper Elite Platinum uniforms and shoes for the UNC/Maryland game at 7:00 pm tonight, fans were not happy. Supposedly lighter and more breathable, it would take much more than those subtle improvements to convince the crowd of more than 20,000 at the Dean Dome, and thousands more watching at home and in bars nationwide, that it is acceptable for our Heels to wear platinum gray during the last home game of the season and Senior Night, no less.
Not to worry. If history has proven anything, it is that these occasional mid-season uniform changes have little effect on our team's ability, and in fact, even make our team play better. In the game against Florida International, we defeated their Golden Panthers 88-72. Against Rutgers, we were also the victors, 81-67. We all know the final score of the Carrier Classic, UNC-67/Michigan State-55, and Carolina played wonderful basketball that night. Even wearing hot pink shoes, (though admittedly Barnes and Zeller only wore them for the first 20 minutes), Georgia Tech lost to UNC, 93-81. I'm not saying I will enjoy watching our Heels run back and forth in platinum gray tonight. On the contrary, it's just wrong and I will be relieved when they are back in Carolina blue and white when they play Duke on Saturday. As far as beating Maryland tonight, I don't want to jinx it by making my prediction, but if UNC doesn't come away with the "W" we shouldn't blame the uniforms.
It's not just the North Carolina uniform that has changed over the years. Click here to read the Chapel Hill Recorder article: "The True Carolina Blue"
You might also like:
Category: Popular Articles, Sports