Volunteers for Youth is a local non-profit that supports our highest-risk youth in Orange County. Through their juvenile delinquency prevention programs, these young people are then able to make a positive contribution in our community.
Established in 1981, Volunteers for Youth was created out of a need that was expressed by professionals in the Orange County court system. They determined that an effective tool for juvenile delinquency prevention is to pair high-risk youth with caring adult volunteers. Many of these children come from dysfunctional homes, and are suffering from the effects of poverty, abuse and neglect. They are in desperate need of positive role-models and support systems in their life, and Volunteers for Youth has fulfilled this need innovatively and successfully.
VOLUNTEER MENTOR PROGRAM
In 1982, they began offering their first program called Volunteer Mentor Program. First, prospective adult volunteer mentors are carefully screened and then trained to use activities as tools for building trust, teaching life skills and providing experiences that will lead to increased self-esteem in the young person. Children, ranging in ages from seven to fifteen, are referred to this program from juvenile court, law enforcement, guidance counselors, teachers, mental health professionals, social workers and parents, and then matched with approved mentors. The purpose of this program is to develop relationships between mentors and young people. These relationships are built on activities of shared interest such as hiking, basketball, cooking or reading. Mentors are required to spend two hours a week for a full year with the youth, though many mentors and mentees continue to stay in touch long after the mentorship has ended, which is indicative of how rewarding this program is for both participants. From 1982 until 2009, the Volunteer Mentor Program was funded as part of the state-funded Governor's One-on-One Volunteer Initiative. After the state legislature discontinued funding for this program across the state, Volunteers for Youth has continued to run the mentoring program with the assistance of the United Way, local municipalities, and individual support. Hubert Davis, the newly appointed assistant coach for the UNC Basketball program, is not only a dedicated fund-raiser for Volunteers for Youth, but also he and his wife Leslie are mentors for an at-risk child as well.
JUVENILE COMMUNITY SERVICES & RESTITUTION PROGRAM
In 1992, Volunteers for Youth developed their second program which is the Juvenile Community Services and Restitution Program, through which youth who have committed crimes in Orange County pay back the community by completing community service hours at non-profit work sites where volunteer supervisors oversee and evaluate their work. The program coordinators organize group events such as park clean up projects and arts & crafts projects that benefit the community. Through this program, youthful offenders learn important lessons in responsibility and accountability and often develop positive relationships with their adult supervisors. Young people are also taught valuable life and job skills while volunteering. Notable non-profit participants include: Anathoth Community Garden, RENA Community Center, Kramden Institute, The Peoples Channel, The ArtsCenter, Chapel Hill-Carrboro YMCA and The Internationalist Prison Books Collective.
TEEN COURT PROGRAM
The third program that was established by Volunteers for Youth, in 2004, is the Orange County Teen Court Program. It gives first time offenders an opportunity to take responsibility for their actions through an alternative to juvenile court. Youth are tried and sentenced by a jury of their peers. Trained student volunteers, ages 12-17, are the heart of the Orange County Teen Court Program and serve in key roles as bailiff, clerk, juror, defense attorney, and prosecuting attorney. Orange County Teen Court accepts referrals of first-time offenders, ages 11-17, who have admitted guilt to misdemeanor offenses such as assault, affray, underage possession/consumption of drugs, alcohol and or drug paraphernalia, vandalism, disorderly conduct, larceny, or shoplifting. Teen Court does not accept cases involving sexual offenses, firearms, hate crimes, motor vehicle violations, and offenses that have resulted in serious injury. Cases are referred to Teen Court by law enforcement, school resource officers, judges and court counselors. Defendants who refuse to participate in Teen Court are directed back to the referring agency and may be subject to prosecution in traditional juvenile court. The program is voluntary and confidential. An adult judge presides over court proceedings. As in traditional court, student attorneys present the facts of the case to the court, and the peer jury is responsible for rendering a constructive sentence that is fair to the defendant and the community.
EVERY GIRL COUNTS PROGRAM
The newest program Volunteers for Youth has added to support the young females of our community is Every Girl Counts. This program brings together middle school girls on a weekly basis in a group setting during the school day at Phillips Middle School. This program empowers young women, who were referred by their Principal Cicily McCrimmon, through a life skills curriculum that fosters pride, self-esteem and a sense of achievement. Led by VFY staff member, Nicole Hunter, Every Girl Counts facilitates fun activities that teach young girls how to become successful women. Last fall, Every Girl Counts participants attended an open house at North Carolina A&T in Greensboro, NC where they learned about various majors at a college fair, went on a campus tour, and cheered on the Aggies football team. On February 29th, they went to the CIAA Middle School Day in Charlotte, NC, where they heard from inspiring speakers at a college fair and attended a CIAA basketball tournament game at Charlotte Bobcats Arena. At the end of the festivities, one of the group members commented that she had never planned to go to college but that the day's experiences had changed her mind! They are capping off their year with a three-day trip to Atlanta, GA focusing on African-American history soon after school is dismissed for the summer.
ABOUT VFY EXECUTIVE DIRECTOR SUSAN WORLEY
Susan Worley has been the Executive Director of Volunteers for Youth since 1988. She is a Chapel Hill native, graduate of Chapel Hill High School and earned both her BA and MA in Social Work at UNC-Chapel Hill. She also raised two children in Chapel Hill and is a long-time resident. Worley feels tremendous gratitude to have the opportunity to work for such an important community cause. "I had just graduated from the UNC School of Social Work in 1988 and was looking for work. I had done my field placement at the School of Social Work with the Adolescent Parenting Program at the Orange County Department of Social Services and came to value the role of mentoring there. At that time, the only program at Volunteers for Youth was mentoring so it was a natural fit for me after my experiences at Adolescent Parenting. I was thrilled to be offered the job because it sounded like a dream come true.  Twenty-four years later, I'm still thrilled to be working here!"
That is not to say that this is easy work by any means. Worley completely understands the many challenges involved working with high-risk youth, and she counts her successes where she finds them — no matter how small, they are always celebrated. "So many kids have come through Volunteers for Youth over the years, many of them facing significant challenges. It's often surprising for people to realize that, right here in the Southern Part of Heaven, there are kids who have witnessed horrific domestic violence, been saddled with adult responsibilities, or lived in dire poverty. Given those sorts of challenges, the real success stories are the ones where a painfully shy child who kept her eyes downcast and never spoke above a whisper was able, after a year with her mentor, to look her in the eye and carry on a conversation. That isn't the same as a Lifetime movie where the kid ends up graduating from Harvard, but it is a pretty big deal in its own way! There have been lots of kids who experienced things for the first time with their mentors – going to the beach, riding an escalator, visiting the library – and I consider those big successes, too. Many, many kids and mentors have remained friends into adulthood and I think of that as the biggest success of all."
THOUGHTS FROM PREVIOUS VFY EMPLOYEE MEGAN MCGURK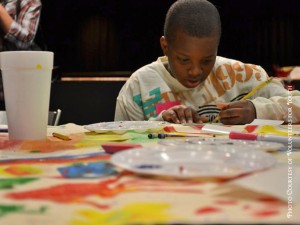 A high level of enthusiasm is common for workers at the Volunteers for Youth organization. Megan McGurk worked there for 8 years prior to her job at the Chapel Hill Downtown Partnership, and she is still very attached to it and its mission: "To provide services to Orange County youth that help them become contributing members of the community by cultivating their strengths, encouraging positive relationships and developing their ability to make responsible choices." McGurk witnesses the positive effect of Volunteers for Youth in our community on a regular basis. "Walking around downtown or being out in the community — all the time, I run into kids that I worked with at VFY. I'm always so proud of them and the amazing young adults they've become. It's because they are strong, smart individuals and they had a supportive system in our community that rallied around them when they were children and in a time of need. VFY has cultivated that support system into a beautiful mix of programs and projects — mentoring, community service, teen court — all opportunities for children to be engaged in positive activities with adults who are true role models."
"There is one story in particular that I think is a testament to VFY being a support for a child when she needed it. On Graham Street, there is a beauty salon that opened last year called At Last Salon. One of the owners is a young lady who was in VFY's programs many years ago. She went on to work numerous jobs, with a young child of her own, put herself through beauty school, and now owns her own business in the community she was raised in. Even years after leaving VFY's programs, she would stop in to say, 'Hi!' to us at the office and let us know how she is doing. Her son and my son were at the same preschool together, so we got to see each other and stay in touch. She transitioned from being 'a kid in the VFY program' to a peer, friend, neighbor, fellow mom… something that kids who lack a support system are often desperate to be considered. When she opened her business downtown, I could not have been more proud of her! I don't think you can say VFY was directly responsible for her success, despite seemingly insurmountable struggles in her life — she is a smart, tough, determined woman who deserves to take credit for what she's accomplished. But she found a connection to us, and what she did at VFY. And she found value in staying connected to us. That speaks volumes coming from a young person."
McGurk also reflects on the organization itself. "Beyond just its programs, one of the great things about VFY is the supportive culture that Susan Worley has created and maintained for many years. Something every business or non-profit would love to be able to do! Many staff (myself included) went to graduate/professional school while at VFY — and/or have families with young children (myself too) — and were able to continue to advance in our careers because of that intrinsic supportive environment. It's not just for the clients VFY serves — but for all that are a part of the VFY family."
HOW TO BECOME INVOLVED & SUPPORT VFY

There is a definite need for non-profit organizations in our community that support disadvantaged and troubled youth who deserve a second chance. Volunteers for Youth is an important organization that has been able to make significant, positive differences in the lives of our youngest at-risk population over the last thirty years. It is vital that the Orange County community continues to support this worthy cause, and it needs our help, as its main source of funding was eliminated in 2009. Worley has rallied for alternative resources, but it is challenging, especially in this economy. "From its inception in 1982, VFY's mentoring program was funded through the statewide Governor's One-on-One Volunteer Initiative. In 2009, the legislature completely eliminated that funding, doing away with almost 50 mentoring programs across the state. Our board and staff are committed to continuing the program but the loss of funding has put a real strain on our resources – human and financial."
There are many ways to become involved and offer support to this wonderful organization. Volunteers for Youth is continually looking for adult volunteer mentors, especially men who might be interested. Fundraisers are also a big part of their efforts. Every year, they hold a Golf Tournament on Finley Golf Course, hosted by Larry Fedora. Click here for more details about The VFY Golf Tournament in 2017.
For more information about Volunteers for Youth, please visit their web site: http://www.volunteersforyouth.org. For more information on how to support Volunteers for Youth, visit: http://www.volunteersforyouth.org/SUPPORTVFY.html. To donate directly to Volunteers for Youth, visit The Recorder Quarter donation web page.
You might also like:
Category: Causes