Voices Performs "The Genius of Mozart" and Cantari Performs "Vaughan Williams and Tavener: A Cosmic Cycle of Life and Death"
Who:
Voices, The Chapel Hill Chorus, and Cantari, Voices' select ensemble led by conductor Dr. Sue T. Klausmeyer
When & Where:
Voices
"The Genius of Mozart"
Saturday, May 31st at 8:00 pm
Memorial Hall, UNC Campus
Cantari
"Vaughan Williams and Tavener: A Cosmic Cycle of Life and Death"
Sunday, June 8th at 4:00 pm
University United Methodist Church
150 East Franklin Street, Chapel Hill
About "The Genius of Mozart":
Voices will trace the genius of Mozart through three decades of composition, from the joyful choral style of Mozart's early Salzburg work to his final Viennese composition—the mysterious, unfinished Requiem.
The performance begins with Regina Coeli, K. 108 cast in four movements featuring a soprano soloist, full chorus, and orchestra.  Next up is  Laudate Dominum, in F major, which is a favorite of soprano soloists for its beautiful melodic contours and graceful cadenza, with a gentle foundation of strings and chorus.
Voices' performance concludes with Requiem in D Minor, K. 626, which Mozart started composing in the summer of 1791.  Mozart was working on two operas when an anonymous commission and an enticing fee was offered by Count Franz von Walsegg who wanted to perform the requiem in memory of his wife who died at the age of 20.  Unfortunately, Mozart passed away in December with only a third of the requiem complete.  Fearing that she would never receive payment from the Count, Mozart's widow enlisted the help of Mozart's former student and assistant to fill in the missing movements and tidy up the orchestrations. For years this version was performed but m
any musicologists felt that the assistant's contributions were clumsy and poorly written.  Some even wrote their own versions that they felt were closer to what they perceived as Mozart's intentions. Voices will perform one of the most successful recent editions by Robert Levin, a professor in the Harvard University Department of Music, who has earned international acclaim as a soloist on piano and fortepiano.
The performance features soprano soloist and Chapel Hill native, Molly Quinn, who has been praised by the New York Times for her "arresting sweetness and simplicity." Also featured are mezzo soprano JoAna Rusche, tenor Dana Wilson and bass-baritone Lewis Moore.
Voices will be announcing the winner of the "American Dreams" high school poetry competition during this performance. The winner(s) will have their poem presented during the Voices Summer Concert on July 18.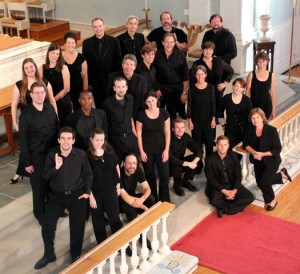 About "Vaughan Williams and Tavener: A Cosmic Cycle of Life and Death":
Cantari's performance features two 20th century English composers who have championed choral music.  Although born 70 years apart, Ralph Vaughan Williams and John Tavener have each had a tremendous influence on the development of 20th century choral music.  Vaughn Williams declined the honor of knighthood twice and all other government honors except for the Order of Merit, conferred upon him in 1935.  Tavener received a knighthood in 2000.
Vaughan Williams, composer of nine symphonies, chamber music, opera, film scores, editor of the Episcopal Hymnal and the Oxford Book of Carols, music director of the London Bach Choir, and a collector of English folk songs, professed no religion.  His personal beliefs were humanist and agnostic, yet he wrote compelling, persuasive sacred music. Mass in G minor infuses polyphony with rich, extended harmonies.  It also features two choirs and four soloists to add texture, spatial and antiphonal effects.
Tavener rose to international stardom when his composition Song for Athene was broadcast from Westminister Abbey in London during the memorial service for Diana, Princess of Wales on September 6, 1997.  The Tavener pieces Cantari will perform were composed in the 1980's and 1990's.  Tavener converted to the Orthodox Church in 1977, and Eastern religious traditions are evident in many of these pieces include the use of chat, drone effects, block chords, extended vocal ranges especially very low bass parts.  All the Tavener pieces that will be performed have religious themes.  Village Wedding features words by Angelos Sikelianos and from the Orthodox Wedding Service.  Cantari welcomes a group of young actors directed by John Paul Middlesworth to take part in the Village Wedding.

Tickets:  Tickets for Voices are $20 and $6 for students.  For Cantari, tickets are $15 and $6 for students.  They can be purchased online at: www.voiceschapelhill.org/buy or at the door.
Why: Voices is is one of the Triangle's oldest and most distinguished choral groups with a rich history spanning over three decades. Now in its 33rd season, Voices has grown from a small group of adult singers that performed with student choruses from Frank Porter Graham Elementary School and Phillips Middle School in 1980 to the thriving 130 member choral group today. In addition to the larger chorus, Voicesalso has a smaller, select ensemble, Cantari.  Both choruses perform fall and spring concerts featuring an orchestra and soloists.  In the summer, a 68-member chorus performs a theme-based concert typically featuring guest performers ranging from dancers to musicians to actors and this year, poets.  The chorus' mission is to foster and share the art and joy of choral music, enriching and educating the community through performances of music from diverse cultural and historical periods.
For more information, contact:
Amy Barefoot
amy@barefootpublic.com
919.451.3515
You might also like:
Category: Press Releases