My husband Doug and I had the pleasure of being interviewed for The Wacqueline Stern Show on WCOM, 103.5 FM last Friday night, November 2, 2012. We had a blast!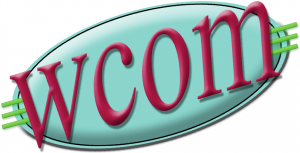 WCOM, located on the dial at 103.5 FM, is Carrboro's Community Radio Station. It is listener supported and volunteer-based, and their mission is to "educate, inspire, and entertain the diverse populations of Carrboro, Chapel Hill and nearby areas." It recently found a new home in The ArtsCenter's East End Gallery, in Carrboro, N.C., which is a real testament to the support WCOM has received from our community. Their 24/7 programming is eclectic and host-driven, with over 60 different offerings of music, talk and interviews, as well as syndicated and Spanish/bilingual shows. What I love most about WCOM is the lack of advertising that endlessly interrupts the content on other radio stations. I know if I switch my dial over to 103.5 FM when I'm in the car, there will always be something unique and enjoyable.
For those of you unfamiliar with The Wacqueline Stern Show, it is co-hosted by Jackie Helvey (a.k.a. Wacqueline Stern) of Carrboro.com and Valarie Schwartz, a notable local freelance writer. If you have ever attended an event in Carrboro, I can almost guarantee that you have seen Jackie there, usually with her camera in hand, taking photos for the town. Similarly, if you have ever read a newspaper article in The Carrboro Citizen or The Chapel Hill News, chances are it was written by Valarie Schwartz.
The show features art professionals of all types; writers, musicians of all sorts, painters, dancers, illustrators, filmmakers, actors, theater folks, poets, sculptors, comedians, clothing designers, silk-screeners, gallery and club owners and directors, arts patrons, promoters, radio show hosts, mask-makers, children's book authors and illustrators, teachers of all sorts, and even their own magician. It airs every Friday and begins at 6:00 pm with Jackie reading a very thorough local events listing. Then she interviews her guests until 6:30 pm, in a very casual, fun and supportive manner, with help from Valarie who works the board and adds in her two cents. The Wacqueline Stern Show has been on the air since March 2007, and guests have included local filmmaker Nic Beery, Frank Stasio of WUNC's The State of Things, local painter Jane Filer, and Katharine Whalen of the Squirrel Nut Zippers, among hundreds of others who have contributed their creativity to make our community the special place it is today. Each interview lasts only 15 minutes, but Jackie is a pro at asking the perfect questions so that the listener gets a real sense of her guests and what they are passionate about.

When Jackie Helvey contacted me about coming on her Wac Stern Show to talk about my online blogzine, The Chapel Hill Recorder, I was sincerely flattered and humbled to be included among the company of her other guests. She asked if my husband Doug Largent, a local musician, could join us to speak about his music career, which made it even more fun. We arrived at WCOM's new digs at 300-G East Main Street, and the show Radio Latijam, hosted by local Latino High School students, was just finishing up. Jackie and Valarie met us there soon afterwards, and began setting up their show, which is a little more complicated than a regular radio show because Jackie videotapes each show to post on her Vimeo web site and records it for her Podcast. Right at 6:00 pm, The Wac Stern show began with Jackie's extensive local events listing, and then the fun began.
I admit, I was a little nervous at first. I had been interviewed several times on the radio before, when I played in the local reggae band Plutopia. But this felt different since I was discussing The Chapel Hill Recorder, my "Labor of Love" for the first time in a public forum. Doug had recently been interviewed by WUNC's Frank Stasio on The State of Things about his trio, The Doug Largent Trio, so he felt right at home. Speaking with Jackie was like catching up with an good friend who was genuinely interested in my life. Rather than trying to cram in a bunch of questions in the limited time allowed, she had no pre-determined agenda and let the interview develop organically. Both of us were given plenty of air time to speak while she listened intently. It was a very relaxing atmosphere that Jackie and Valarie created, and the 15 minutes flew by in what seemed like mere seconds. At the end of the interview, they gave us both a chance to pitch our passions once again to the world of Carrboro listeners and beyond, and finished the show at 6:30 on the dot. Thank you Jackie (Wacqueline Stern) Helvey and Valarie Schwartz for a great evening, and for giving my husband Doug and me a chance to share our creative lives with you both!
To view the video of our Wacqueline Stern Show interview, visit: http://vimeo.com/52729261
To listen to the podcast of our interview, visit: http://www.ibiblio.org/wcom/podcast/mp3s/wer11.02.12.mp3
For more information about The Wacqueline Stern Show, visit: http://wacquelinestern.com
You might also like:
Category: Blog