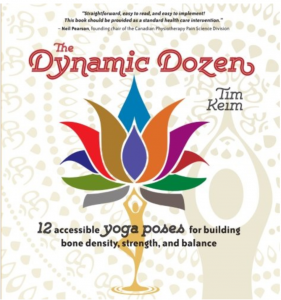 Lystra Books and Literary Services is proud to announce the publication of Chatham County native, Tim Keim's new book entitled, The Dynamic Dozen: 12 Accessible Yoga Poses for Building Bone Density, Strength, and Balance. Tim says that yoga is the universal toolbox, and within the pages of his book he invites readers to open the toolbox. The book launch will be held at McIntyre's Books on September 20, 2014 at 2:00 p.m.
Tim teaches 12 yoga poses through the use of images accompanied by thorough descriptions of how to practice each pose with ease and competence. This book shows that with steady practice, you will not only strengthen your bones and improve your balance, you will also develop mental fortitude and concentration. It is a guide to reversing osteoporosis in addition to living a life of vitality.
"Straightforward, easy to read, and easy to implement! Tim Keim's book provides a practical approach to effectively help those of us diagnosed with osteoporosis. With clear explanations addressing much more than the physical effects on our bones, this book should be provided as a standard health care intervention." – Neil Pearson, physical therapist, yoga therapist, founding chair of the Canadian Physiotherapy Pain Science Division.
Tim  has been a yoga practitioner since 1994. He initially turned to yoga because of an aching back, and discovered its curative power. Yoga has since helped him overcome several challenging health conditions. Tim received his yoga certification in 2004 and began to teach with the goal of sharing his knowledge and experience with the art. He earned his yoga therapy credentials in 2013 and has since built a dedicated following. He currently lives in Chatham County, North Carolina.
The book will be available at fine local bookstores and as an ebook.
You might also like:
Category: Press Releases