Tonight is the 17th Annual UNC Dance Marathon, hosted by the Carolina for the Kids Foundation. Since 1999, this wonderful campus organization has raised more than $3.3 million for N.C. Children's Hospital.
On Friday, March 20, 2015 at 8:00 pm, more than 2,000 UNC-Chapel Hill students will gather in Fetzer Gym to stand for 24 hours straight until 8:00 pm on Saturday, March 21, 2015 for the annual UNC Dance Marathon. This event, presented by the Carolina For The Kids Foundation, benefits the patients and families at N.C. Children's Hospital.

Formerly known as UNC Dance Marathon, Carolina For The Kids is a student-run non-profit organization at the University of North Carolina at Chapel Hill. It is the largest student fundraiser on campus, and works year-round to raise money to provide major support for the medical, surgical and emotional care of the patients and families served by North Carolina Children's Hospital.
During the 2013-2014 school year, the organization raised a total of $551,595.87 through the marathon event, as well as a number of benefit concerts, campus fundraisers, individual donations and more. This total passed the half-million mark for the first time in UNC-DM history!
The theme of the UNC Dance Marathon this year, "Dare to Discover," represents the many changes and new ventures Carolina For The Kids has undertaken this year. "It's amazing to see how much college students can accomplish when they dedicate themselves to a cause," said Executive Director Evan Sherwood, who, along with all executive board and committee members, is a student at UNC-Chapel Hill.
KILOMETERS FOR THE KIDS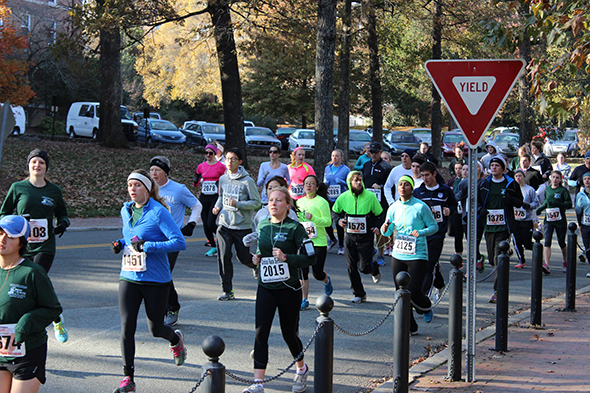 Every fall, Carolina For The Kids hosts a fun run called Kilometers for the Kids, to help raise money for their cause. This 5K, 10K, and one-mile Fun Run took place on November 22 2014, beginning 9:00 am at the Old Well, and attracted over 800 runners and raised just under $17,000! This is a great event for students and families of all ages, so be sure to register for next year's Kilometers for the Kids.
A NEW CLINIC FOR N.C. CHILDREN'S HOSPITAL
In addition to renaming the organization from UNC Dance Marathon to Carolina For The Kids Foundation this year, on November 22, 2014 at the Kilometers for the Kids event, it also announced a $2.5 million commitment to building a new clinic for N.C. Children's Hospital. This new 10,000 square-foot clinic will prevent the hospital from facing future space constraint.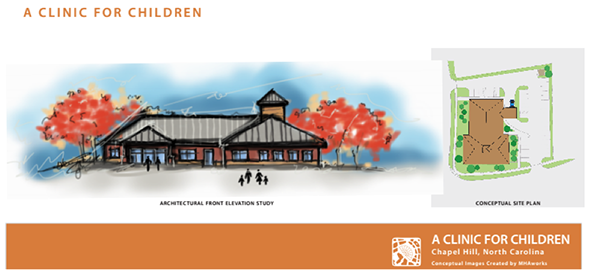 "The hospital is currently running low on room for specialty clinics," said Carolina For the Kids Foundation publicity chair Brendan Leonard, "Moving the general pediatric clinic off-site to the new building will enable more children to be served by the hospital and receive clinical care."
The project cost will be approximately $2.5 million and should be raised in approximately five years. As a part of the agreement, Carolina For the Kids will retain naming rights of the building, and ownership will go to N.C. Children's Hospital.
"Right now the hospital provides care to more than 70,000 children from all 100 counties throughout North Carolina each year," said Dr. Wesley Burks, chairman and chief physician of the N.C. Children's Hospital. "This new clinic will allow us to continue to serve those patients with the best care possible."
25K IN 25 HOURS
Additionally, on Wednesday February 24, 2015, Carolina For The Kids Foundation kicked off its "25K in 25 Hours" campaign. The event began with Carolina For The Kids Annual "Smith Center Children's Challenge," where attendees at the UNC-Chapel Hill men's basketball game had the opportunity to donate. "This was a great opportunity for us to remind the public of our cause and of all the good each donation can do," said Leonard.
The organization also hosted benefit nights, had a "Pie-a-Leader" event on campus, placed donation jars in local businesses, and held a fundraising "lock-in." The lock-in was held from 12:00 pm – 5:00 pm on February 25, 2015. During the five-hour event, committee members gathered to reach out to their connections and community members to ask for donations.
From 8:00 pm on February 24, 2015 until 9:00 pm February 25, 2015, in just 25 hours, the Carolina For The Kids Foundation raised a total of $38,014.55 to benefit N.C. Children's Hospital and also grants such as the "For The Kids" Fund, which provides funds for emergency expenses.
THE UNC DANCE MARATHON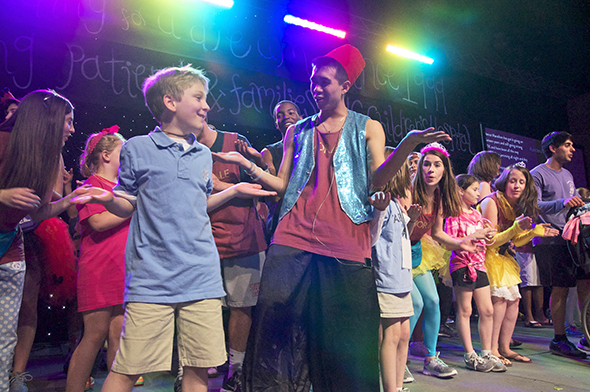 In 1997, a student from Raleigh, North Carolina came to UNC-Chapel Hill with the dream of starting a dance marathon. Having witnessed the powerful impact of Pennsylvania State University's 46-hour dance marathon on the dancers, spectators, patients and families involved with it, Michael Bucy was inspired to fill UNC-CH's void for a large student-run fundraiser.
The first dance marathon at UNC-CH took place in February 1999, with about 75 dancers raising $40,000 for N.C. Children's Hospital. It was a small start, but Bucy had a huge vision for the future.
Fourteen years later, Bucy's dream has grown into UNC Dance Marathon, which through the years has raised more than $3.3 million for N.C. Children's Hospital and now involves about 2,000 students each year and dozens of community businesses.
With a mission "to unite the University, the community and the state in fostering emotional and financial support that improves the quality of life for the patients and families of N.C. Children's Hospital," UNC-DM has stayed true to Bucy's original vision, even through enormous growth.
"If your child gets ill, the last thing you should have to worry about is the overwhelming financial burden," Bucy said. "You should be able to focus your time and attention on caring for your child."
Executive Director of Carolina FTK, Evan Sherwood, said "I see this as a chance to boost fundraising and really push ourselves to see how much we can accomplish. It is particularly fitting that the theme this year is 'Dare to Discover' because that is exactly what we are doing, daring to discover how much we can achieve. The bar is high this year, and we're excited to see what everyone involved will accomplish," said Sherwood.
This year's marathon will have many familiar aspects for returning visitors including the presence of Kid Co-Captains, patients from the hospital who provide inspiration to the dancers. "Our Kid Co-Captains are really the heart of what we do," said Hospital Chair Shakeia Burgin. "Being able to interact with them at the marathon is a great reminder of why we stand for 24 hours."
Event highlights for this year's Dance Marathon include:
Friday, March 20, 2015
7:30 pm  – Kick-off Speakers
Dr. Wesley Burks (Chair of Pediatrics and Chief Physician at N.C. Children's Hospital)
Judy Ward (KCC Parent)
Saturday, March 21, 2015
1:30 am – "Good Night with Jay Putnam" Student Talk Show (live-taping)
4:45 pm – Kid Co-Captain Hour (playtime with the KCCs)
6:30 pm – Family Hour (families share their stories of how Carolina For The Kids benefitted them)
7:55 pm – Fundraising Total Reveal
The full Dance Marathon schedule can be found here: www.carolinaftk.org/schedule.html. It is sure to be a fun, albeit physically challenging evening. Supporting hospitalized children and their families is such a worthy cause and certainly worth the temporarily sore feet. Even if you are not dancing the night… and day and night… away tonight at the UNC Dance Marathon, you can still cheer them on by donating here: www.uncdm.convio.net.
For more information about Carolina For The Kids, visit: http://www.carolinaftk.org
You might also like:
Category: Causes